Gigabyte P34w V3 – A smaller laptop, but one with some surprising specifications
DETAILS
• Manufacturer: Gigabyte
• Requirements: Windows account, free upgrade to Windows 10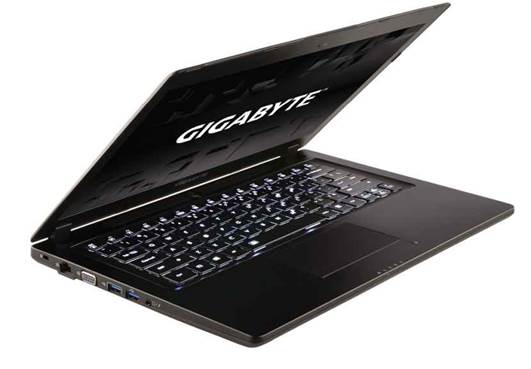 The Gigabyte P-range of laptops have so far impressed us, with the P55k and the P37x scoring highly and making us nod in appreciation of the specification and style.
Now, though, it's the turn of the P34w, a laptop that Gigabyte has somehow managed to cram with an Intel i7-4720HQ at 2.6GHz, 8GB of memory, a 128GB SSD with Windows 8.1, a 1TB secondary hard drive and an Nvidia 970M with 3GB of GDDR5 memory – all this inside a 14″ laptop.
Despite its minute proportions, the P34w also features four USB 3.0 ports, HDMI, VGA, gigabit Ethernet, an SD card reader and audio combo jack. There's also a HD camera, wi-fi 802.11 ac/b/g/n and Bluetooth 4.0.
The laptop measures 340 x 239 x 20.9mm and weighs just 1.8kg and has a familiar modern Gigabyte casing design about it, with a mixture of dark grey and flashes of aluminium. The keyboard is backlit and nicely spaced apart to allow for a more fluid typing action. And as with the other P-models available, there's a large touchpad below the keyboard that's tweaked to a decent level of sensitivity without becoming uncontrollable.
There's a fair amount of performance hidden in such a deceptively small case. The 3DMark 11 overall score we attained was 9,216 which, if you can remember, is just shy of the 11,022 of the P37x and a little over the 6,970 of the P55k. Either way you look at it, this is a 14″ laptop that can dish out a fair level of gaming at decent frame-rates.
The full HD, wide angle LCD is good, but like the P55k it could really do with being a little brighter for our tastes. However, there's good colour reproduction, and the image displayed is not too far off the kind you'd expect from an IPS monitor.
The battery managed to last around three hours off a full charge, when we used the laptop for a mixture of gaming, video, images and usual office-based tasks. Naturally, if you take the gaming out of the equation, then the battery will last significantly longer – over four hours in our tests.
This is a very fast 14″ laptop, probably one of the fastest we've ever tested in Micro Mart. However, it's also one of the noisiest. When the CPU and GPU get a good workout, those fans certainly kick out a fair bit of noise – up to 48dBA when we measured it a metre away from the laptop. That's equivalent to normal office background noise. While it may not seem like much, if you're using it in a quiet environment, it soon gets noticed.
Thankfully, though, those fans do a good job, and the laptop and the case remain cool throughout the entire day of operation – another plus to Gigabyte considering the specification inside the case and the size of it.
Overall, we were once again impressed with the Gigabyte P-range laptops. The P34w is a fantastic performer with a great specification; it's light, looks good and isn't too badly priced. In short, definitely one to consider for the next laptop purchase. mm David Hayward
Gigabyte P34w V3 Review
An incredibly fast and small laptop, but a tad noisy
Add your review