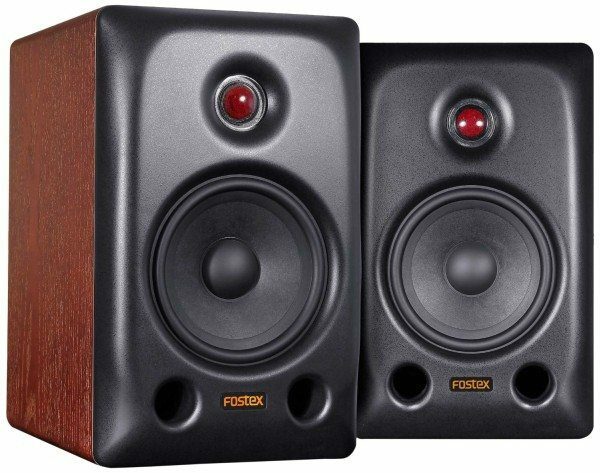 Fostex has tweaked its active PX-5 pro monitor to tempt audio fans away from their passive boxes
Having had a good time with the MunroSonic EGG100 near-field monitoring system, I was intrigued to try another affordable studio stalwart vying for wider acceptance in the domestic hi-fi market. Fostex's active two-way PX-5HS standmount speaker fits the bill perfectly. Essentially it's the Japanese company's PX-5 pro monitor tweaked to ease out the optimum listening distance from strictly near field to a more accommodating 5-7 feet, making it a good fit for smaller rooms. Fun-sized it may be at less than a foot tall, but the PX-5HS plays it straight down the middle when it comes to its pro roots. The mains socket, on/off rocker switch and dual-function volume/tone control on the metal back plate of each conventionally slab-sided enclosure drop a strong hint that its two drivers are powered by individual onboard amps served by an electronic crossover network. A true active design, then, rather than a powered setup with a stereo amp housed in one speaker, a market sector proposition gaining favour among people who like to keep things simple, neat and tidy.
Despite its studio provenance, the MunroSonic EGG could easily have been mistaken for a lifestyle speakers. There's no danger of that here. The unapologetically business-like Fostex is unlikely to draw gasps of surprise and delight from guests, unless they're into a particularly understated variety of studio chic. The grille-less baffles have nicely contoured edges and the drive units concealed fixings, but the abiding aesthetic is starkly functional – to the extent that the small Fostex logo located low down between the two forward-firing reflex ports glows orange to indicate when the speaker is powered up. All right, that looks pretty cool. It certainly seems to be very sturdily put together and the real-wood veneer looks and feels rather classy. There's nothing too sexy about the appearance of the drivers, though they're actually quite high-tech, comprising a 132mm aramid fibre mid/bass unit and a 25mm urethane film-laminated polyester-fibre dome tweeter. Wholly synthetic, aramid (aromatic polyamide) fibres are heat resistant and extremely tough, hence their use in Kevlar and Nomex. In this case, the cones are impregnated with a resin to beef up rigidity. The HAL-2000-like crimson hue of the tweeter dome is due to the colour of the urethane film laminate. The claimed frequency range is a respectable 50Hz to a rather remarkable 40kHz (remarkable for a dome) with a 2.5kHz crossover point. Round the back, each speaker's volume and tone setting is handled by a small rotary knob garlanded with tiny green indicator LEDs. Its active function is determined by a slider switch with three positions: volume, off and tone. The off position keeps the speaker permanently powered up, defeating the auto standby mode, which would otherwise kick in after four hours of non use. The volume position can be used either as the main way to adjust gain if the speaker is being fed by a line-level source or, rather more conveniently, to set and forget if a preamp or other form of volume adjustment is used upstream. Flick the switch across to tone, and two more 'status' LEDs come into play. When the upper one is illuminated, high-frequency output can be adjusted to taste in steps corresponding to the lit encircling green LEDs. Pushing the rotary knob in towards the back plate lights up the lower LED and the process can be repeated for bass frequencies. It all sounds a bit complicated but, basically, we're talking about finely calibrated tone controls. True, you'll look in vain for the kind of connectivity niceties some more obviously home-friendly speakerbased systems offer such as a USB port, Bluetooth or AirPlay, likewise an internal DAC. But there's no denying the room-friendly, pro-standard tuning possibilities on offer. Despite the all-inclusive build, the Fostex weighs a far-from wrist-wrenching 5kg apiece, thanks mainly to the compact and lightweight nature of the onboard Class-D amps. Those dedicated to the mid/bass drivers deliver 35W, while the tweeters receive 18W. Frequencies are split between the drivers by a FIR (Finite Infinite Response) type digital dividing network teamed with DSP-based time alignment, the intended upshot being a clean signal path free from the kind of subtractions, artefacts and phase anomalies that passive crossover components can so often impose.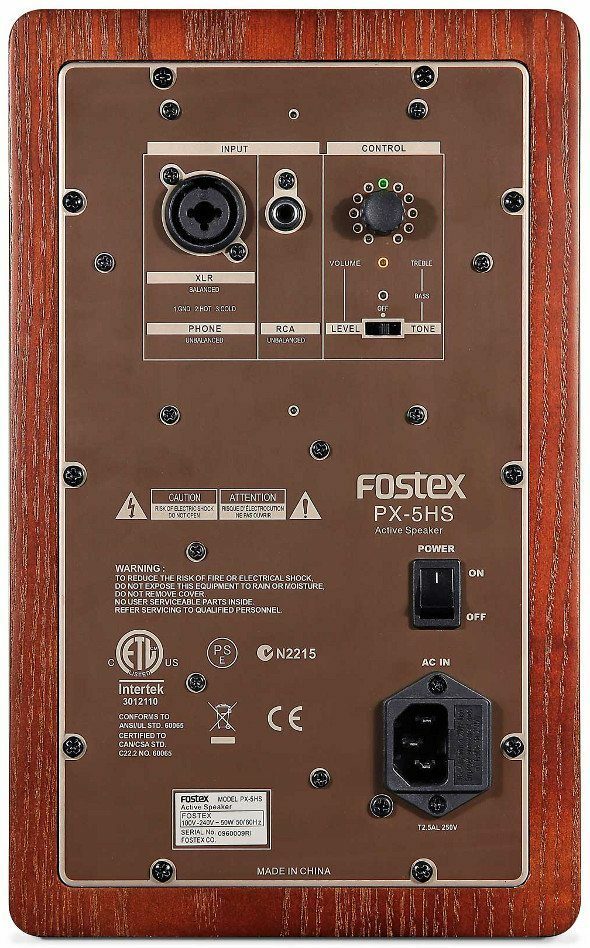 There are two hook-up options: RCA phono or XLR balanced. For the sake of leaving high-quality source duties to Chord's Hugo DAC, I go with RCA and my longest lengths of Townshend F1 Fractal interconnects. As usual it's a Roksan Caspian M2 CD player spinning the discs as a transport and Slate Audio stands taking the supporting role. Fresh from the box and with the tone controls set 'fl at', the PX5-HS has a directness that's startling, and not in an entirely good way. I think 'explicit' may be putting it mildly. In a sense, what I'm hearing is exactly on point for a pro near-field monitor and much closer to the uncompromising mix-dissecting presentation that I suggested as a defining characteristic of studio-based kit in the MunroSonic review. The little EGG100, while incredibly resolute, manages to avoid sounding overly forensic but first impressions here suggest that the Fostex is precisely that. But this is a cold take, and with a proper warm up still ongoing and tone tailoring options yet to be explored, it's not such a bad starting point. Even now, there's much to admire. As is often the case with true active designs, there's a sense of control, order and image solidity that sounds inherently right if, at this stage, a little too matter of fact. Pushed right to the fore is intelligibility. This is great for hearing what's going on and being able to focus on individual elements in the mix and, to my relief, it all hangs together as a coherent entity with the copious amounts of detail on offer framed in a musical context rather than being fiercely spotlit. That said, the Fostex sounds rather 'digital' – a touch mechanical and tonally grey. But that changes. After a good hour of limbering up with some high octane Joe Satriani and the tone settings adjusted for my room (maximum treble cut, a little bass boost), the sound is warmer and more supple, allowing a more convincing rendition of instrument timbre without shedding that appealing clarity, speed and grip. Now the loudspeaker more easily nails the line between resolving detail while fully encompassing the bigger picture. It's still a very clean and unromantic kind of presentation, free of manipulative emphasis and quite dry, but very engaging all the same. It's hard to pinpoint any significant weaknesses in the performance. Its ability to time is just as impressive as its confidence at the frequency extremes. It combines drive, power and a wide dynamic range with body and tonal subtlety. Yet it's the immediacy and attack, while comfortably keeping the right side of aggression, that's largely responsible for capturing your attention. Stevie Wonder's harmonica chops have seldom sounded more vital, possessing a stinging, tingling tangibility. And John Mayer's duet with Herbie Hancock on Stitched Up is imbued with rare verve and authority. Bass isn't the weightiest I've ever heard, but it is agile, taut and articulate. Add the ability to deliver effortless dynamic swings to the midrange presence and intelligibility, and you have an active speaker system that never fails to entertain. Ultimately, the little Fostex delivers the musical message with impressive conviction. Its sound is highly detailed and insightful yet easy to listen to for long periods. It's expertly voiced and images precisely within a generous soundstage. It goes loud without complaint or any appreciable hardening of tone or compression of dynamics. It sounds fast and can rock. In short, it does what every good speaker system should and creates a sense of there being a wide open window on the recording that allows the listener to home in on the particular without losing sight of the whole. Some might wish for more conventional-looking kit with a shiny powerhouse amplifier sitting centre stage. Or maybe something with a more recognisably 'hi-fi' badge. But if your bottom line is sonic ability, the Fostex makes a compelling case for a good pair of active speakers. That said, this little standmount isn't going to fl oat everyone's boat. Despite the efforts to 'domesticate' the PX-5 Pro monitors on which it's based, it's a design that still wears its studio roots on its sleeve. Which isn't to say it's a just a tool for inspecting the nuts and bolts of a recording. Far from it. It may lack the finesse and immersive imaging of the best, but it certainly isn't short of musical tact and its combination of clarity, authority, sense of organisation and vitality is a rare commodity in similarly priced passive rivals. Audition it yourself and you might well be surprised.
A neat, well made and affordable active standmount with bags of insight and control.
DIMENSIONS (WxHxD) 180 x 280 x 210mm? Claimed 18W (treble), 35W (mid/bass) Class D amplifiers.