Epson WorkForce WF-100W Review – Portable printers are a strange breed. They're generally simpler, flimsier and print less well than full-size models, yet they cost more. That's partly because they're aimed at business users who'll cheerfully spend their boss's money. It's also because printer manufacturers don't make money selling printers, they make money selling ink, and a portable machine is likely to get used less, bringing in smaller profits over its lifetime.
But a lot of people might find a portable printer very handy, so it's good to see one that isn't exorbitantly expensive and is actually light enough to carry around.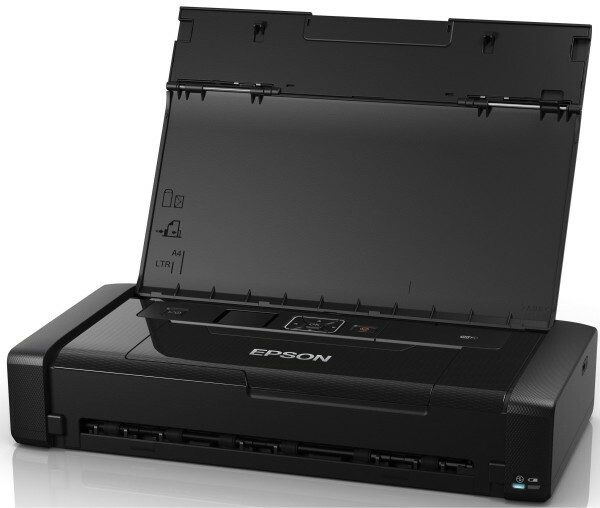 Unlike some rivals, the WF-100W comes with a rechargeable battery, so you're not limited to using it where you can find a power socket, although it does work from the mains as well. The battery isn't huge – it lost 50 per cent of its charge when we printed 25 pages – but it can be charged from a USB port, which gives you some flexibility
Built-in Wi-Fi means you can connect to your laptop or a network wherever you are, or print from your iPhone or iPad using Apple's AirPrint. The paper input flap folds around the printer and clips shut, so you don't need a separate carry case. To keep things compact, there's no output tray; instead pages pile up neatly on any flat surface. A color screen makes settings easy to manage.
As a portable device, then, the WF-100W is quite practical. It won't double as your main printer, though. The fastest it'll go is just over six pages of text per minute, or two color documents, while full-page photos take much longer. On battery power it's even slower. Our Word documents looked very clear; photos, not so much. And it can only remember one Wi-Fi network at a time, which would be very annoying if you were regularly switching between home and elsewhere.
The WF-100W's cartridges contain just over one teaspoon of ink apiece, and only last 250 black or 200 color pages. It also needs a £4 'maintenance pack' to replace the waste ink collector after every half-dozen refills. Adding all this up, you're paying over 12p per color page on top of the price of the printer, which is more than four times the cost of a basic desktop inkjet printer.
Even so, this is one of the best options we've seen for mobile printing. Just remember it'll be no use unless you pack plenty of A4 paper too.
Don't choose this printer for any reason except portability, but if that's what you need, it's a decent buy.
Epson WorkForce WF-100W Review: Specifications
5760x1440dpi maximum print resolution • 4ppm color and 7ppm mono quoted speeds • 20-sheet paper input • USB • 802.11n Wi-Fi • 61x309x154mm (HxWxD) • 1.6kg • Three-year warranty.