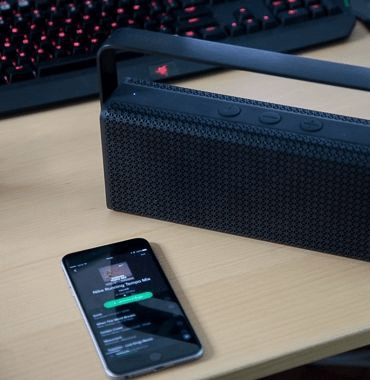 A powerful portable and rechargeable Bluetooth speaker from Edifier
The latest trend for Bluetooth speakers has been smaller and smaller sizes, to the point where some of the units are about as much use as a bean can and a length of string. (If the analogy escapes you, ask your parents). Yet this latest offering from Edifier has gone in the opposite direction, with a quite large and, it must be said, heavy unit, which has a retro look more like a 1970s transistor radio. Let's hope it delivers the depth and power its presence suggests.Following its logical numeric naming convention, the Edifier Rave MP700 is solidly built with an output to match. It's finished in mainly matt black, with a custom designed grill inspired by Moroccan trellis patterns. The controls are decidedly minimalist, with just three large buttons indented into the top of the case. They're multi-functional so, for example, a quick press will operate a different function to a press and hold. There's also a small flap on the side on the unit, hiding the 3.5″ input socket, DC power input and a USB power output socket. This is designed to make more use of the eight hour battery fitted to the speaker – for example, as a charging port for other mobile devices.Alongside the flap is a vertical row of small LEDs indicating the current state of charge; they also cycle when the unit is being charged.

As far as sound quality is concerned, this speaker can certainly hold its head up with the best in the business. The output is huge, both in volume and bass, quite able to fill the largest room with high-quality music reproduction from a smartphone. Naturally, the sound source plays an important part in the output you get. So without a large range of source equipment, I can only tell you what the Bluetooth output was like from the sources I had available. I tested it with my Samsung Note 4, an Apple iPhone 5 and my wife's Samsung S5. I also used the supplied 3.5″ cable, this time attached to my Sony amplifier, which seemed to produce an even fuller output than my phone. Suffice it to say, whatever you connect to it, you won't be disappointed.
The unit outputs 35 watts of total power from two 10W drivers and two 8W silk domed tweeters. It uses Bluetooth 4.0 for better streaming and includes NFC, so once it's paired with a device, you only need to be near it to reconnect automatically. The MP700 also has built-in digital signal processing (DSP) and dynamic range control (DRC). This is basically a method of analysing and filtering an analogue signal to improve its fidelity, and DRC will quieten loud sections and make quieter portions louder. This is normally used in the video industry where explosions are much louder than normal dialogue.
Joe Lavery

A somewhat chunky unit that provides a powerhouse of sound..