French company Devialet has shrunk its Phantom series loudspeakers with the launch of the Reactor. But it's as potent as ever, says Jon Myles. Read our DEVIALET PHANTOM REACTOR 900 Review.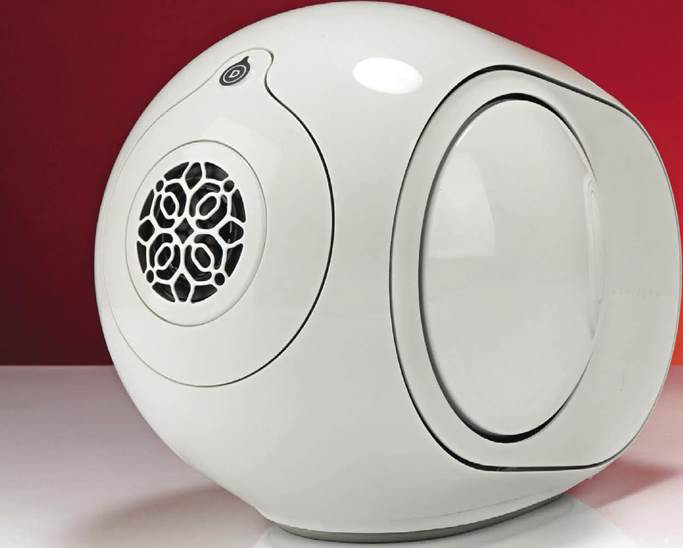 Most loudspeakers follow the conventional pattern of drive units in a wooden cabinet (either square or slightly curved), usually with a port to enhance bass, or just sometimes a sealed box 'infinite baffle' design with no port.
When French company Devialet launched the revolutionary all-in- one active Phantom 'speaker in 2015 that pattern was discarded. Frankly, it looked like nothing that had gone before and even now nothing that has come since.
Shape-wise it resembled an elongated egg turned on its side. At the front was a snowflake-shaped grille which isn't there just for decoration (more of which later).
At the sides were two bass drivers covered by round white covers. More interestingly the Phantom could be used as a single mono unit or paired with another to produce a stereo soundstage.
The only drawback was that this arrangement would set you back over £ – a not insignificant sum.
Since the launch of the original Phantom there's been a slew of different models – Classic, Silver, Gold and even an Opera De Paris. But they've all remained the same size, differing mainly in power output.
Now, however, comes the Phantom Reactor – available in two models, the 600 and the 900 on review here. Measuring 16.8cm in height and 21.9cm deep it looks exactly like its larger brethren but is smaller and has less power. That said it still has 900 Watts of power on board – more than enough to fill a medium-sized room with sound and, with two paired together, capable of taking on even larger spaces.
That power comes from Devialet's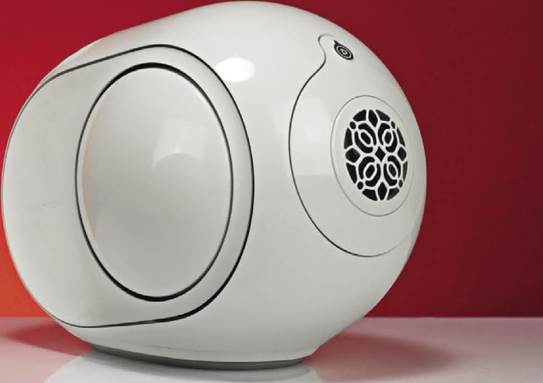 proprietary ADH (Analogue Digital Hybrid) technology where a small Class A amplifier is connected to the loudspeaker's output while a parallel Class D stage provides the necessary grunt.
Some reviewers have compared the topology to Quad's current dumping technology, devised by founder Peter Walker, but it's rather more sophisticated than that.
Inside is a DAC capable of handling file sizes of up to 24bit/192kHz while connectivity includes UPnP Bluetooth, Apple AirPlay, Spotify Connect, plus digital optical and analogue inputs.
Although small the Phantom 900 weighs in at a hefty 4.3kg thanks to a glass fibre-filled polycarbonate interior, aluminium core and the stainless steel white exterior. Despite such build complexity it will fit in the palm of your hand so moving the Reactor around is easy.
At the top of the unit are touch controls for volume, pause and Bluetooth pairing but – as ever nowadays – there's also a dedicated Devialet app for both iOS and Android to make things easier.
At the front – behind that attractively-shaped grille – is a full range driver that handles the mid to high frequencies. The grille is not just an aesthetic adornment – it's been designed to disperse the sound as widely as possible so if just one Reactor is being used you get breadth of sound.
But it's the bass response that really marks out the Phantom for such a relatively small loudspeaker. Devialet claim a low-end of 18Hz – something not many tracks actually contain (see our Measured Performance for the definitive figures).
Turn the volume up with anything containing low-end clout and their hemispherical side panels vibrate prodigiously. In fact on first use it can seem rather alarming, as though they are going to shake the whole 'speaker apart. But walk over and put your hand on top of the unit and there's no rattle or shake. It feels rock solid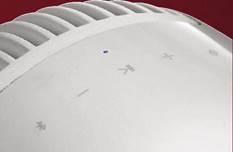 The top of the unit includes touch controls for volume, Bluetooth pairing and pause/play.
with the bass superbly controlled horizontally.
That's a credit to just how well- engineered and constructed the cabinet is, plus its weight. And, once you get used to it, there's something quite fascinating about seeing the sides pumping frantically in and out.
So, space age looks, compact dimensions and some clever technology are all rolled into one with the Devialet Phantom Reactor. But all that counts for nothing unless its sound quality matches those attributes.
SOUND QUALITY
I started out using a single Reactor placed centrally in the Hi-Fi World listening room on a dedicated loudspeaker stand.
King Tubby's 'Dub Fever' – which is not shy of bass – had more low- end power than I've heard from any similarly sized loudspeaker. In fact the Phantom brought out all of the lower octaves in a balanced, controlled way. But it wasn't just a thumping bass-fest, more a controlled, nuanced sound. The high-frequency beeps on some tracks also made me sit up as they appeared from seemingly nowhere and then disappeared just as quickly.
Their front driver does a good job of projecting mid and high frequencies into the room. Also, bass was neither slow nor sluggish, always keeping excellent timing without descending into uncontrolled distortion that can rob a track of focus, speed and power.
I came to the conclusion I could happily use this 'speaker in a medium-sized room without any qualms.
That said, good as it sounds with a Reactor on its own there's no true stereo effect on offer. For some that might not be a problem depending how and where they want to use the Reactor, because high quality mono has its own merits. But pairing two Reactors for stereo brought a huge leap in sound quality, as you might expect.
The Devialet app allows you to designate one as the left channel and one as the right. Being wireless no physical connection is needed – simply plug both into a mains power socket.
That done the spread of sound around the room was truly impressive. Yet again bass output belied the size of the loudspeakers – now it seemed two big floorstanders were pumping out music.
The Clash's 'One More Dub' from Sandinista positively romped along with deep bass but also a sense of timing and detail that put some more expensive loudspeakers I've heard to shame.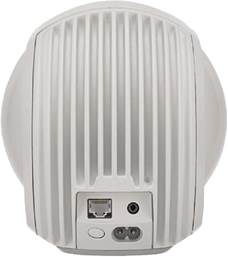 At rear is the wired ethernet connection, power supply socket and a 3.5mm analogue/ digital (optical) input jack.
Better, the Reactors provide a wide soundstage so it didn't seem as though I was listening to a pair of constrained 'speakers, but a band playing live in front of me.
And, for all that bass on offer, the Reactors do not want for delicacy. The gentle tones of Margot Timmins' vocals on 'Blue Moon Revisited (Song For Elvis)' from Cowboy Junkies' Trinity Sessions (24/96) sent shivers down my spine. Her intonation was enthralling and the reproduction pitch perfect.
At the end of the day these new Devialet Phantom Reactors are capable of handling with aplomb anything you can throw at them. They'll bring the best out of bass-heavy tracks with a power that hits you in the stomach but can also sound sweet and smooth-sounding with lighter material. Buy one and you'll be impressed – get two as a stereo pair and they sound even better.
CONCLUSION
Listen to the Reactors and it's as though you've hidden a dedicated subwoofer somewhere in the room.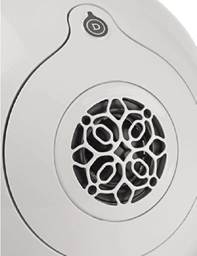 But there's a lot more to them than that. They are clean, clear and crisp and come in such a small form factor they are easy to be placed anywhere in a room.
The unusual looks might deter some people but they shouldn't because the sonics they produce are exceptional. A single unit sounds good – but as a stereo pair they are amongst the best at the price.
The snowflakeshaped grille in front of the midrange/high frequency driver is designed to give each loudspeaker a wide soundstage.
MEASURED PERFORMANCE
Frequency response of the Phantom Reactor 900 measured flat from 30Hz to 20kHz our third-octave analysis of pink noise shows, with little variation around the 0dB datum. This is an academically flat and therefore tonally accurate loudspeaker, likely equalised internally to be so. Because it uses a single forward facing mid/treble unit in a spherical cabinet the forward response varies little vertically or horizontally, meaning the Reactor will not change its sound according to listening position, as many larger multi-way loudspeakers can do.
Output from the tweeter rose quite sharply above 10kHz to +5dB at 20kHz on-axis, but this fell back a little off axis, to give the measured result we show at 30 degrees. The Reactor is best pointed straight down a room rather than directly at listeners, some of whom may detect such an effect with treble-strong recordings.
A well supported upper midrange with no crossover dip will deliver plenty of apparent detail; the Reactor will sound quite forthright – not mild or warm. Notionally correct but like all modern loudspeakers with such a response, poor digital recordings will have their faults exposed. This is a revealing loudspeaker, rather than a euphonic one.
Getting bass from a small cabinet is always a major design issue and here
Devialet have achieved an impressive result. There is some loss of output in the 150Hz region that will lessen warmth, but a small lift below 100Hz that will strengthen deep bass, right down to a very low 30Hz where the Reactor is +3dB up – enough to add subjective weight to very deep bass.
The only drawback here is that the twin bass units will work very hard if volume is turned up; disco bass levels will be unrealistic and the amplifier may well protection limit if too much is demanded.
Sensitivity was high, a low 100mV being needed for 90dB sound pressure level (loud) at 1m. Any portable device, even a mobile 'phone, can deliver this with ease since they produce 800mV or more.
The Phantom Reactor has been tailored to deliver a very accurate result in terms of sound balance. It is smooth and peak free, plus it goes very low for strong deep bass.
FREQUENCY RESPONSE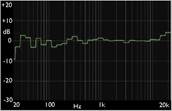 DEVIALET PHANTOM REACTOR 900
OUTSTANDING – amongst the best.
VALUE – keenly priced.
VERDICT
DEVIALET PHANTOM REACTOR 900 Review
Different in design but superb sounding. Articulate bass and a sweet top end add to the appeal.
PROS
massive bass
smooth mid and treble
compact dimensions
dedicated app
easy set-up
CONS
need two for stereo Devialet
Add your review
Best DEVIALET PHANTOM REACTOR 900 prices ?

$

1,400.00
3 new from $1,400.00
in stock

MORE DEALS

www.devialet.com