Dell chromebook 13 review – A Chromebook from Dell that really means business, or so Chuong Nguyen likes to believe.
Unlike rival makers, Dell is targeting specific niches with its Chromebooks – eg the Chromebook 11 was aimed at the education market, and this year Dell is back with a larger, more premium Chromebook 13 for enterprise users.
Built using premium materials, the Chromebook 13 competes in the same space as the metal-clad Google Chromebook Pixel and Asus' stunning Chromebook Flip. But unlike these consumer-grade offerings, Dell's powerful Chromebook 13 is packed with enterprise-grade VPN software, mobile management and deployment tools and virtual desktop software.
Not only does the Chromebook 13 come with enterprise-ready software, it also looks the part. Actually, it looks like a mashup of Dell's XPS13 and Latitude 12 7000, with a woven carbon fiber design on the lid, like the XPS 13 and Latitude, to help reinforce and protect the screen. Opening up the lid, you find a metal keyboard deck constructed from magnesium alloy with chicle-style backbit keys. (The keyboard is full-sized, but the individual keys appear slightly smaller than the keys on a MacBook Pro. In fact, they're very reminiscent of the keyboard on the Latitude 12 7000 Series.) A large glass track pad is centered with the keyboard.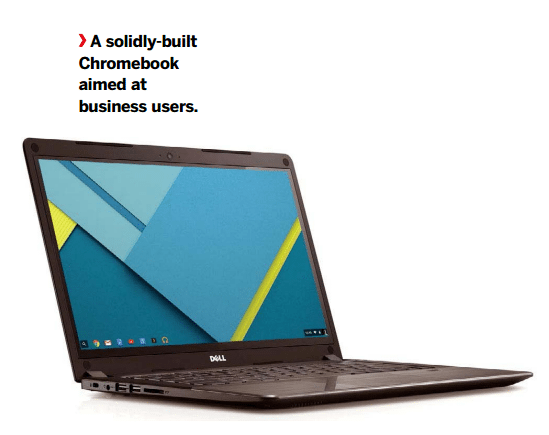 To continue its metal build, a sheet of aluminium wraps the undercarriage of the notebook, where you also find a set of bottom-firing speakers. The hinge is built into the body, in a design very similar to the hinge on a MacBook Pro., and concealed behind the hinge are the cooling vents.
Buyers can choose between an Intel Celeron or an Intel Broadwell Core i3 or i5 processor. The Chromebook 13 can be fitted with 2,4 or 8GB RAM. You can also choose either a 16GB or 32GB solid state drive, and storage can be augmented with an SD memory card. At the top configuration with a Core i5 processor, 32GB storage and 8GB RAM, the Chromebook 13 costs just less than the Chromebook Pixel. Ouch.
The Chromebook 13 comes with two display options. We looked at the 13.3-inch anti-glare non-touchscreen version with a Full HD 1080p resolution screen, but Dell will also offer a touchscreen option with the same 1080p resolution. The touchscreen option will use Gorilla Glass to protect it from scratches. Dell uses an IPS screen on both models, providing for wide viewing angles.
Enterprise options – Dell Chromebook 13 Review
A game-changer is support for a range of desktop virtualisation software, enabling you to run Windows on Chrome OS. With support for Citrix, VMWare and Dell Wise, you can virtualise Windows 7, 8 or 10 on your Chromebook. In our tests, Citrix took a while to launch Windows 7 Enterprise over the office Wi-Fi. Once it was up and running, programs were quick to open.
Dell is bringing its enterprise savvy to take what some see as a lightweight consumer operating system into the corporate environment. It faces stiff competition from cheaper consumer-class devices including Acer's Windows-powered Cloudbook and other inexpensive Chromebooks available.
At the entry-level and mid-level configurations, the Dell Chromebook 13 makes for a compelling alternative to Google's Chromebook Pixel. Taking the package as a whole, Dell might be on to a winning formula. Its managed mobility solution makes it easy for IT managers to deploy and manage Chromebooks, and tested support for VPN connectivity and virtualised desktops makes it possible for corporate users to get their Windows fix too.
Best Dell Chromebook 13 prices ?

$

250.00
1 new from $250.00
in stock


$

450.00
1 new from $450.00
in stock

MORE DEALS

See also THE COMPLETE GUIDE TO…OLED laptops