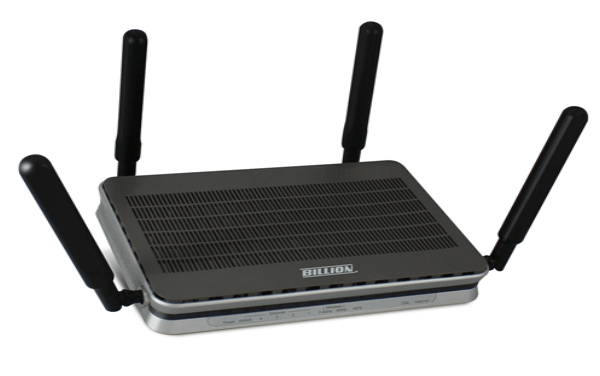 The word Billion conjures up images of private jets, island retreats and idiotic presidential candidates with ugly orange mops of hair. However, in the IT world it's got an entirely different meaning – Billion is known for its range of affordable yet capable routers. They're also not the most user-friendly, which is probably why they're generally more popular amongst more technical users. The BiPac 8900AX-2400 is the company's first foray into 2400Mbps territory, making it the fastest SOHO router they've released yet. Can it deliver on the strong reputation of earlier models, and has the company managed to make it usable by the average home PC user?
This is a dual-band router, delivering networks on both the 2.4GHz and 5GHz range. Despite Billion claiming it delivers a combined throughput of 2400Mbps on most of its marketing material, it actually is only capable of 2350Mbps… which is still nothing to sneeze about. 600Mbps comes from the 2.4GHz channel using a 3×3 transmitter/receiver configuration, while another 1750Mbps is delivered via the 5GHz channel, using a 4×4 transmitter/receiver configuration. As we've mentioned in the past, your speeds will be limited by the weakest link in your Wi-Fi network, and most tablets, phones and laptops still don't include 4×4 antennae. On the flipside, it means this router can handle more devices simultaneously on each channel, and speeds will improve as more 3×3 and 4×4 devices hit the market.
Unlike the exotically designed exteriors used on other high-end routers, Billion has gone for a boring, simple rectangular chassis, no doubt saving a wad of cash in the process. Four antennae surround the outside, and each is moveable to hone in on certain areas of your home. A built in ADSL2+ modem means you won't need to bring your own, which is a very nice inclusion at this price point, especially when compared to the likes of D-Link's recent Taipan, which offers an almost identical feature set, though it does have dual 5GHz networks instead of the singular network found on the Billion.
Four Gigabit Ethernet ports adorn the rear, and three of these can be used as WAN ports, a unique selling point that allows multiple broadband connections. A single USB 2.0 port is also included; it'd be nice to see USB 3.0 to improve this unit's capabilities as a basic NAS/File Server. It's possible to connect a 3G/4G LTE USB modem via this port, allowing the user to set up a network wherever they may be, provided they've got the relevant dongle. If any of the WAN connections fail, the router automatically switches to the USB modem, a handy feature when reliability is a must.
Heading into the interface reveals what we'd feared – Billion has stuck with basically the same interface it has been using for several years now. Network novices will be bewildered by the sheer volume of options, though at least the setup wizard is easy enough to figure out. However tasks as simple as setting up the various Wi-Fi networks will prove to be confounding, with options such as "Disable WMM Advertise" and "Country RegRev" likely to mean nothing to most. On the other hand, network savvy users will lap up these extra options, especially the plethora of tweaks that can help improve wireless speeds.

Billion has included Quality of Service functionality, allowing the user to assign priority to various devices on their network… provided they can figure out the once-again confounding array of options.

We tested this unit using a 3×3 network card supplied by Asus, and found our results slightly lower than expected. Hitting 678Mbps at a range of approximately ten meters is around 90Mbps slower than our best results. Having said that, we stuck with the default options – we're sure advanced users will be able to extract even better results than us.

If you know what you're doing, the 8900AX-2400 is a very capable unit that delivers excellent performance and a huge range of features for a rock-bottom price. Unfortunately you really do need to be quite network savvy to make the most of this router.

Bennett Ring.