Despite its fair share of naysayers, it's clear that mini-ITX is here to stay now, and Asus has been an avid supporter of the form factor, offering both AMD and Intel platforms since Ryzen first appeared on the scene. Luckily for small form factor fans, there are now mini options for both Socket AM5 and LGA1700 available, although going the Intel route appears to be noticeably cheaper given that the ROG Strix X670E-I Gaming WiFi we're reviewing here is set to retail for nearly £ inc VAT. Read our ASUS ROG STRIX X670E-I GAMING WIFI Review.

MINI-ITX X670E MOTHERBOARD
Anthony Leather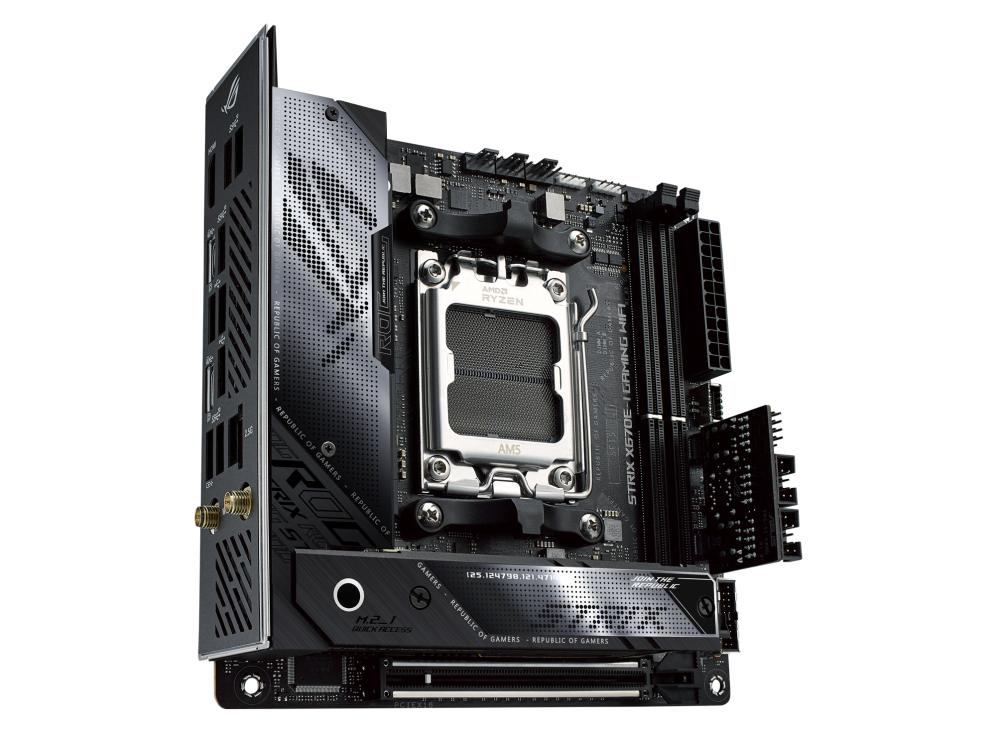 SPEC
| | |
| --- | --- |
| Chipset | AMD X670E |
| CPU socket | AMD Socket AM5 |
| Memory support | 2 slots: max 64GB DDR5 (up to 6400MHz) |
| Expansion slots | One 16x PCI-E 5 |
| Sound | 6-channel Realtek ALC4050 |
| Networking | 1 x Intel 2.5 Gigabit LAN, 802.11ax Wi-Fi |
| Cooling | Three 4-pin fan headers, VRM heatsinks, VRM fan, M.2 heatsinks, M.2 fan |
| Ports | 2 x SATA 6Gbps, 1 x M.2 PCI-E 5, 1 x M.2 PCI-E 4, 2 x USB 4 Type-C, 5 x USB 3.2 Gen 2, 3 x USB 2, 1 x USB 3.2 Gen 2 Type-C header, 1 x audio out, mic, S/PDIF out |
| Dimensions (mm) | 170 x 170 |
Even if you consider its imposing specifications, that's still a huge amount of money and it makes the Asus ROG Strix X670E-I Gaming WiFi easily the most expensive mini-ITX motherboard we've reviewed. Thankfully, Asus hasn't been idle when it comes to innovation here, which is part of the reason why the price is so high, even compared with its Z690 sibling.
For starters, the ROG Strix X670E-I Gaming WiFi is the first mini-ITX board to have a separate external sound device, called the ROG Strix Hive. This has been done for a couple of reasons, the first being to make room for a beefy stacked heatsink array for its two M.2 ports, so the board can cater for toasty PCI-E 5 M.2 SSDs. This has also had the effect of enlarging the CPU socket area, which may mean better clearance for some coolers. This has certainly been an issue with previous Asus mini-ITX boards, so any improvements here are welcome.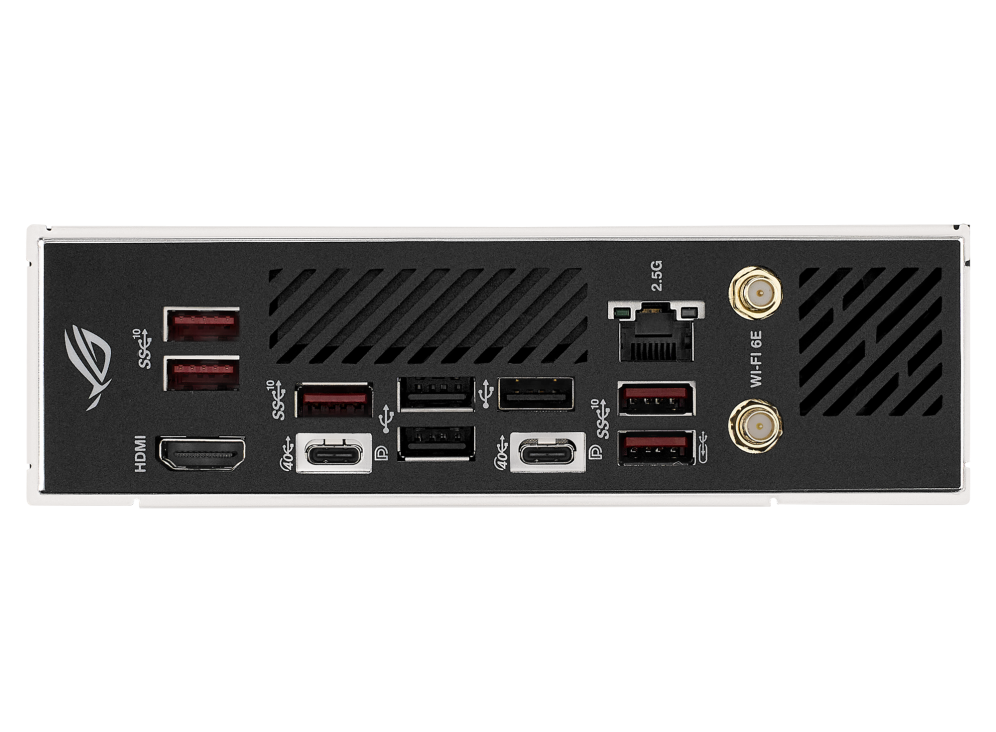 The ROG Strix Hive hooks up to the motherboard using a dedicated USB port on the I/O panel, but it's not just a featureless box. It has a hefty metal volume wheel, a FlexKey button that defaults to the reset function but can perform other tasks, an AMD Precision Boost Overdrive button and LED status indicators. It even allows you to perform USB BIOS FlashBack with a further button and USB 2 port on the side. In addition, there's also a USB 3.2 Gen 2 port, as well as microphone and audio jacks, with the former doubling as an S/PDIF output.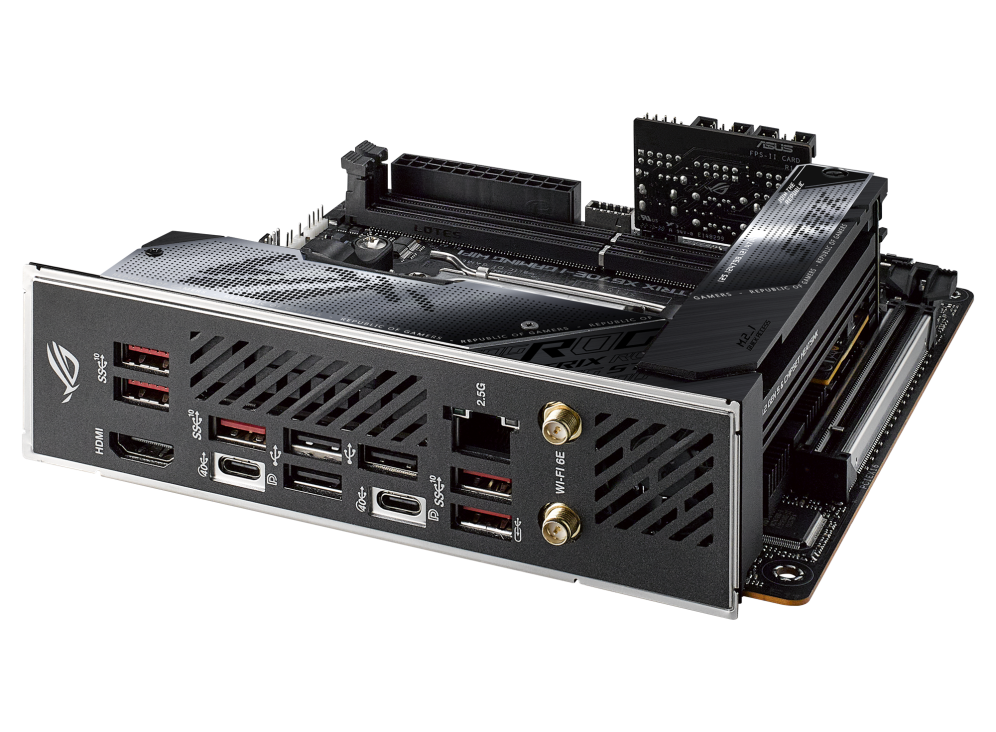 We're not sure rarely used features such as BIOS FlashBack are more useful here than on the back of the motherboard, and Asus could make have made the Hive more useful on an everyday basis, given it will be sitting on your desk, but it certainly delivers on the audio spec. Inside it is a Realtek ALC4050 audio codec, along with an ESS Sabre 9260Q DAC, while the unit sports a strong magnet should you want to fix it to your PC case instead of sitting it on your desk.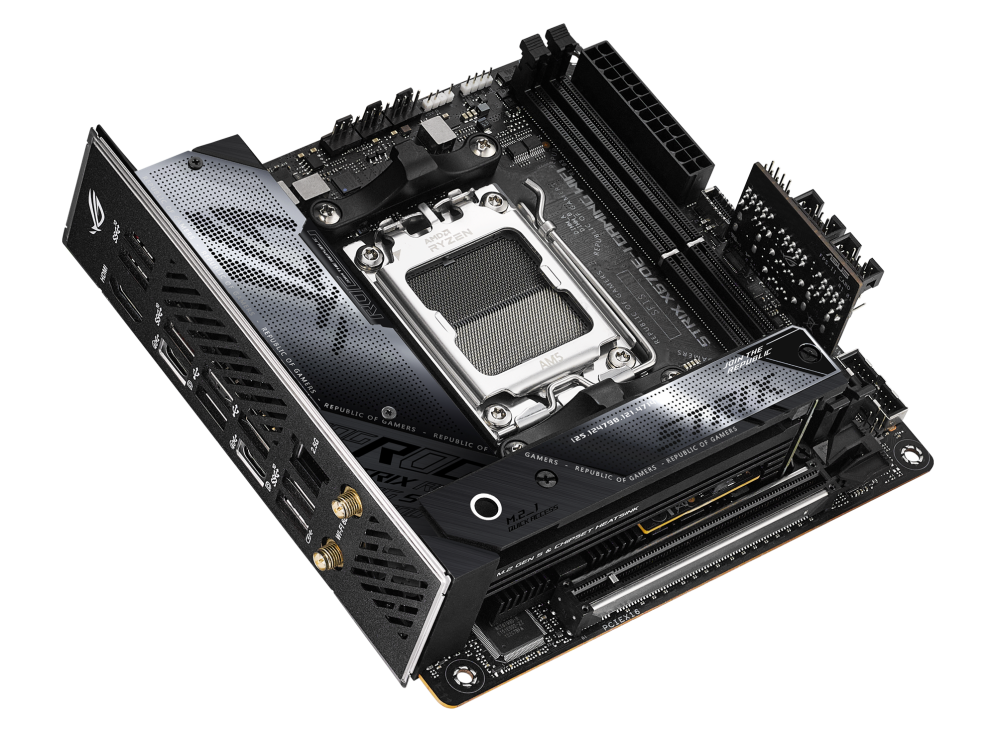 The small vertical ROG FPS-II card also makes a return to this board, bringing USB 2 headers, the front panel headers, a clear-CMOS header and two SATA 6Gbps ports off the PCB to save additional space, although there's still a 2-pin power button header on the PCB should you wish to ditch the card for a cleaner look.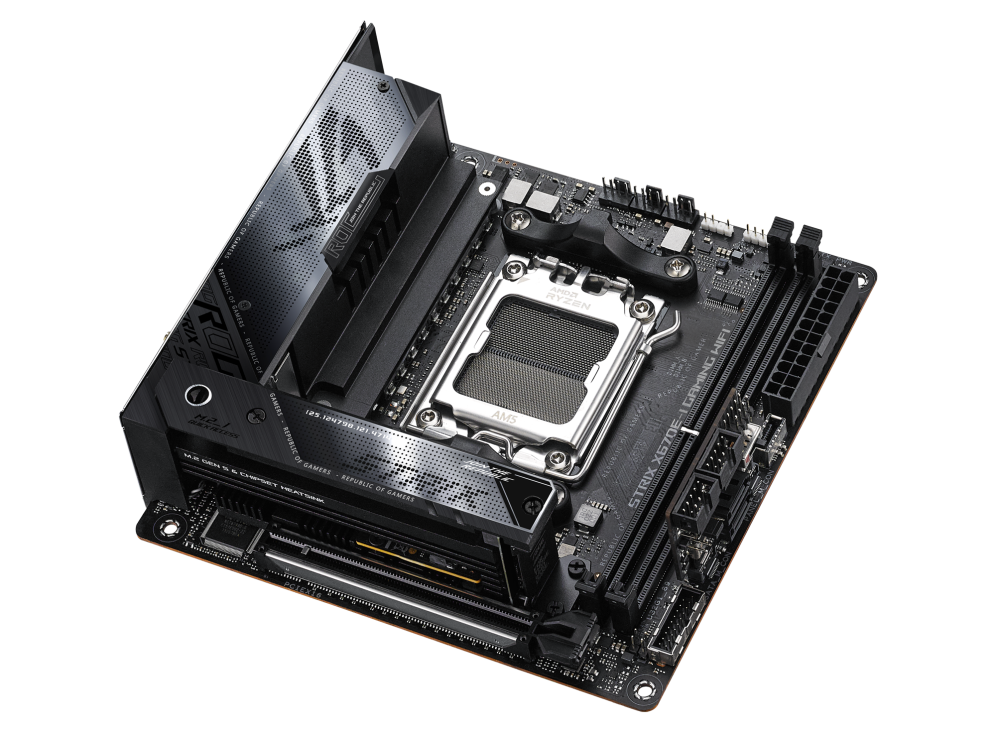 However, it's when you delve into the M.2 heatsink stack and VRM heatsink that you see where the R&D budget has been allocated for this board. The M.2 heatsinks are large and multi-layered, and Asus has thoughtfully included a spare thermal pad should you damage one during upgrades.
The lower slot has the larger heatsink and is the one designed to cater for PCI-E 5 SSDs. This is fixed to the PCB, but the upper slot, which supports PCI-E 3 and 4 SSDs, needs to be removed in order to access the lower slot. Thankfully, this process is fairly painless, but it involves unscrewing several small screws that could easily get lost, so make sure you keep them safe. Amazingly, Asus has squeezed an M.2 cooling fan into the arrangement too, which appears to spin at a fixed speed and draws in air through the rear I/O panel -thankfully, it's also quiet, and wasn't audible above the rest of our water-cooled test system.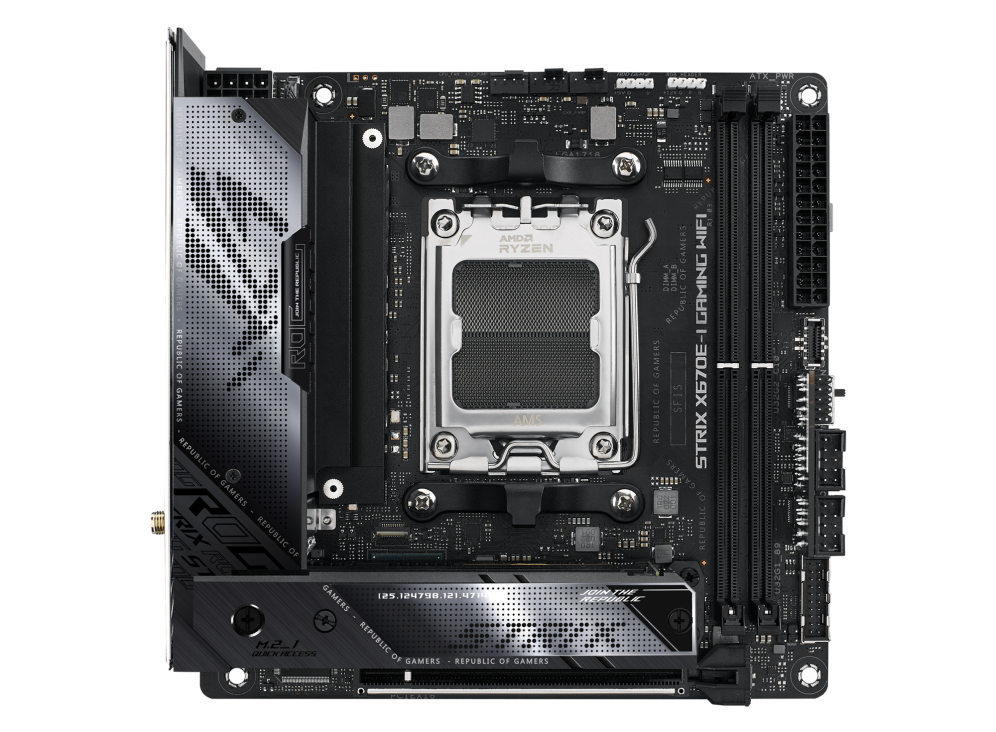 There's a second tiny fan lodged among the VRM heatsink array as well, which can be controlled or completely disabled in the EFI. Under full load, this fan took a while to spin up and still wasn't audible above the rest of the system, so there's nothing to worry about here from a noise perspective.
Meanwhile, the rear I/O panel is reasonably well stocked with ports, including two USB 4 Type-C ports, which offer similar specifications to Thunderbolt 4. There are eight Type-A ports with five of these being USB 3.2 Gen 2, a 2.5 Gigabit Ethernet port, connectors for the 802.11ax Wi-Fi aerial and an HDMI output should you wish to use the new integrated graphics on your Ryzen 7000 CPU.
Performance
Firing up the board for the first time saw it take a minute or two to before any image appeared on the display, but it had no problem booting with our 6000MHx EXPO memory first time. The packed nature of the PCB seemed to have a negative impact on thermals, though, with the VRMs hitting a toasty (but perfectly safe) 68°C with our Ryzen 9 7950X.
Of more concern were the SSD temperatures. The lower slot saw our Kingston Fury Renegade PCI-E 4 SSD hit 70°C, which just about avoided throttling, but a hotter-running WD SN850 reached 80°C. The lower heatsink became extremely hot, so it was definitely doing its job, but we do have concerns if PCI-E 5 SSDs end up running much hotter.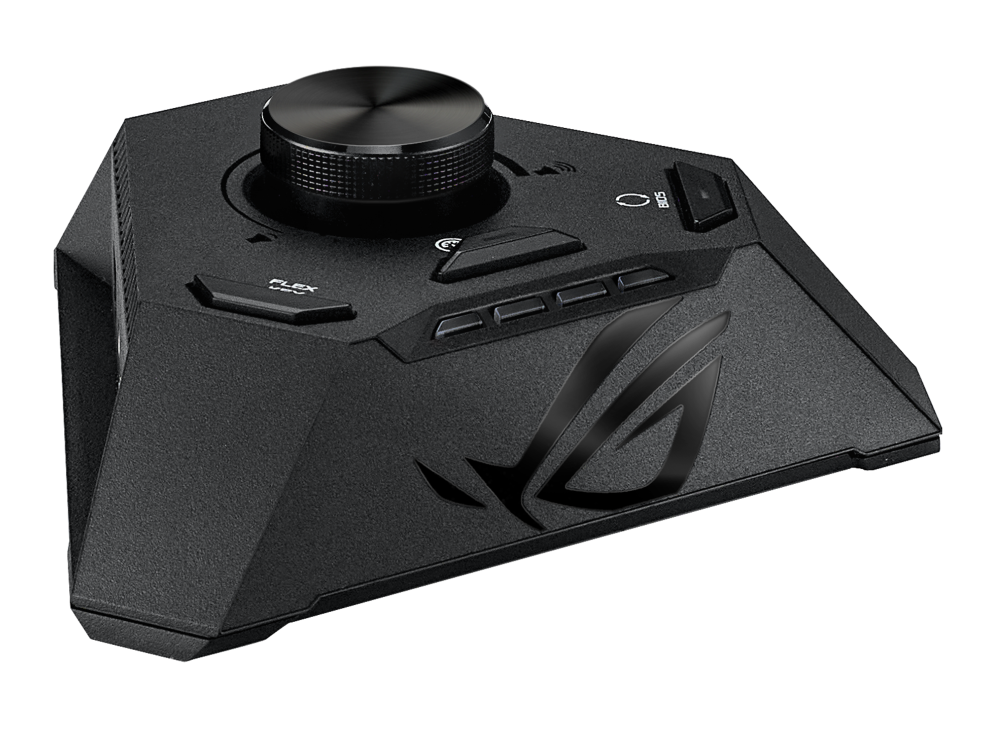 Meanwhile, the best performance we could coax out of the Realtek ALC4050 external audio setup was a dynamic range of 99dBA and signal to noise ratio of -99.5dBa, which are reasonable, but not as good as the best Realtek audio we've seen. Application and gaming performance were fine, though, with the RealBench system score of 491,497 being on the money, if a tad slower than the ASRock X670E Taichi we reviewed last month.
Conclusion
While the M.2 and VRM temperatures are a tad disappointing, the rest of the Asus ROG Strix X670E-I Gaming WiFi shows stunning attention to design and cutting-edge features.
Whether you want a suitable small home for a Core i9-7950X or PCI-E 5 and USB 4 support, it has practically every feature you could want, and it even comes with a handy desktop audio control hub with USB ports and more. However, £ is a huge amount of cash for a mini-ITX motherboard, meaning we can only recommend it to those with very large budgets.
ANTONY LEATHER
VERDICT
Editor choice
ASUS ROG STRIX X670E-I GAMING WIFI Review
Awash with cutting-edge features for such a small board, but it's hugely expensive.
PROS
USB 4 PORT
Excellent feature set
External audio saves CPU socket space
USB 4 and PCI-E 5 support
CONS
Expensive
M.2 and VRM temperatures could be cooler
Disappointing audio performance
Add your review
Best ASUS ROG STRIX X670E-I GAMING WIFI prices ?

ASUS ROG STRIX Z690-E GAMING WIFI


$

459.99
15 new from $458.72
in stock


£

481.86

£494.90
14 new from £481.86
in stock

MORE DEALS