LGA 2066 MOTHERBOARD
4/5
VERDICT
The ROG Strix X299-E Gaming is a versatile and reasonably priced X299 motherboard, though it's best served with Skylake-X
ONCE AGAIN, WE have a new collection of CPUs that also demand a new motherboard. This time it's Intel with its simultaneously released Skylake-X and Kaby Lake-X processors, the shared LGA 2066 socket and X299 chipset aiming to form the basis of enthusiast PCs just as Broadwell-E did in 2016.
While the least expensive Kaby Lake-X parts might not be huge leaps from their mainstream equivalents, you can get a proper set of premium features on a relatively affordable LGA 2066 motherboard. Take the Asus ROG Strix X299-E Gaming, it's not the absolute cheapest available, but it's no monstrosity either, and still offers close to everything you'd need for a truly ambitious system build.
ALL FOURS
There are eight DIMM slots, for instance, which support up to 128GB of quad-channel DDR4 RAM running at speeds all the way up to 4,133MHz. There's also quad-way SLI and CrossFire support for multiple graphics cards; there are only three PCI-E slots (as well as two PCI-E x4 slots and one PCI-E x1 slot), but you can use a dual-GPU card such as the GeForce GTX 690 in one slot and fill the other two with standard single-GPU cards for four in total.
Of course, you'll need sufficient PCI-E lanes to run each slot at its highest possible speed, and so multi-GPU performance is largely determined by which CPU you choose. The top-of-the-range Core i9-7900X provides a whopping 44 PCI-E lanes, allowing the top two motherboard PCI-E x16 slots to run at full x16 speeds, with only the third limited to x8 speed. The remaining Skylake-X chips offer 24 lanes, for an x16/x8/x1 configuration, while the Kaby Lake-X family has 16 lanes, only enough for x8/x8/x1. This may not be a luxury motherboard by LGA 2066/X299 standards, but it does scale reasonably well for luxury components.
The same goes for its cooling support. Its total header count of six isn't any higher than a quality Z270 board, but that's still enough

SPECIFICATION
PROCESSOR SOCKET LGA 2066 • DIMENSIONS 244x305mm • CHIPSET IntelX299 • MEMORYSLOTS 8 • PCI-Ex16 SLOTS 3 • PCI-Ex1SLOTS 1 • PCI SLOTS 0 • USB PORTS 2x USB2, 5x USB3.1,1x USB Type-C • VIDEO OUTPUTS None • WARRANTY Three years RTB
for a fair few case fans even without a splitter, and it includes dedicated headers for both an all-in-one watercooler pump and a pump for open-loop liquid systems.
HIDE AND SEEK
On the subject of cooling, one of the ROG Strix X299-E Gaming's party tricks is a specialised M.2 heatsink, which is attached to the main PCH heatsink. This is a smart idea – it's not unheard of for NVMe SSDs to run hot to the point of having to throttle – though the execution could have been better. Accessing the M.2 drive is now something of a pain, as you need to unscrew the entire PCH heatsink, which also partially obscures the CMOS battery for some reason. This could get annoying, too: there's no dedicated CMOS clear button, or even a reset button, so physically popping out the battery may become an integral part of troubleshooting.
Fortunately, there is a second, unobscured M.2 slot. Both slots support Intel Optane drives (as long as the BIOS is up to date), and there are other internal goodies as well, such as the useful two-digit LCD readout and a touch of metal reinforcement around the PCI-E x16 slots.
On the external I/O panel, Asus's signature BIOS flashback button (handy for updating from a USB drive) is joined by two USB2 ports, five USB3.1 ports, one USB Type-C port and a Gigabit Ethernet jack. There are plenty of audio connectors in the form of S/PDIF, C/SUB, rear speaker and line out outputs, as well as the usual line in and mic in jacks, but no display outputs on account of Skylake-X and Kaby Lake-X chips lacking integrated graphics.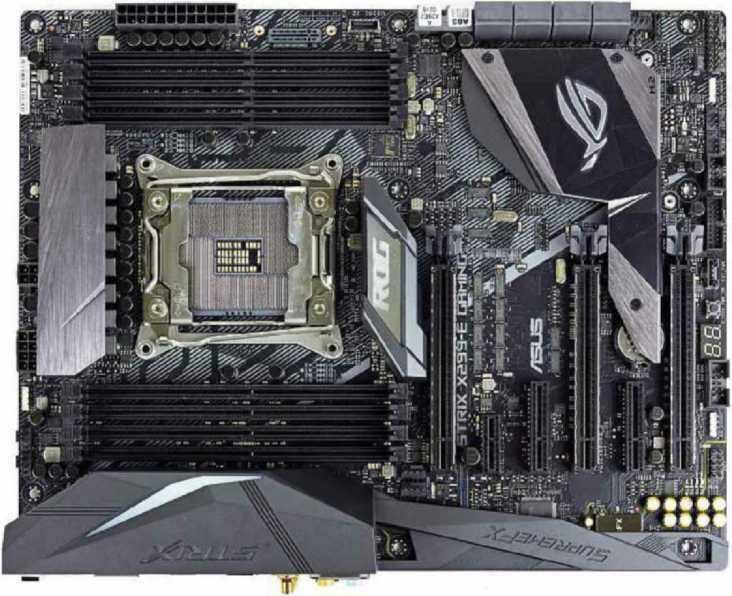 The range of USB ports in particular is fine for everyday use, but is a bit small for an enthusiast motherboard. Asus's own TUF X299 Mark 1 Extreme costs about the same, but offers three additional USB2 ports and a second Ethernet port. At least most of the ROG Strix X299-E Gaming's ports are USB3.1, which is faster than USB3, and it wins points for its wireless connectivity, too. Bluetooth 4.2 and 802.11ac Wi-Fi are both built in, and the I/O panel also includes a couple of connectors for the bundled wired antenna.
We've no complaints about performance. Motherboards are ultimately about facilitating the CPU, and our Intel Core i7-7740X showed high overclocking potential when used with the Strix X299-E Gaming, staying as stable at 5.2GHz as it did at stock 4.3GHz speeds.
PRECISION ENGINEERING
As for the BIOS, we prefer MSI's grid-style design to the slightly dull series of tabs and lists used by Asus's UEFI utility. Nonetheless, the latter is still easy enough to navigate and, more importantly, affords incredibly fine control over your hardware. From individual core ratios, BCLK frequency and general voltage controls to DRAM timings and slew rates, there's more than enough to play with.
Although the Strix X299-E Gaming isn't technically outstanding, like last year's X99 Deluxe II, it's still a fine motherboard on the whole. We still have concerns about the value of Skylake-X and (especially) Kaby Lake-X chips, but if you do take the plunge, this is worth taking with you.
James Archer