Can it make the first cut in genre-specific gaming laptops a deep one?
ASUS GL503VS Review – (ASUS RoG Strix GL503VS Scar Review) ASUS's wafer-thin Max-Q poster boy, the RoG Zephyrus, was one of the most desirable gaming laptops of 2017, but all its innovation came at a considerable cost, landing it well outside an affordable price bracket for the vast majority of gamers. While in many respects, ASUS's RoG Strix GL503VS Scar is clearly in a different league, it has enough powerful components to achieve comparable performance, and at around less.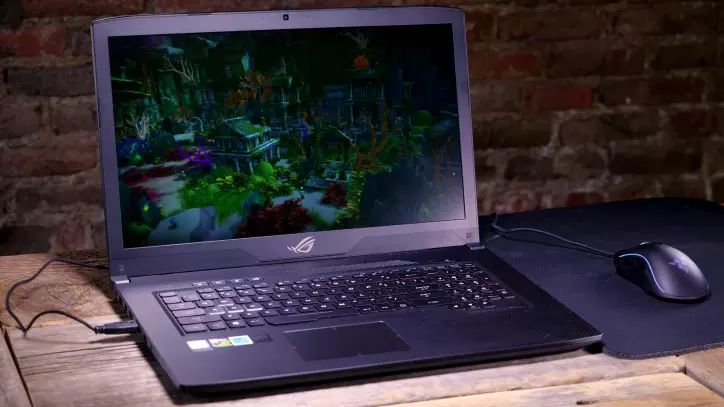 An expectedly powerful Intel Core i7-7700HQ CPU is supported by a hefty 32GB of RAM (double any other unit we've recently tested) and a speedy 256GB NVMe SSD and 1TB HDD storage setup. The additional RAM does boost general computing tasks, with the device performing 16% better than the Zephyrus in PCMark 10 benchmarks, but it basically doubled the media encoding speeds of any other laptop we've tested with the same CPU and 16GB of RAM. This surprising power boost did come at a cost, though, pushing the device to 100°C. We didn't observe any throttling, and performing intensive media encoding processes was the only task that pushed the Scar above 94°C, but if sustained over a long time, that will damage internal components.
The Scar is a variation of the GL503VS and GL503VS Hero models from the RoG Strix range, one that ASUS claims is specifically designed for FPS gaming.
We are a little skeptical of this new marketing convention, since the optimum requirements of a MOBA or FPS game will vary dramatically from title to title. You can generally say that a MOBA will require less GPU power and this point of difference is the main distinction we've noted in the MOBA configurations available. Looking at the GTX 1070 GPU, the 32GB of RAM and the 144Hz 7ms response IPS display, this laptop offers an exceptionally well structured config for people looking to play graphically demanding games at a competitive level, FPS or otherwise. When it comes to real-world game tests, the Scar gets 79, 44, 46.4 and 91.22fps averages in our benchmarks The Division, Far Cry Primal, Ghost Recon Wildlands and Rise of the Tomb Raider, respectively. Compare this to the RoG Zephyrus' 84.9, 51, 52.6 and 94.3 respective averages and you see just how close the GL503VS's GTX 1070 GPU performs against the latter's Max-Q GTX 1080.
Those components heavily tax the battery, though, with the Scar lasting less than 2 hours when playing movies and only 1 hour and 22 minutes in PCMark 8's Home benchmark. The system is also set to use passive cooling when on battery power (which curbs performance rather than engaging fans), so this isn't a system you'll be able to game on without being attached to power. That said, if you are OK with a very portable 2.5kg gaming rig and 144Hz screen combo, then this powerful device is one of the best gaming laptops we've tested under
■ Joel Burgess
ASUS GL503VS Review: Benchmark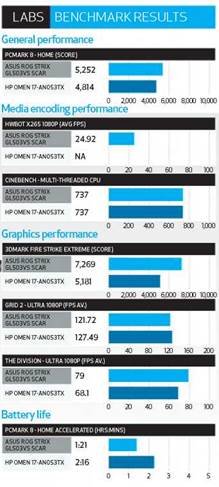 ASUS GL503VS Review: Verdict
Features 4/5
Performance 5/5 Value   4.5/5
A performance-first gaming rig that bundles some of the best components for a great gaming experience.
4.5/5
Editor choice
ASUS RoG Strix GL503VS Scar Review
A performance-first gaming rig that bundles some of the best components for a great gaming experience.
Add your review