Generally speaking, we're wary of laptops that are too cheap. When you see this one – Asus Chromebook C202SA, it might seem like you're getting a bargain.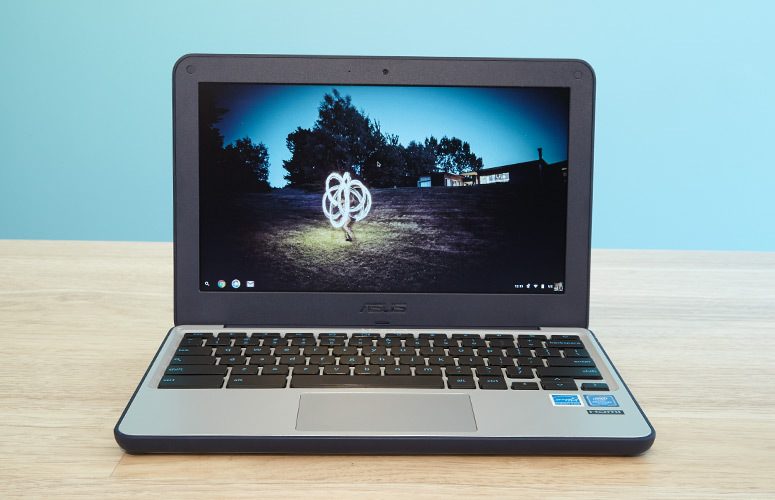 But these days you can run up that sort of bill just filling a trolley in Sainsburys – or even Lidl, if you get tempted by all the power tools they've got on offer in those big baskets in the middle. Even so, Asus Chromebook C202SA might still be a false economy: Windows 10 and modern software need a lot of processing power to run smoothly, and if you skimp too much you'll end up with a system that constantly keeps you guessing whether it's crashed or just needs another couple of minutes to scroll to the end of your Word document.
It's cheap, portable, largely damage-proof and sufficiently fast to run web apps
One answer is to spend a little more. Another is to skip Windows and use a Chromebook which, instead of a conventional operating system, relies on what's basically a glorified web browser to handle all your tasks. You can run programs – of a sort – and in some cases even install them on the Chromebook rather than always needing to be on the internet. But essentially the idea is that everything lives online (or 'in the cloud') and all the real work is done at the other end of the connection, on a server somewhere that belongs to Google (which makes the Chrome OS software) or whoever's web app you're using.
We've tested a number of Chromebooks, including Asus' C201, which is not entirely unlike the Asus Chromebook C202SA. The difference is that this one is aimed at schoolchildren and students, with an extra-strong hinge that opens all the way to flat (the better to see the teacher over your laptop), an anti-glare screen, spill-proof keyboard and rubbery bumpers all around. It's not guaranteed to survive if dropped, but is designed to be repairable. All of this is sensible, of course, for any user, not just those in education.
Although Asus Chromebook C202SA's a very small machine, the keyboard is surprisingly usable, with keys that travel further than most, and the 1366×768-pixel screen is crisp and bright. Intel's Celeron processor won't win any speed awards, but since Chrome doesn't require it to do very much it's good enough, especially if you pay a few pounds extra for the model we tested, which has 4GB of memory rather than the minimum 2GB. The battery should last you around eight hours. Prices fluctuate, so shop around and you should find it for not much more than £200.
Asus Chromebook C202SA SPECIFICATIONS
Intel Celeron N3060 dual-core processor .408 memory • 16GB flash storage • 11.6in 1366×768-pixel screen • Webcam • SD card slot • 2x USB 3.0 ports •1x HDMI port. 802.11ac Wi-Fi • Bluetooth 4.0 . Chrome OS • 22.5x294x200mm (HxWxD) • 1.2kg
VERDICT:
Asus C202SA Chromebook Review
It's not a do-it-all PC, but this sturdy little travelling companion is a good choice if Chrome suits your purposes
Add your review
Best Asus Chromebook C202SA prices ?
$

342.00
17 used from $63.99
6 new from $342.00
in stock

MORE DEALS

See also THE COMPLETE GUIDE TO…OLED laptops
Asus Chromebook C202SA ALTERNATIVE:
Asus C201 Chromebook
It's less powerful, but if you want to keep costs right down this model (cheapest in Argos) is still an option