ASRock Z270 Gaming K6 Review – We're jumping from the most expensive board in the roundup to the most affordable, in the form of ASRock's Z270 Gaming K6. As the name indicates, it's still based on the best chipset in the 200 series, the Z270, yet ASRock has managed to bring the price down to a level that is hard to beat, while still retaining a swag of killer features. Let's take a deeper look.
This board arrives with three full-length PCIe slots, along with three PCIe xl slots. As has become the norm, the larger slots are all reinforced with metal cases, making them ready to handle the heaviest of cards. After recently ripping a plastic PCIe slot off our test-bench motherboard while removing a video card, it's a feature that we've grown to love. There's no word on any extra PCIe lanes though, so we can safely assume that this board offers the standard 24 of the Z270 chipset. There's no solid info on how the main PCIe slots can be configured though, with ASRock's specs simply claiming 16,8 and 4 configurations. However, the fact it supports Nvidia's SLI suggests it can run two of the lanes at x8 speeds, and there's a free SLI HB bridge that delivers the same improved speeds of Nvidia's latest SLI bridge.
We didn't expect to see integrated Wi-Fi at this price, but the inclusion of twin Intel Gigabit Ethernet ports was a pleasant surprise. These can be combined via the use of Teaming functionality to effectively double the transfer rates delivered to the board over your wired network. Twin M.2 slots are included, and it's possible to load one of these up with an M.2 form-factor Wi-Fi (Key E) card.
These M.2 slots are also compatible with Intel's new Optane memory technology.
Lovers of the light might be a little disappointed with the RGB lighting on this motherboard, as it's not quite the spectacle of the likes of the Aorus board, with fewer lights around the board, mainly centered on the PCH cover.
There's an RGB header for use with LED lighting strips, and the usual software control allows for choosing the colour and pattern.
Ten-phase power should deliver a healthy power supply, though it won't be a record-breaker like the Gigabyte.
The cooling solution for this is relatively simple, with a couple of aluminium heatsinks connected via a single heatpipe. Six SATA III ports are delivered via the Z270 chipset, with another two powered by an ASMedia ASM1061 chip. There's no sign of U.2 or SATA Express though, but given most mainstream users will be more than happy with M.2 support, it's not really an issue.
ASRock's Purity Sound 4 wears the Sound Blaster Cinema 3 logo, yet it's powered by a Realtek ALC1220 audio chip. The use of quality amps and audio capacitors is now commonplace in motherboards, and the plastic EMF shield probably won't block many radio waves. Still, the onboard audio is above average compared to the horrors of the past. Four USB 3.0 Type A ports are included, along with a USB 3.0 Type-C, but it doesn't appear to offer Thunderbolt support. There's also a single USB 3.1 Type-A port. Five fan connectors are present, with one designed specifically for water coolers. This has an increased power output of 18W, designed for demanding water pumps or radiators. All of these fans can be controlled automatically or manually from within the BIOS.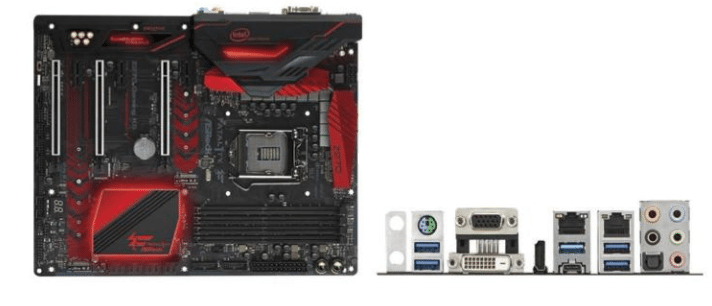 Speaking of which, as expected, the BIOS is clean and uncluttered, and lacks many of the more fine-grained overclocking features of the more expensive boards. You'll still be able to do a decent overclock using the basic controls within, and we appreciate the inclusion of onboard power and reset buttons. There's also a diagnostic LED that will spit out a cryptic code if something goes wrong during boot-up – a quick glance at the manual allows you to translate what each code means. The four DDR4 slots are rated to handle speeds of up to 3866MHz, which is impressive at this affordable price.
During our benchmarks, we left all BIOS settings at their default, which could explain why this board had slightly lower memory throughput than the rest; enabling the XMP memory profile would likely close this gap. It performed admirably in the rest of our tests, showing that when you spend extra for a motherboard based on the same chipset, it's for features, and not frame-rates.
If you're looking for an affordable upgrade to a Z270-based system, the Gaming K6 ticks all the right boxes. It's got all of the basics, decent overclocking features and performs just as well as boards three times the price.
ASRock Z270 Gaming K6 Review: KEY SPECS
24 PCIe lanes • Z270 chipset • DDR4-3866MHZ x 4 slots • Socket 1151 • 5 x fan headers, w/ one 18W header for water pumps • Purity Sound 4