This 15in model is Acer's latest attempt to squeeze a desktop PC equivalent into a laptop. At 2.1kg (4 1/2 lb), it's twice the weight of the lightest laptops, but less of a beast than many gaming systems. And although the Nvidia GeForce RTX 2060 GPU will happily run all your 3D games, this machine is really aimed at creative work.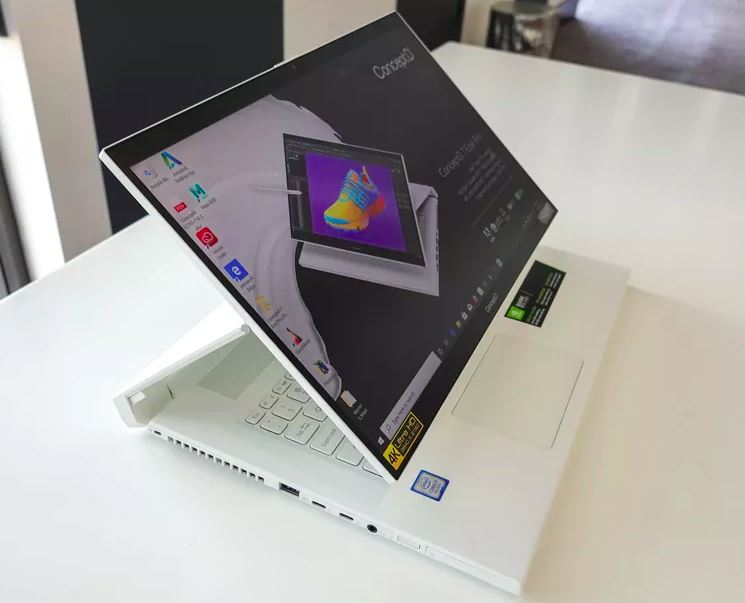 This striking laptop offers accurate colours and lightning performance
Some laptops for graphics users, including Apple's MacBook Pro, support the video industry's DCI-P3 colour space. Acer has instead chosen Adobe RGB, favoured by graphic designers for its coverage of CMYK printable colours. Our tests confirmed the extremely sharp 4K screen covered the whole of Adobe RGB with near-perfect accuracy, and we were also impressed with the evenness of the backlighting. Adobe RGB encompasses all of sRGB and most of DCI-P3, so it's also suited to creating content for these spaces, but Acer makes no particular claim of accuracy.
The striking white case uses quite a lol of plastic, but the aluminium core gives it a robust feel and the keyboard, with amber backlighting, is surprisingly good. The touchpad is smaller and less smoothly responsive than we'd have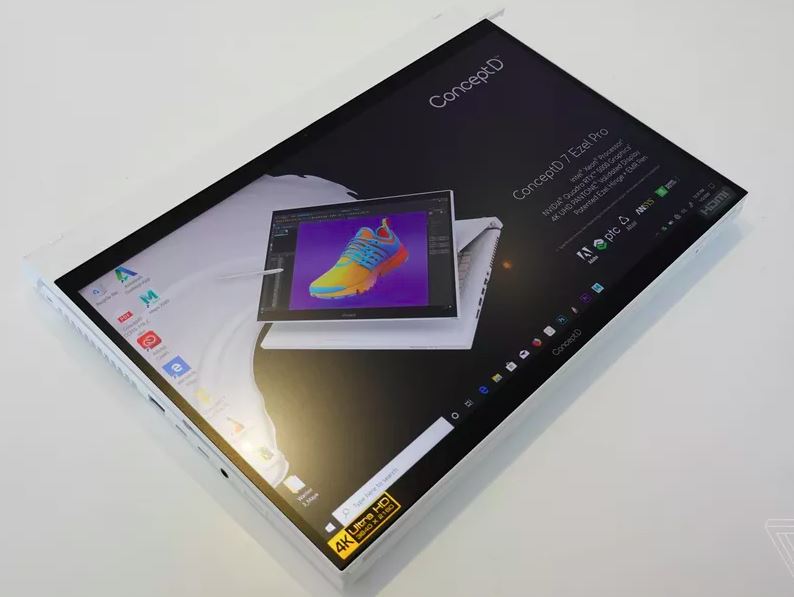 liked, and although we didn't miss a touchscreen – you don't want finger marks all over the photo you're trying to edit – this might leave you wanting to plug in a mouse. Fortunately, there's no shortage of ports, including USB C with Thunderbolt 3 for fast external SSDs and even an Ethernet socket, but no SD card reader. Wi-Fi is 802.11ac rather than the new 802.flax, and there's no face recognition or fingerprint login.
Intel's six core i7 9750H high-performance mobile processor proved exactly as fast in our tests as its predecessor, the i7 8750H. You could buy a desktop PC i7 system for a lot less money and it would go at least 50 per cent quicker, so there's a compromise here. But the ConceptD 7 ekes as much speed out of the 9750H as any laptop that uses it, and significantly more than Acer's cheaper Nitro 7, it's only beaten by the likes of the MacBook Pro 16in with an i9-9980HK chip, which works out £ pricier. The 1TB SSD was very fast, hitting 2,878MB per second reading and 2,586 writing.
The catch? Our ConceptD 7 lasted barely five hours of video playback before needing a recharge from its 628g (1 1/2 lb) mains adapter. You'll get even less in more demanding tasks. Still, this qualifies as a main PC that you can take to the coffee shop or library (whenever they're open again).
VERDICT
Best price
Acer ConceptD 7 Review
Proving GPU-heavy laptops aren't just for gamers, this is a practical creative workstation
Add your review
Best Acer ConceptD 7 prices ?
£

499.00

£519.00
4 used from £353.92
7 new from £489.99
in stock


£

1,715.46
2 new from £1,715.46
in stock


$

3,707.99
1 new from $3,707.99
in stock

MORE DEALS

See also THE COMPLETE GUIDE TO…OLED laptops
ALTERNATIVE
Dell XPS 15
Similar size and specs, including Adobe RGB, but with less advanced 4GB GTX1650 graphics
SPECIFICATIONS
2.6GHz Intel i7-9750H six-core processor • 32GB memory • 1TB SSD • 6GB Nvidia GeForce RTX 2060 graphics • 15.6 in 3840×2160-pixel screen • Webcam •  802.11ac Wi-Fi • Bluetooth 5 • USB-C Thunderbolt 3 port • 3x USB 3.0 ports • HDMI port • Gigabit Ethernet • Windows 10 Pro • 17.9x359x255mm (HxWxD) * 2.1kg • One-year warranty