LENOVO IS AN old hand at business notebooks, and the fifth-generation ThinkPad X1 is its thinnest, most powerful laptop to date, which retains the unmistakable ThinkPad look.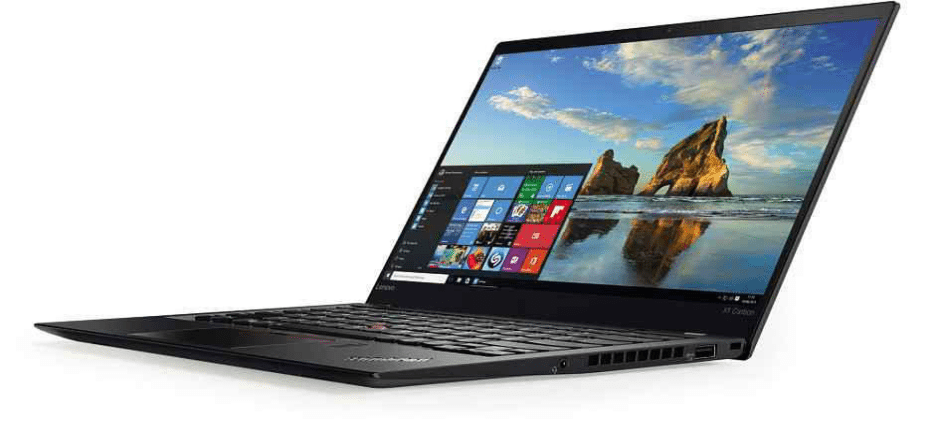 At 16mm thin when closed and weighing just 1.13kg, this 14in laptop has lost a lot of weight compared to its predecessors, but it doesn't come cheap. Prices start for the model with an Intel Core i5-7200U processor, 8GB of RAM, 256GB SSD and Windows 10 Home, rising to for a Core i7-7600U CPU, 16GB of RAM, a 1TB SSD and Windows 10 Pro. Oddly, we were sent a custom model for review, with a Core i7-7500U, 16GB of RAM, a 256GB PCI-E SSD and Windows 10 Pro – the closest retail spec available is ,554, and is identical save for having 8GB of RAM instead.
BUSINESS CLASS
The good news is that you're paying for genuine top-end quality. The X1 Carbon has a carbon fibre frame that helps keep it wonderfully light, making it easy to carry on the commute or from meeting to meeting.
The whole thing is coated in a lovely soft-touch, all-black rubberised coating.
There's a touch of Apple-esque minimalism here, with only the subtle ThinkPad logo adorning the right corner of the lid.
Nonetheless, Lenovo hasn't scrimped on ports and connectivity. The X1 Carbon comes equipped with two Thunderbolt 3-powered USB Type-C ports, two regular USB3 ports, one full-size HDMI output, a 3.5mm headset port and an Ethernet connection via the supplied adaptor. There's even a slot that does double duties for both microSD and Micro SIM cards, found underneath the rear hinge.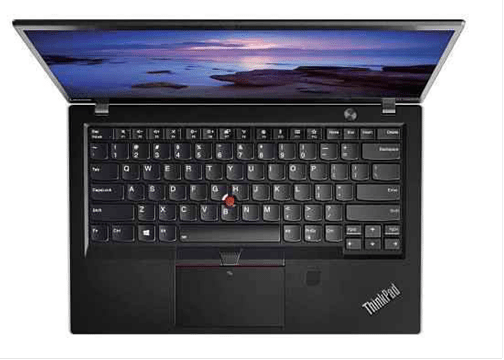 Lenovo's chiclet-style keyboard is outstanding. Each individual key is chunky, with a slightly scooped-out top, and has a much longer travel than on the Dell XPS 13 – one of the X1 Carbon's closest competitors.
It's sensibly laid out, too, the one caveat being that the cursor keys are a little on the small side; you may find yourself accidentally pressing the page up or page down keys, which sit uncomfortably close to the cursor keys. The keyboard backlighting isn't particularly bright, either.
NUB CLUB
Something of a Lenovo staple is the inclusion of the red TrackPoint in the centre of the keyboard, which accompanies the traditional touchpad underneath. This gives you a little more precision with mouse movement and means you don't have to move your hands away from the keyboard, but we wouldn't want to use it all the time as it requires quite a bit of pressure to move the pointer.
Fortunately, the touchpad itself is pretty good. It's reliable and accurate, and the provision of actual physical buttons is a godsend, although touchpads with integrated left and right click buttons are pretty good these days. It isn't the largest touchpad in the world, though, and we found that our fingers crashed into the sides a little too often, especially when carrying out Windows 10's multitouch gestures.
Given the laptop's business-mindedness, it's good to see a fingerprint reader built into the wrist rest, just to the left of the touchpad. This comes as standard no matter which specification you opt for and is Microsoft-certified, so all Windows Hello functions work without a hitch.
It might look more like a 13in laptop but in fact, Lenovo has crammed in a Full HD 14in IPS screen here. It's not quite on the same level as the XPS 13's, but it's a looker nonetheless. And, unlike the Dell's display, it's an anti-glare panel, which does a great job of softening reflections.
Top brightness is a more than adequate 312cd/m2, while sRGB colour gamut coverage hits 82%, which is on the low side. Despite this, colours are reasonably punchy and vibrant and, while it might not be best suited to colour-critical design work, the ThinkPad X1 Carbon's display will do the job for most office users.
When it comes to performance, our review unit should come close to the best available from all the various specs. In our demanding 4K benchmarks, the Lenovo ThinkPad X1 Carbon reached an overall score of 52, nudging slightly ahead of the Dell XPS 13. Lenovo's laptop comes out even further ahead in the multitasking test, with a score of 41.
Crucially, the ThinkPad X1 Carbon doesn't buckle under the pressure when it comes to longevity. It lasted 10h 20m in our continuous video playback test, which is almost three hours longer than both the Dell XPS 13 and the most recent MacBook Pro on a single charge.
CARBON RATED
The display might be a touch lacklustre, but otherwise this is an ideal business ultraportable. In fact, Lenovo's ThinkPad X1 Carbon ticks all the right boxes: there are plenty of configurations to pick and choose from, its performance is ahead of its competitors, it has fantastic battery life and it's excellent ergonomically.
There's only one thing it isn't so good at, and that's keeping the price down: a Dell XPS 13 with near-identical specs, a saving of over . Mind you, the base configuration of the X1 Carbon is still cheaper than Apple's 13in MacBook Pro.
Nathan Spendelow
SPECIFICATIONS
PROCESSOR Dual-core 2.7GHz Intel Core i7-7500U • RAM 8GB • DIMENSIONS 324x217x16mm • WEIGHT 1.13kg • SCREEN SIZE 14in • SCREEN RESOLUTION 1,920×1,080 • GRAPHICS ADAPTOR Intel HD Graphics 620 • TOTAL STORAGE 256GB SSD • OPERATING SYSTEM Windows10 Pro • WARRANTY Three years onsite

VERDICT
The ThinkPad X1 Carbon is a superior business class ultraportable with a lofty asking price
Best ThinkPad X1 Carbon prices ?
MORE DEALS

See also THE COMPLETE GUIDE TO…OLED laptops