Historic EQs and the illuminated meter of Teat's new PE-505 balanced phono preamplifier capture Noel Keywood's attention. Read our TEAC PE-505 Review.
If you run a high-end turntable with quality cartridge, the case for connecting it up balanced is overwhelming. But balanced input phono preamps are rare. Big surprise: Teac have come up with just such preamp, the PE-505 I am reviewing here. And as you'll likely have noticed, it even has a now fashionable olde-worlde illuminated meter with dancing needle.There's more than just sonic entertainment here.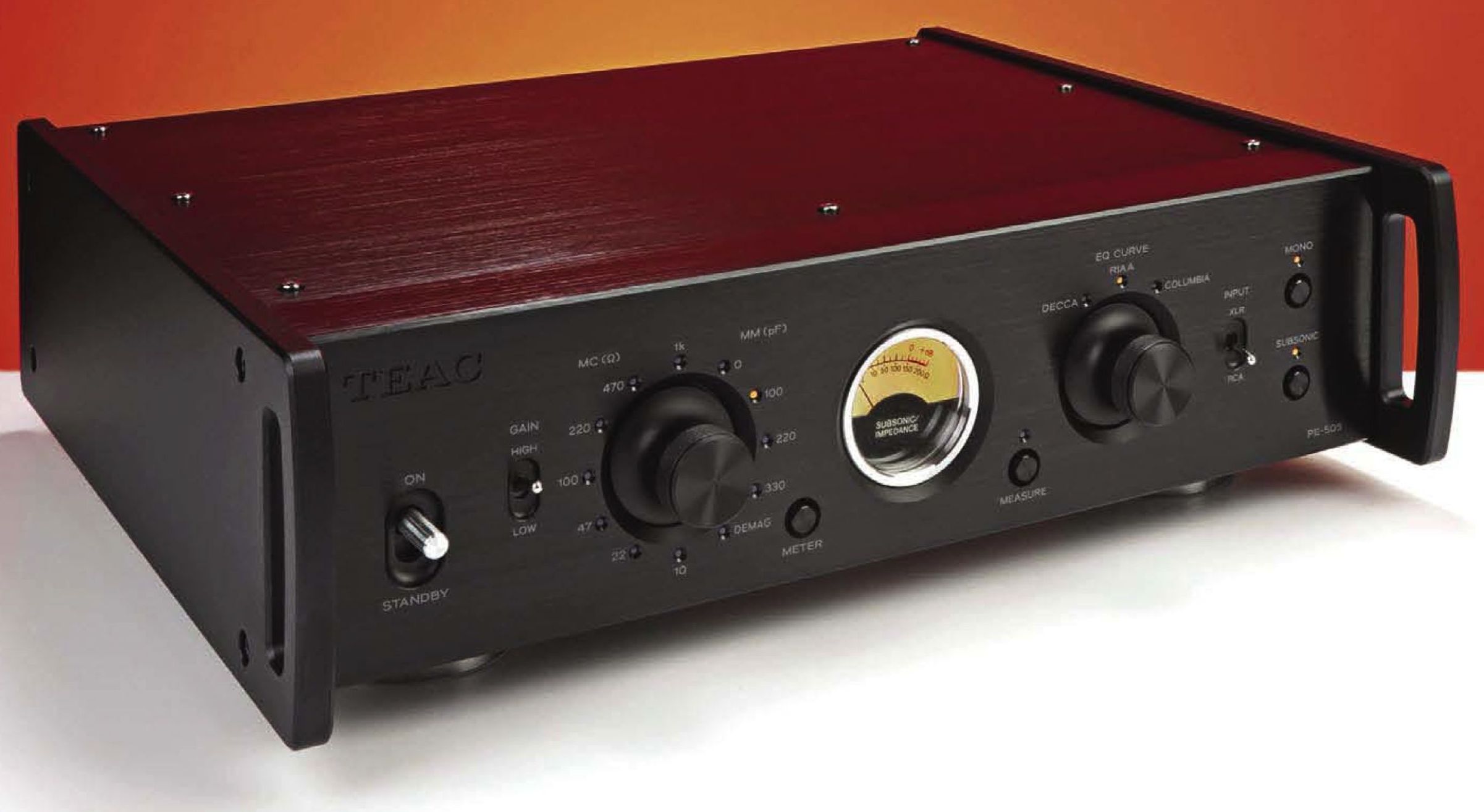 As my eyes alighted on the Teac I could not help but be impressed by its retro appearance and fine standard of finish. A slickly machined alloy front panel with Teac's name deeply engraved into it, plus a conspicuously brushed finish made their mark, clean edges helped and, with power on. dull orange LEDs complement the dull orange illuminated meter. Since our Icon Audio Stereo30 SE amplifier uses the same style idiom I'm not new to it – and there's charm in there. But Teac subtly take things a little further by adding in modern logic to exert a bit more control over user settings. But before I explain the human logic behind the hardware logic, best to give a quick outline of functionality.
As you might expect at the price, this phono stage accepts moving magnet (MM) or moving coil (MC) cartridges. It has two different gain settings for each, to cope with normal and low output types.There are balanced outputs (XLR sockets) in addition to more common unbalanced outputs through RCA phono sockets. Most importantly though, there are balanced inputs that, I'll point out straight away, demand a turntable re-wire.Yep, that's why balanced inputs are still rare.Teac inevitably fit standard RCA phono socket inputs too, since few turntables are wired for balanced use.
So the Teac can be run allbalanced (in and out), balanced in and unbalanced out (and vice- versa) or unbalanced (in and out).There is a need for each of these arrangements but the first all-balanced one gives best results. It also gives maximum gain which comes with using the balanced output: gain drops by 6dB from the unbalanced (phono socket) output, another reason for providing a high gain option (more details in Measured Performance).
Now to logic.When switched to its balanced XLR inputs the PESOS only accepts MC cartridges. The MM settings are locked out. There are two possible reasons for doing this: MMs are too lowly to warrant balanced connection and most have earth straps that don't suit fully balanced use in any case. Neither is fully correct: top quality MMs now do justify balanced connection and the earth strap problem can be sorted with simple surgery. ButTeac have decided otherwise – an unnecessary limitation I feel.
This peculiar decision apart, the PE-505 has plenty of unique features.The input load for MC switches through seven values from a very low 10 Ohms up to Ik Ohms, with 100 Ohms as a default, as it should be. The lower 47/22/10 values are for experimentation, offering a slightly more damped sound at the expense of output.The higher values of 220/470/1 k Ohms are for high output MCs with more coil turns that need a higher load value, 470 Ohms being common.
With RCA (unbalanced) inputs selected the MM settings become available and here a 47k Ohm load is set, and four capacitance values are available: OpF up to 330pF.
Not only does the PE-505 accept a balanced turntable input, but its internal circuits are balanced too.Teac say.
But there's more: that lovely little meter performs two functions. It can measure the MC load (not MM), apparently by passing a I kHz signal through the cartridge, giving a readout on a scale calibrated 2Q – 200Q.With most MCs this should come in at I0Q or less, Teac suggesting the load be set at double this value or greater.The usual rule-of-thumb is xIO, not x2, which is why MC load is usually I00Q, ten times greater than most MCs that are I0Q. But all this can be experimented with and those who have done so – with Project's Phono Box RS2 for example – commonly say they prefer a low value. Cartridge manufacturers quote the generator impedance so no great need to measure it but the Teac can do so all the same. When I pressed the button it came up with 10 Ohms for our set-up (correct!).
The other little trick this meter performs is to show signal level below 6Hz, to warn of subsonic warp signals. If it starts to flicker wildly then a Subsonic filter can be engaged.This rolls down response below 50Hz our measurements show, at a final rate of 24dB/octave Teac say. Unfortunately, with gain set to High, MC or MM, the filter became more drastic, rolling off output below 100Hz – enough to audibly lighten bass. The Subsonic filter is OK at Low gain but drastic at High gain: it should not change behaviour like this.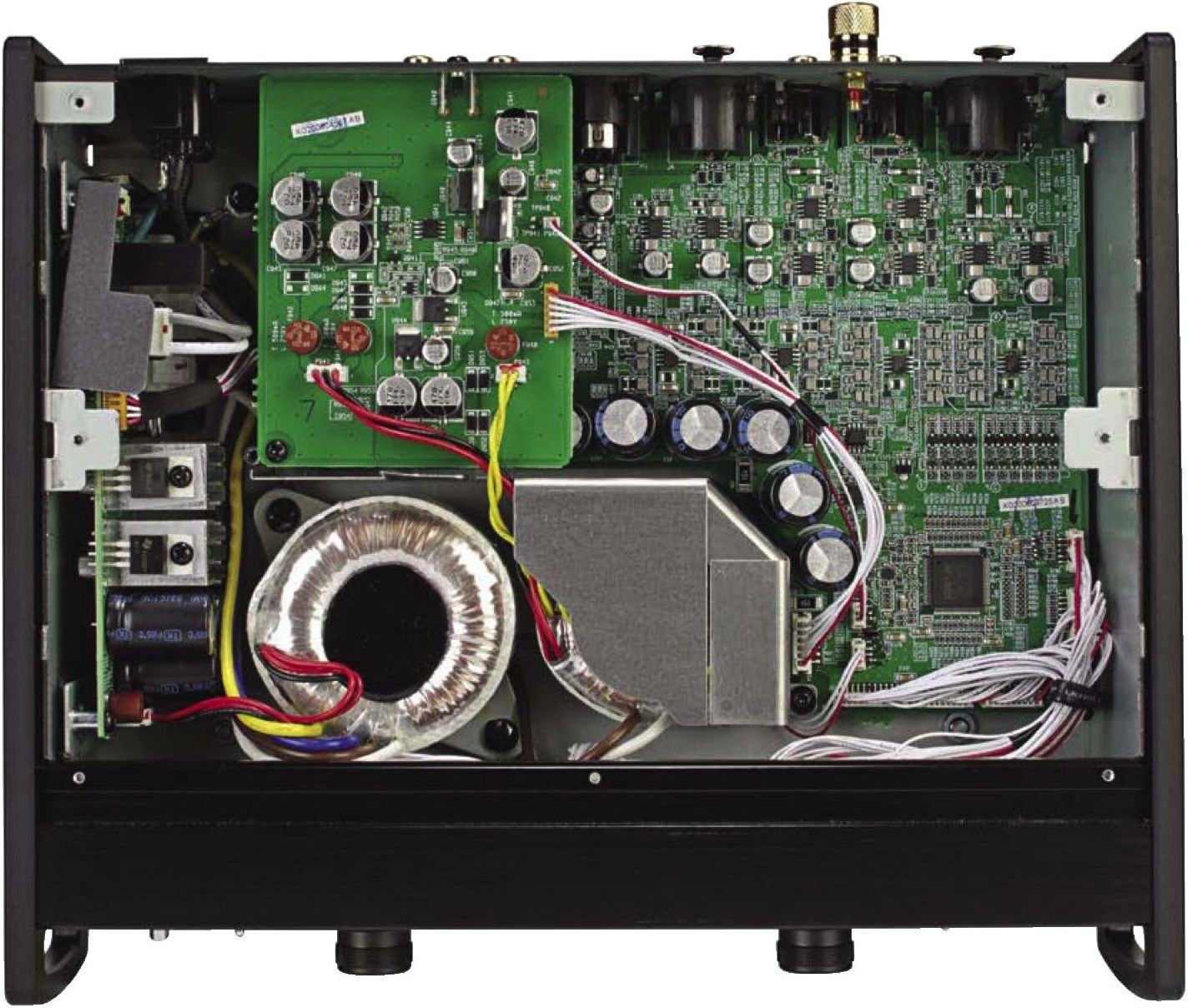 In addition to RIAA, Decca and Columbia equalisations are provided for those with old records.
Other functions are a Mono button and a Demag (demagnetisation) function. Power turns off automatically after 30mins of inactivity, but this can be defeated. The unit draws just I4W whilst on, through a linear power supply. Firmware for the internal microcontroller can be updated by connecting to a Windows PC via a microUSB cable and downloading from Teac's website.
The case is compact, especially since there is a linear power supply on-board (so 230V/1 10V versions). It measures 290mm wide, 84.5mm high and 252.5mm deep, with a modest weight of 4.5kg.
SOUND QUALITY
I slid out our Project Phono Box RS2 and slid in the PE-505 – easy to do because both have balanced inputs and outputs. Feeding the Teac was our Timestep Evo modified Technics SL-I2I0 Mk2 Direct Drive turntable fitted with SME309 arm and Audio Technica OC9X SH (Shibata) cartridge, connected up balanced.The balanced outputs fed our Creek Voyage IA20 amplifier, connected to Martin Logan ESL-X hybrid electrostatic loudspeakers through Chord Company Signature Reference screened cables.
After playing a slew of top quality LPs I got a handle on where this phono stage was coming from, but I'll use our superbly silent recent re-master of Abbey Road to illustrate main features. First up was sound stage: the Teac has finely wrought but clear and explicit treble that gave a wide and open sound stage, helping the dreamily drifting guitar intro of Sun King move from far left to right in obvious fashion.The same quality also gave vivid bite to crashing chords at the opening of Polythene Pam. Overall, whatever I played, the Teac pinned images clearly on a wide stage between the electrostatic panels – impressive.
Bass lines were strong whatever I span, having a wide open quality with a feeling of depth.This gave Because plenty of low end power and so it was with all LPs: bass lines were strong yet expressive, I could hear note changes clearly.

A wresting match started with Abbey Road though, an LP Imprinted on my mind: I was querulous about those wonderful harmonies: had I heard them more clearly before? This prompted a change to Pro-Ject's Phono Box RS2 and differences were fascinating.The RS2 teased out more depth to vocals, having a fuller sound – even valve-like.Yet it did not have the explicitly sharp imaging of the Teac. Bit of a tradeoff here then, one I can't easily decide upon.
Slightly frustrated I used Demag on the Teac and this eliminated what I felt was some slight cloudiness.To be frank, after hours of listening I could not clearly state one preamp was better than the other. The PE-505 was, however, a gripping listen whatever I played. It was harder edged than the RS2 and fast by any standard, yet this being top quality vinyl replayed by a good condition Shibata stylus differences ranged from wonderful to gorgeous! After digital it was like picking between angels.The Teac was more immediately dramatic than the Pro-Ject but not as profound in terms of stage depth and midband dynamics. Both are super-silent of course – no hiss or hum.
I spent time with the Subsonic filter and could not easily detect its presence on bass heavy LPs like our Mobile Fidelity 45rpm remaster of Brothers In Arms. Mark Knopfl er likes a big warm sound with strong bass and switching in Subsonic at Low gain seemingly had little effect; but at High gain I could certainly hear bass lighten. Teac could usefully fix this issue, especially as High gain will be used by many. With Subsonic switched in the meter needle falls to zero, but I left it out whilst listening and still it moved little. LPs with a single big ripple may well make it lively.
Running Demag for 30 seconds whilst playing, sound did 'seep through' (as Teac put it) contrary to what the User Manual says, but there's a firmware update to fix this. Not a big issue.
CONCLUSION
The PE-505 is an intriguing balanced phono stage. It's obvious Teac have put a lot of effort into it and sound quality was beyond easy criticism. It has a gloriously wide sound stage, precision fine treble, plus endlessly deep bass that is tuneful too. I was totally happy to listen to LPs through it – a wonderful experience. And with top quality reproduction of LP via balanced input that's what counts in the end. Niggles fade. A lovely product then, well worth hearing.
MEASURED PERFORMANCE
Frequency response of TEAC's PE-505 measured flat from 3Hz to 20kHz with MM and MC at Low and High gain. The Subsonic filter introduced a slow initial roll-off at 100Hz, measuring -IdB at 50Hz, but steep final roll-off rate to give massive attenuation below 20Hz. But with High gain (MM and MC) the filter rolled off eariier, measuring -1dB down at 100Hz which is excessive in that it will obviously lighten audible bass.
At Low (gain) MM had a gain of just x50 (34dB) via the unbalanced phono socket output. At High this rose to a more useful x200 (46dB). The gains doubled (add 6dB) to more normal values via the balanced XLR outputs.
With MC gain was similarly low at x500 (54dB) via the phono socket output but doubled to a conventional x1000 (60dB) via XLR out. Selecting High (gain) gave x2000 (66dB) via phono out and x4200 (72dB) via XLR. To avoid using High, for best Subsonic filter performance, the balanced XLR outputs are best used to achieve normal gain values.
Overload values were set by output swing as always, with 8V via phono socket out and 16V via XLR out. Divide these values by gain to get input overload values. The Teac was satisfactory here, but 10V / 20V are possible. Overload is unlikely in practice.
Equivalent input noise (MC at 60dB gain) measured 0.15pV, where 0.1 pV is as good as it usually gets. So very good – low enough for hiss to be inaudible.
The meter became increasingly sensitive below 10Hz until it moved over to maximum at 1 Hz, so very low frequency warps are fully indicated. The Subsonic filter reduced indication to zero.
The PE-505 measured well, but ideally Subsonic filtering should be more consistent. NK
Frequency response 2Hz-20kHz
Distortion 0.02%
Gain (MM max XLR out) x400/52dB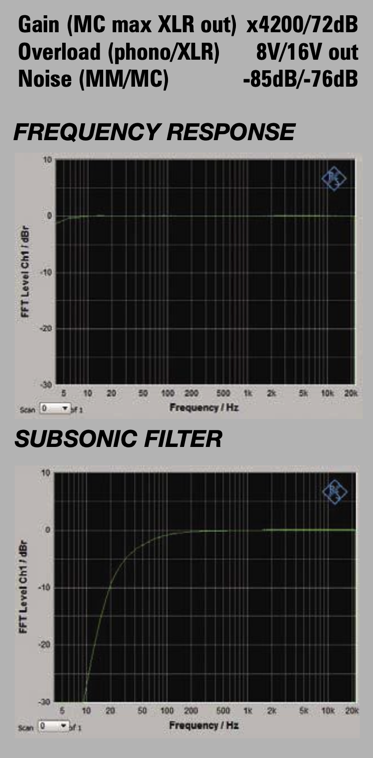 | | |
| --- | --- |
| OUTSTANDING | amongst the best. |
| VALUE | keenly priced |
| Distributor | TEAC |
| Website | eu.teac-audio.com |
VERDICT
TEAC PE-505 Review
Big, open sound with powerful bass. Hiss and hum free.
PROS
clear powerful sound
balanced input for MC
facilities
CONS
subsonic lightens bass at High gain
MM unbalanced only
firmware update PC only
Add your review
MORE DEALS