Raumfeld Connector 2 Review
Want an affordable way to get networked music into your hi-fi? Lee Dunkley thinks this neat little hub holds the answer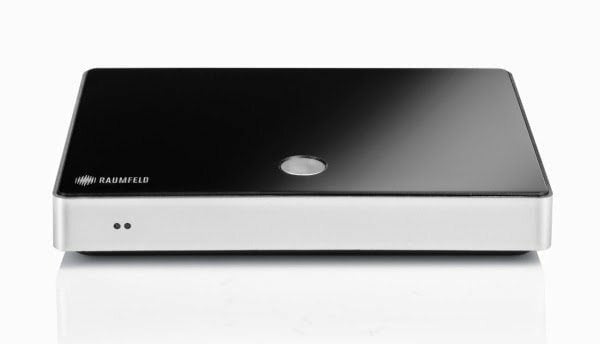 Multi-room networked music systems are very much bang on trend right now, but German brand Raumfeld is the new kid on the block when it comes to UK audio fans. Already reasonably well established on its own turf, it looks set to make waves over here with a growing range of well thought-out components available via its online store offering an eight-week trial period.
With a range of active speaker models, networking capabilities and access to streaming services like Spotify and TuneIn, Raumfeld is positioning itself as a Sonos challenger, and its Connector 2 is one of the main building blocks to the company's networked music systems. The well-constructed unit enables existing hi-fi owners to access home networked music libraries found on computers, NAS drives and mobile devices. It's a simple-looking box with just a power button on top of the unit and the only things gracing the slender front panel are a pair of LEDs that indicate its status. At the back you'll find a set of stereo RCA inputs to hook up a wired source like a CD player and play it back through other Raumfeld networked devices around the home. Outputs run to stereo RCAs and optical digital and there's an Ethernet port for wired networks and a USB port for connection to an external HDD. Wireless connection to a router is available via the Expander, but there's no Bluetooth or AirPlay compatibility provided here. At the loftier end of its capabilities the Connector 2 says it can handle music files up to 24/192 (more on this later) thanks to the built in Cirrus Logic digital-to-analogue converter as well as a healthy list of formats that includes MP3, WMA, WAV, AAC, ALAC, FLAC and OGG.
Installation is straightforward once you've downloaded the app to your iOS or Android device and run the setup wizard, and there's a system reset button at the back of the unit should you run into difficulties. Music library and streaming service control is also handled by the app, which is surprisingly intuitive to use and comes preloaded with access to Spotify Connect – so long as you have a Premium subscription – Napster, TuneIn and Last.fm streaming services. The app is nicely configured and easy to master with volume and EQ control for each room around the home should you decide to go down the multi-room path. Following a system update, I discover there's also Tidal streaming integration – giving access to its 25 million-track library at near CD-quality so long as you are a £20-per-month subscriber.

Wired connections are always the way to go for any hi-fi fan and the same goes for networked music, particularly if you have a catalogue of hi-res audios files that you want to stream. Play a 24/96 ALAC file of Hotel California by the Eagles and the track sounds just as intact and polished as with any upmarket network streamer I've heard. Detail across the frequency range is impressively integral, and the soundstage has a good sense of left-to-right and front-to-back depth that can often be sacrificed with lesser networked devices struggling to retain these kind of hi-fi credentials.
It's not such a success story with 24/192 tracks stored on my network, even though it is hard wired throughout, and I am unable to play these without the music stuttering and breaking up. Nevertheless this only affects a tiny amount of my music collection, and anything from 16/44.1 to 24/96 is seamlessly handled by the robust Raumfeld and its solid networking.For me, though, the real pleasure of the Connector 2 is in its integration with Tidal's streaming service, giving me access to its extensive catalogue of tracks, saved favourites and playlists using my existing subscription. Other services are available pre-installed on the app of course, but at near-CD sound quality, streaming music in this way to my hi-fi is a tough act to beat.
The Connector 2 offers a high level of networking possibilities and access to music streaming services. Its app is one of the most integrated I have seen, and offers tremendous flexibility at the price.
● RCA line input; USB-A port; Ethernet port
● Optical digital and RCA line outputs
● Playback support for: MP3, WMA, WAV, AAC, ALAC, FLAC, OGGDIMENSIONS (WxHxD) 172 x 28 x 127mm