Google Pixelbook
Hand on heart, this is the best Chromebook to date that Joe Osborne has ever used – or indeed paid for.
The quality backlit keyboard reinforces the premium look and feel of the Pixelbook.
The Google Pixelbook is the best Chromebook ever made, but getting on the ground floor of this revolution is going to cost you dearly. Yet thanks to the Pixelbook's 100 per cent Android app support. Google's new Chrome launcher and a breathtaking new stylus experience – the price to entry is worth it. Oh, and the keyboard is stellar, too.
Inside you're getting a seventh- generation Kaby Lake Intel Core i5 CPU on both the entry-level 128GB and mid-range 256GB options, each paired with 8GB of memory. A top-end 512GB option comes packing a Core i7 processor with 16GB of memory. All of these options are Intel's low-power, low- heat Y series chips, which means all of the Pixelbook models are fanless.
The Pixebook is the beautiful result of years of work on Google s part in refining a unified design across its hardware offerings, and could be seen as a coming of age for Google's Chromebook design philosophy. From the brushed aluminium frame with flush edges to the rubberised palm rest and underside, every design element has achieved style and substance in equal measure.
Sadly, the same can't be said of the audio performance. As has become the growing trend in the thinnest and lightest laptops. Google crammed the speakers beneath the keyboard, and the result is awfully tinny sound. At least there's a 3.5mm audio jack.
On the upside, the glass trackpad is a delight to use. tracking super smoothly and accurately both with single- and multi-touch gestures. Likewise, the Pixelbook keyboard is among the best we've ever tested. The backlit keyboard's keys are well-spaced, and the 0.8mm travel is a delight with forceful feedback.
The Pixel' in Google's eponymous laptop earns its
Think the Pixelbook Pen is included in the hefty price? Think again!
name when it comes to the 32 Pixelbook display. At 235 pixels- per-inch (ppi) and accurate colour reproduction, this display rivals some of the best devices around.
Pixelbook Pen
It's a real shame that the Pixelbook Pen isn't included in the price. The Pixelbook Pen works excellently as a stylus, offering plenty of pressure response as well as tilt support. The display's snappy response helps the digital ink follow close enough behind the pen that any delay is imperceivable.
A single button on the pen is essentially a Google Assistant button. Pressing the button while inking turns that ink into a thick blue, but doesn't actually draw anything. Anything captured inside this blue ink is sent to Google Assistant for analysis, which in turn presents anything and everything Google's servers can muster about whatever you encircled. Circle a picture of a hippopotamus, and Google Assistant will hit you with a Wikipedia page on the animal.
The one flaw in the Pixelbook Pen is that it doesn't attach to the laptop in any way. not even via magnets, making the damn thing so easy to lose. It also runs on AAAA batteries, whereas a rechargeable solution would've been much more worthy of the price tag.
To say that the Google Pixelbook is a strong performer isn't going to surprise anyone. Here's how the Pixelbook performed: Mozilla Kraken, 1.202ms: Octane. 27.554: JetStream. 136. Results that smash anything else we've seen -although Asus's Chromebook Flip 320 isn't too far behind.
Google promises up to 10 hours on a single charge, a number that was reached based on "a mix of standby, web browsing and other use." according to its product page. Our battery test, looping a locally stored 1080p movie at 50 per cent screen brightness, the Pixelbook lasted for seven hours and 40 minutes, which isn't the best. We chalk up the shorter runtime to the super-high resolution display.
Most importantly, we're now at last at the point where there are little to no compromises for almost anyone to switch from a Windows or Mac machine to a Chromebook, thanks to Android.
If you've got the cash, then that possibility starts with the Pixelbook.
Google Pixelbook
Developer: Google
Features 9/10
Performance 9/10
Ease of use 9/10
Value 7/10
From its excellent design to its massive software enhancements, this is the best Chromebook to date, bar none.
Rating 9/10
GOOGLE Pixelbook
VERDICT
A beautifully designed laptop with plenty of power, but it could be more flexible
Meet Google Pixelbook, the high performance Chromebook. It's the first laptop with the Google Assistant built in; Press the Google Assistant key on your keyboard or say "Ok Google" to get started. The Google Assistant is always ready to help
Last update was on: 2021-10-28 7:00 pm
Meet Google Pixelbook, the high performance Chromebook. It's the first laptop with the Google Assistant built in; Press the Google Assistant key on your keyboard or say "Ok Google" to get started. The Google Assistant is always ready to help
Features 7th Gen Intel Core i5 processor, 8GB RAM and 256GB for storage. The long lasting battery delivers up to 10 hours of use and it's fast charging so you can get 2 hours of use in 15 minutes
4 in 1 design adapts to whatever you're doing with laptop, tablet, tent and entertainment modes. Access to favorite apps including Google Drive, Gmail, YouTube, Evernote, Slack, Infinite Painter, Lightroom, Roblox and many more
Pixelbook's super thin and lightweight design measures 10.3 millimetre and weighs 2.45 pound. Features a 12.3 inch 360 degree touchscreen display, a sleek aluminum body, Corning Gorilla Glass and a backlit keyboard
Powered by Chrome OS with automatic software updates so you'll always have the latest virus protection. It starts up in less than 10 secs, stays fast throughout the day, and won't slow down over time
12.3in CHROMEBOOK
THE GOOGLE PIXELBOOK elicits gasps of appreciation when people first set their eyes on it. It's a staggering bit of work, just 10.3mm thick with a distinctive profile. Make no mistake: this is a highly desirable laptop.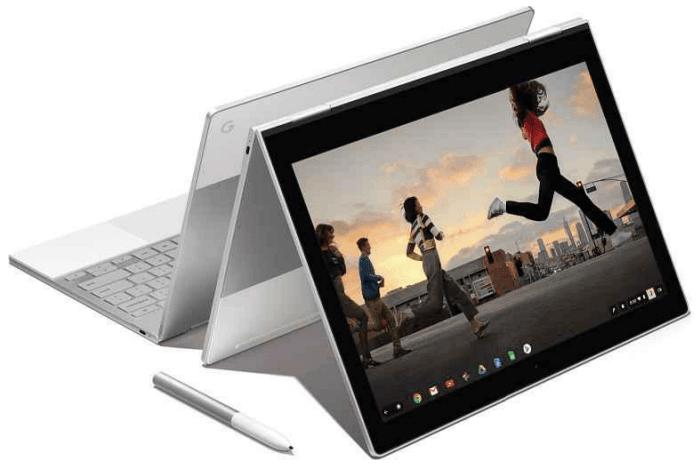 There's not much room on a chassis this thin, so you get just two USB Type-C ports. They're Thunderbolt 3 models, though, so can be used with converters to hook up the Pixelbook to an external screen.
The Pixelbook will also elicit gasps when the price is revealed: a starting price of puts this firmly into premium Windows 10 laptop territory, yet this is a Chromebook. Aren't they supposed to be cheap?
Clearly, Google is trying to raise the profile of Chromebooks, and the Pixelbook redefines what you can expect from the devices. Gone are the days of Chromebooks being budget laptops with limited use, as the Pixelbook expands what these computers are capable of.
APPY DAYS
Since Chromebooks first went on sale, times have changed. Whereas the reliance on Chrome apps and web services used to be a limitation, that's not the case any more.
Just think how many services you use purely online, and you'll probably be surprised at how few desktop apps you use.
The core component of a Chromebook is Google Drive. It's now a powerful and flexible office suite, with amazing collaboration features and a great offline mode.
But there are always going to be times when the web doesn't quite cut it, which is why the Pixelbook (and some other Chromebooks) now support the Google Play Store, so that you can install Android apps. This massively expands the range, whether you want to run Office 365 or Adobe's cloud-based Lightroom CC for photo editing. Mobile app support turns the Pixelbook into a full-on iPad Pro competitor, too.
The big difference is that ChromeOS handles Android apps in a better way than the iPad Pro handles its apps: with ChromeOS, you can run apps in windows, resizing them to fit your screen and working patterns.
The increased amount of storage (128GB, 256GB or 512GB options) makes a lot of sense, as you can download all the apps you need and still have enough room for the files you create.
There are limitations to this approach, though. The biggest is that many Android apps aren't as accomplished as their Windows counterparts. It can be hard to get files into them; copying photos on to the Pixelbook and making them available to the Android version of Photoshop is far harder than doing the same thing in Windows, for example.
Second, there just aren't Android versions of some apps. If you use a particular app on Windows, you could be disappointed by the move to ChromeOS.
HARDWARE HEAVEN
Aside from these limitations, there's a lot to like about the Pixelbook, and its usability lives up to its looks. For starters, the keyboard is one of the best we've used on a mobile device.
Although the flat keys don't have a lot of travel, they provide just the right amount of feedback to let you know when you've correctly hit a key. We were tapping away at full speed straight away.
The touchpad is a thing of beauty, too.
In fact, we'd go as far as saying that it has MacBook levels of usability and responsiveness. That's high praise indeed.
Thanks to Chromebooks' low power requirements, the dual-core Core i5-7Y57 processor has more than enough power, and it uses Hyper-Threading to add two more virtual cores. Combined with 8GB of RAM on the entry-level model, everything just flies on this laptop: our usual 4K benchmarking software isn't compatible with ChromeOS, but anecdotally, it's quick to boot, fast to use, and Android apps have never felt so responsive.
Battery life is good, too. Google quotes up to 10 hours on a single charge. We managed to get 8h 25m of video playback, which is impressive; if you're mostly web browsing and using work apps, you'll get close to Google's quoted level.
Google has used a 123in screen with a resolution of 2,400×1,600. Everything looks incredibly sharp and detailed on this screen, and it's up there with the best displays on Windows laptops. We measured the display as capable of producing a healthy 96.3% of the sRGB color gamut.
There's a nifty trick to this screen: it rotates all the way back and sits flush with the Pixelbook's rear, turning it into a tablet. With its responsive touchscreen, you've essentially got an Android tablet when you want it, too.
For an optional, you can buy the Pixelbook Pen, so you can tap and draw in apps, too. The pen works brilliantly and is up there with the Apple Pencil. There's only one drawback: the stylus is powered by a AAA battery, rather than having an internal battery.
PRIME TIME
With the Pixelbook, Google shows that ChromeOS is almost there as a top-tier operating system. Supporting Android apps is a big step forward, making the Pixelbook far more useful than its predecessors.
Indeed, for a lot of people, the Pixelbook may provide everything that you need in a smoother, neater package than a Windows 10-based computer.
But as we've seen with the iPad Pro, there are occasions where you suddenly find that you can't do something and need a 'real' Windows or macOS computer with a greater choice of applications. Still, if ChromeOS and the range of Android applications suit your needs, the Pixelbook is a slick, beautiful and flexible laptop that you'll love using.
David Ludlow
Specifications
PROCESSOR Dual-core 3.3GHz Intel Core i5-7Y57 • RAM 8GB • DIMENSIONS 290x220x10.3mm • WEIGHT 1.1kg • SCREEN SIZE 12.3in • SCREEN RESOLUTION 2,400×1,600 • GRAPHICS ADAPTOR Intel HD Graphics 615 • TOTAL STORAGE 256GB SSD • OPERATING SYSTEM Chrome OS • WARRANTY Two years RTB • DETAILS store.google.com • PART CODE Pixelbook