Asus ZenBook Flip UX560UQ review – PC model-naming is an occult art. All those letters and numbers stand for something, but what? With Asus' Flip UX360CA, at least one element seemed clear: '360' obviously referred to the 360-degree hinge that allowed this 13in convertible's keyboard to fold all the way back on itself. Now here's another version… the, er, 560.
A bulky unit that will take some lugging, but impressive specs
Not even Silicon Valley ingenuity can insert 200 extra degrees in a circle, so we'll guess the '3' indicated a 13.3in display, while this one is 15.6in. That's a big screen by today's standards, and the UX560UQ is really quite bulky. Nearly an inch thick, it weighs over 2.2kg, twice as much as a typical laptop, and with wide bezels the whole thing is broad enough to feel unwieldy. That's not ideal for something designed to be picked up and used as a tablet.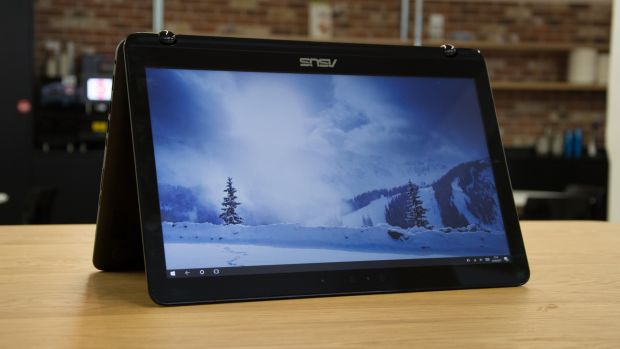 But this is a tablet that comes with full-blown Windows 10 desktop PC capabilities stuffed inside. You get an Intel i7 processor, 12GB of memory, a GeForce GTX 940MX graphics card, and not only a generous 512GB SSD but a huge 2TB hard drive too. All for well under a grand, with a Full HD touchscreen screen built in.
Closer inspection isn't quite so kind. That i7 is the underwhelming i7-7500U, slightly faster than the mobile i5s of last year's seventh generation, and definitely above average among laptops, but only just over half as capable as a top-end i5 desktop processor, according to our tests. The graphics card is worth having, and will play many 3D games smoothly as well as helping out with compatible creative programs, but not in the same league as something like a GTX 1050.
Our tests found that the screen covered just 71 per cent of the sRGB color range, making it unsuited to photo or video editing, and a combination of low brightness levels and a reflective finish can make it hard to see, though it's fine for most purposes. The backlit keyboard includes a number pad, but this leaves Return and Backspace in the middle of a sea of keys rather than easily found at the edge, and keystrokes seem to depress the top of the case as much as the keys themselves. The trackpad works, but could have been bigger.
None of these flaws are fatal, however, and the battery lasted six hours seven minutes in our video-playback test – not bad for this class of laptop.
Asus ZenBook Flip UX560UQ review: IS THIS THE RETURN OF THE LUGGABLE ?
For years, most laptops were 15.6in, while power users favoured 17 inches. Display area aside, it was accepted that only a larger case could accommodate serious processing power. It was the era of the 'luggable' laptop.
As components got miniaturized, the norm shrank to 13.3in. But are larger laptops making a comeback?
At January's CES technology show in Las Vegas, HP announced a new version of its Spectre x360 15. Currently based on the same processor and graphics card as the ZenBook Flip UX560UQ, it's switching to Intel's upcoming H-series Core processors that have built-in AMD RX Vega M graphics. Laptops using this processor won't need a separate graphics card, keeping them slim. They'll be a new type of luggable – large, but lighter than predecessors Until these arrive, we'd rather use 15.6in laptop-tablets on a desk as a laptop, or prop them on something as a tablet – they're still too heavy to hold up in one hand like an iPad.
Asus ZenBook Flip UX560UQ review: SPECIFICATIONS
2.7GHz Intel Core i7-7500U dual-core processor • 12GB memory • 512GB SSD • 15.6in 1920×1080-pixel screen • Webcam • 802.11ac Wi-Fi • Bluetooth 4.1 • 3x USB 3.0 ports • USB 3.1 Type-C port • HDMI port • Windows 10 Home • 21.8x380x254mm (HxWxD) • 2.26kg • One-year warranty
Asus ZenBook Flip UX560UQ review: VERDICT
It's heavy and not suited to photo editing, but has a huge hard drive and long battery life
Editor choice
Asus ZenBook Flip UX560UQ review
It's heavy and not suited to photo editing, but has a huge hard drive and long battery life
PROS
Dedicated GPU; Large port selection; Strong performance
CONS
Battery life isn't superb; Keyboard is slightly poor quality
Add your review
|
Read reviews and comments
MORE DEALS

See also THE COMPLETE GUIDE TO…OLED laptops
Asus ZenBook Flip UX560UQ review: ALTERNATIVE
HP Spectre x360 15
With similar CPU and CPU, this adds a 4K screen and stylus support, but there's no hard drive and it's a lot pricier