With too many 2-in-1 devices to choose from, here's one that may stand out
Asus has proved itself to be one of the industry leaders when it comes to convertible and detachable tablets and notebooks. Read our Asus Transformer T101HA Review.
There's already a decent range of 2-in-1 devices available in the company's stock, and it has recently added to that with the launch of the Transformer Book T101HA.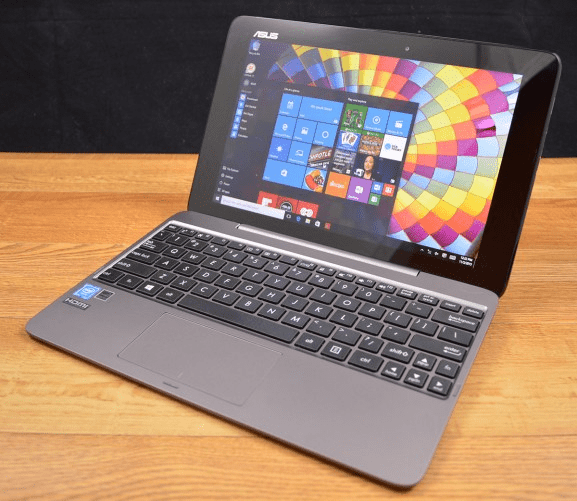 The T101HA is a fine example of mixing a tablet with a notebook. Its Intel Cherry Trail quad-core Z8350 processor runs at 1.4GHz with a burst frequency of 1.9GHz, and it manages to drive the 10.1″ T101HA along at a decent pace. The 4GB of LPDDR3 is plenty for most tasks, and there's a choice of either 32, 64 or 128GB eMMC flash storage fitted with a copy of Windows 10 64-bit pre-installed.
Connectivity is good too, with the tablet section housing a micro-HDMI port, a full-sized USB 2.0 port and a further micro-USB port, micro-SD card slot and a microphone/ headphone port. Furthermore, there's a 2MP front camera on the tablet section.
Obviously, you get the usual 802.11ac wi-fi and Bluetooth 4.1 as well, but all this is neatly fitted into a selection of metallic coloured, anodised aluminium cases of both the tablet and keyboard/base sections.
The design of the T101HA works well, though. The tablet section pops on and off the base with a little tug to break the magnetic strip that keeps everything together. This makes the task of separating and bringing the two together faster and more efficient, and without possibility of dropping or over-forcing two connected sections to marry up. The 580g tablet section and 500g base combined are still light enough to carry on your person, and since it only measures 261 x 175 x 9mm with 10mm for the thickness of the base, it's not a bad size either.
The keyboard section has the keys spread right to the edges, within a few millimetres of the limits of the base. This gives just enough room for the keys to be reasonably well-spaced apart to make for a comfortable typing position. However, it wasn't the most responsive we've seen and used. Another minor niggle we had was the trackpad. While okay ,we found it a little too small for our liking, although that is limited by the size of the T101HA and, like the keyboard, not quite as responsive as we would have expected.
In terms of performance, the T101 HA did reasonably well. In Geekbench 3, it managed a combined processor score of 2,943 – not bad and better than some of the other convertibles we've seen in the past.
While it won't play GTA V, the T101 HA does an admirable job of navigating Windows 10, its apps and the usual array of word processing, web browsing and media viewing. It's predominantly a work/light play device, and it fits the role suitably without trying to punch above its weight.
The screen has a maximum resolution of 1280 x 800, which isn't amazing, but it manages to produce a clear IPS-like image that's easy on the eyes and looks good from a multitude of angles thanks to the use of both the Asus Splendid and Wide View Technologies.
The Asus Transformer Book T101HA is a decent little 10.1″ convertible. It's well priced, and it does a good job as a work and social tablet/notebook, plus the battery lasts for around ten hours of office-type use too.
mm David Hayward
Asus transformer T101HA Verdict
Asus transformer book T101HA
A decent 2-in-1, with a good battery life
PROS
Tablet has nice build
Solid battery life
Windows 10 is great (but Asus's preloaded software is not)
CONS
Performance lags occasionally
Below average display
Keyboard can be frustrating to type on
Add your review
|
Read reviews and comments
Best Asus Transformer T101HA prices ?

$

272.00
1 new from $272.00
in stock

MORE DEALS

See also THE COMPLETE GUIDE TO…OLED laptops