Choosing a portable computer is getting complicated. A few years ago, you could have a laptop or a tablet.
A tablet wouldn't run Windows, but gave you a small and light device to carry around for email, web browsing, music and so on.
A laptop was bigger and heavier, but did the same kinds of things as a desktop PC.
Then Microsoft invented the Surface, and it was neither one thing nor the other. Or, as Microsoft would prefer you to believe, it was both.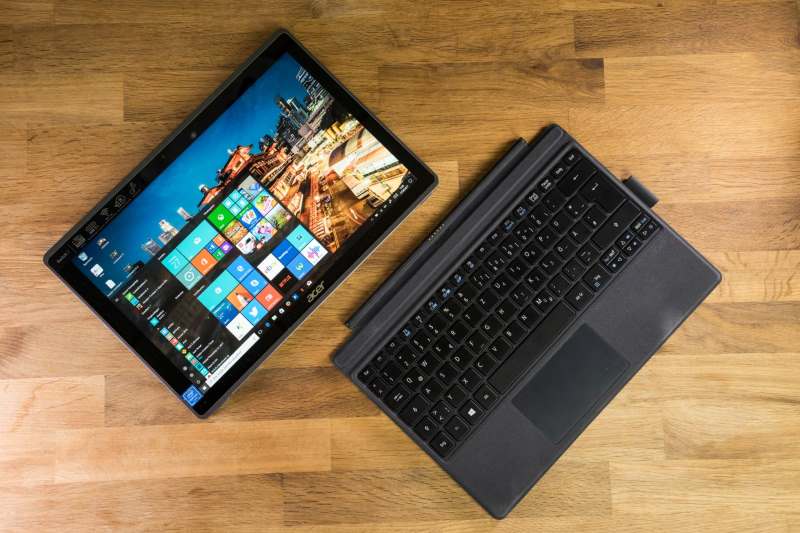 With a stylus, sturdy keyboard and decent performance, this is a good deal
The Windows tablet bit worked well, once they added touchscreen features to Windows.
And although the keyboard was more like the floppy iPad accessory kind, it was sturdy, and improved with updates.
Today's Surface Pro is very usable as both a laptop and a tablet.
The keyboard costs extra, as does the Surface Pen stylus.
Acer's Switch 3 looks rather enticing by comparison.
First, it costs more with a keyboard and Windows Ink-compatible stylus thrown in, making it better than half the price.
Second, although we don't have any complaints about Microsoft's Type Cover, the Switch 3's keyboard is more laptop-like.
It has a reassuringly well-built metal and plastic construction that doesn't bounce when you type on it.
This is even the case when it's magnetically attached to the tablet part with a Surface-like arrangement that raises the back to a comfortable angle.
It can't compete with the Surface's glass-topped touchpad; Acer's serves the same dual purpose of cursor positioning and multi-touch gesture recognition, but its plastic surface is stickier and less responsive.
Still, you can always prod the touchscreen, which detaches completely for use as a tablet.
Or, rather than ditching the keyboard, you can stick it to the back, reminiscent of those convertible laptops where the keyboard rotates 360 degrees to sit flat against the screen while you use it as a cumbersome tablet.
The Switch 3 is smaller and lighter, making it much more practical, but we found it sometimes forgot to ignore the keyboard in this mode, resulting in unwanted typing.
The Switch's fold-out frame-type kickstand worked OK for us on a desk, but when we tried to balance it on our knees, the screen didn't weigh it down consistently enough to stop it occasionally springing back to a steeper angle.
The squarer Full-HD-and-a-bit screen looks very sharp at this 12.2in size.
For this kind of money it's quite decent, covering 88 per cent of the sRGB colour range, with very good contrast and better-than-average brightness.
It's on the inside that a few comers have been cut.
While the Surface uses m3, i5 or i7 processors, here you get a lowly Pentium.
Even at a leisurely 1.1GHz, though, the N4200's four cores give it an advantage over the bargain-basement Atom in the likes of Asus's Transformer Mini.
In simple Windows 10 tasks we never felt we were being held back; 4GB of memory is about enough, and although the 64GB of flash memory is neither as big nor as fast as a typical laptop SSD, it'll probably suffice, with a microSD slot offering somewhere to keep your photo collection.
The battery lasted just under seven hours in our video-playback test, which is reasonable for a skinny tablet.
While the Surface Pro has two USB 3.0 ports and Mini Display Port, the Switch has one USB 3.0 and a multi-purpose Type-C, as well as a separate charging port.
VERDICT:
Best price
Acer Switch 3 Review
With a stylus and sturdy keyboard, this is a great affordable alternative to Microsoft's Surface.
Add your review
Best Acer Switch 3 prices ?
MORE DEALS

See also THE COMPLETE GUIDE TO…OLED laptops
When my old PC was on its last legs.
I began my hunt for a new laptop-tablet hybrid.
I was leaning toward the Microsoft Surface until I saw its price, which was beyond my budget.
So I'm pleased to report your Acer Switch 3 review could not have been more timely.
Your only gripe about it was that its kickstand doesn't balance well on your knees, but I always use my desk or table, so that wasn't a problem.I've been impressed with the way it transforms from PC to tablet in seconds and by its long battery life – I often go 10 hours between charges.
It comes with only 64GB of storage (as well as a built-in SD card), but I use an online-storage service for my personal files and an external hard drive to store my photos and videos, so that doesn't bother me.
I use it for general tasks like browsing the web, editing photos, watching old films, and reading at night, and it's worth every penny.
Maggie Harding
ALTERNATIVE:
A 13.3in 360-degree laptop with m5 processor, 8GB memory and 512GB SSD, but it doesn't convert into a tablet
SPECIFICATIONS
1.1GHz Intel Pentium N4200 quad-core processor • 4GB memory • 64GB flash storage • 122in 1920×1200-pixel screen • 1 megapixel front camera • 2 megapixel rear camera • 802.11ac Wi-Fi • microSD card slot • USB Type-C port • USB 3.0 port • HDMI port • Windows 10 Home • 10x295x202mm (HxWxD) (16mm with keyboard) • 0.9kg (1.25kg with keyboard)