Editor choice
Acer Aspire 5 Review: Plainly a bargain
This entry is part 121 of 191 in the series
Laptop
One of our finest British traditions is deliberately not being very good at certain things.
Every year, while our rock bands sell out stadiums around the globe, we submit a Eurovision Song Contest entry carefully calculated to receive nul points, freeing us from the burden of hosting the competition the following year.
We invest heavily in winning dozens of medals at the Summer Olympics, while at the – let's be honest – less prestigious Winter Games we settle for a handful (albeit 2018 was our best ever).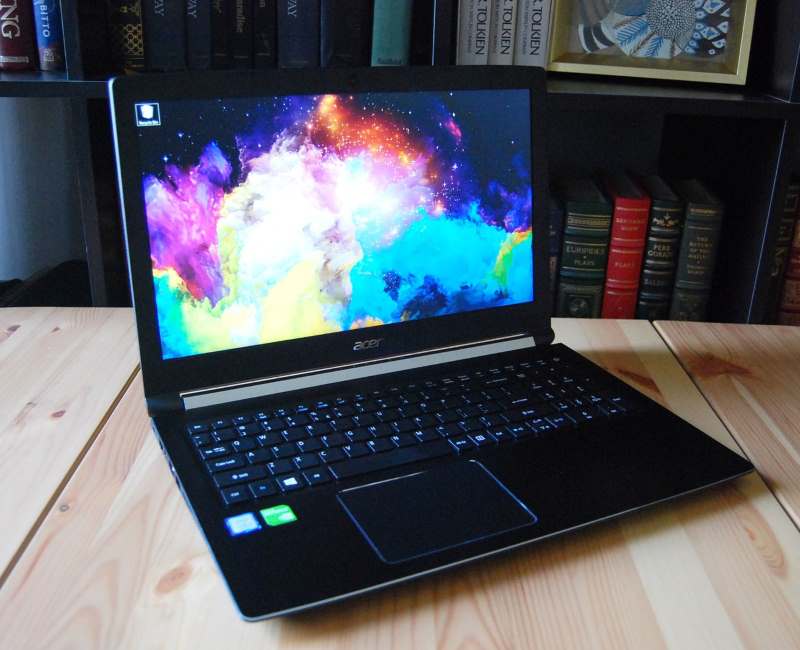 Our national ability to lose at those sports we invented ourselves is nothing short of legendary.
It has the black, plastic aesthetic of a bin, but offers lots of ports, an SSD and a hefty processor
This kind of calculated incompetence may help to explain certain companies' success in the field of industrial design, which isn't always about making things that look and feel amazing.
Sometimes the plan is quite the opposite – to ensure products that are intended to sell at the lowest prices aren't accidentally brilliant.
After all, if a laptop with an eighth-generation i5 processor and Full HD screen had the same sleek minimalist appeal as a MacBook Pro, none of us would bother paying over a thousand pounds anymore.
So maybe we shouldn't mock the Acer Aspire 5. True, the last time you saw something made of black plastic that looked so basic, you were wheeling it down the garden path on bin day.
But this is no accident on the part of the Taiwanese company.
When they make a budget laptop, they want you to realise straight away that it's a budget laptop.
There is no danger of mistaking the Aspire 5 for anything else. It is what it is.
A portable computer with a screen that, while just about bright enough to see clearly, covers so little of the sRGB colour range it would be rude to mention it (alright, 53 per cent); and on the inside, an SSD that's undeniably faster than a hard drive, but slower than most other recent SSDs.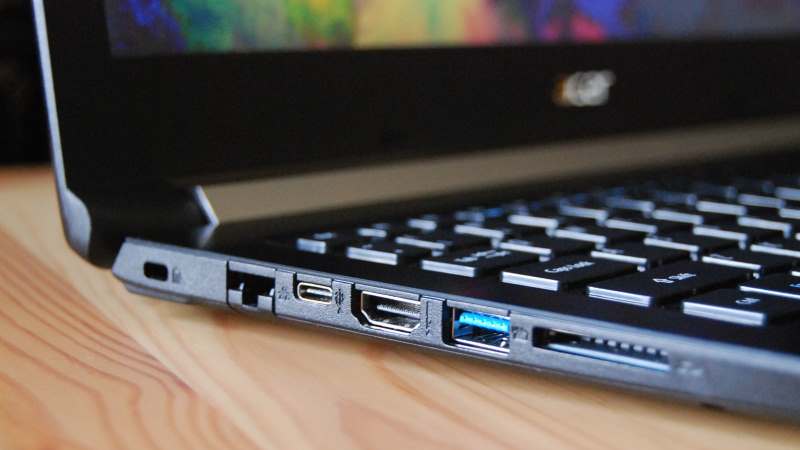 Unlike more upmarket, slimmer laptops, however, the chunky chassis accommodates plenty of ports (pictured left), a removable panel for memory upgrades and a 2.5in drive bay (albeit empty in this instance), while the tile-style keyboard includes a full numeric keypad.
And, like Eddie 'The Eagle' Edwards, the Aspire 5 has hidden depths. Eddie may have taken off from the Calgary ski jump at a lower velocity than any other competitor, but he hit the ground harder.
The Aspire 5, in this configuration (several are listed by Acer), contains a heftier Intel processor than we've seen before at this price.
The quad-core Intel i5-8250U achieved embarrassingly high scores in our benchmark tests, making it almost as powerful as some desktop PCs.
Yet its battery lasted more than nine hours 45 minutes in our video-playback test, meaning this deceptively impressive machine will travel well. At 2.1kg, however, you'll need some British bulldog spirit to get it off the ground.
Acer Aspire 5 VERDICT
Acer Aspire 5 review
It may be unashamedly basic in design and build quality, but this is a good laptop with excellent performance for the price.
Add your review
Where to buy?
8th Generation Intel Core i7-8550U Processor (Up to 4.0GHz)
17.3" HD+ (1600 x 900) widescreen LED-lit Display
8GB DDR4 Memory & 1TB HDD
Up to 7-hours of battery life
Windows 10 Home
Last update was on: 2021-09-14 6:00 pm
8th Generation Intel Core i7-8550U Processor (Up to 4.0GHz)
17.3" HD+ (1600 x 900) widescreen LED-lit Display
8GB DDR4 Memory & 1TB HDD
Up to 7-hours of battery life
Windows 10 Home
Max Memory: 16 GB
Acer Aspire 5 ALTERNATIVE
This is slimmer and lighter, but costs more with a dual-core i5- 7500U and 40 per cent less battery life
Acer Aspire 5 review SPECIFICATIONS
1.6GHz Intel Core i5-8250U quad-core processor
8GB memory
256GB SSD
15.6in 1920×1080-pixel screen
Webcam
802.11ac Wi-Fi
Bluetooth 4.0
2x USB 2.0 ports
USB 3.1 port
USB Type-C port
Gigabit Ethernet port
HDMI port
SD card reader
Windows 10 Home
22x386x263mm (HxWxD)
2.1kg
Was this article helpful?