Everybody needs to send a formal letter now and then, and it's nice to be able to print some of the photos that would otherwise be confined to our phones. If you're investing money and desk space on a printer, though, it's worth considering a multifunction model. This gives you the added benefit of a scanner in a unit that's barely larger than a standard printer, so you can scan or photocopy documents and photos, too.
Canon Pixma TS6250 Review
This three-in-one device (printer, scanner and copier) from Canon is aimed at creative home users. It can be operated wirelessly, so you can print from any device in your home. However, it doesn't have an SD card slot or USB port for getting photos from older devices that lack wireless connectivity, such as digital cameras. A 7.5cm colour touchscreen offers direct control of the printer, allowing you to scan and print directly to and from online services, including Facebook, Google Drive, OneDrive and Dropbox.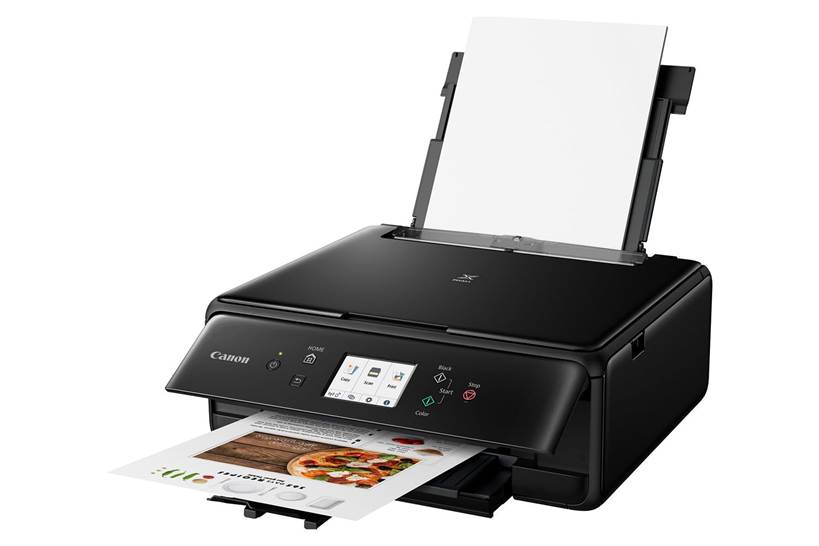 The device is made from smart black plastic and has two paper trays, each of which holds up to 100 sheets of plain paper. It uses Canon's five-ink system, which combines the usual cyan, magenta and yellow with two black cartridges to ensure you get the best results whether you're printing on plain or photographic paper. Cartridges are available in a range of capacities, but the best price per page (using XXL cartridges) is 8.6p for a mixed black and colour print, while a black text page costs 2.8p.
It wasn't the fastest printer in our test, but at 12.7 pages per minute (ppm) for black text and 3.9ppm in our colour test, it's quick enough. Prints look great, too. On plain paper, black text is crisp and dark, while graphics are bright and punchy. Crucially it can print on both sides of the paper automatically (duplex printing), although prints are lighter in this mode because the printer tries to reduce smudging when the paper is fed back through for the second print.
Canon's scanning interface has remained the same for a decade but we think it's the best of the bunch, so we're pleased to see that Canon hasn't changed it unnecessarily.
VERDICT
5/5
It's not the fastest device we tested, but the TS6250 is quick enough across all its functions. It's also smart to look at and easy to use, whether from a PC, mobile device or its own touchscreen. With great results and acceptable running costs, it's an easy home multifunction printer to recommend.
FEATURES 3/5 | PERFORMANCE 4/5
EASE OF USE 5/5 | VALUE FOR MONEY 5/5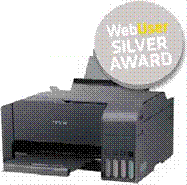 This printer's main selling point is its refillable tanks, but otherwise it's rather basic. It's wireless, which means it can print from a variety of devices, but with no built-in screen, you have to use buttons and lights to control its minimal functions. It has a single 100-page paper tray and will only print on both sides of the paper if you reload each sheet manually.
You might think filling ink tanks would be messy, but Epson has made the task simple, clean and difficult to screw up. The tanks are huge, with quoted capacities for 3,600 mono pages or 6,500 colour, so most homes probably won't need to refill them for a couple of years. A colour page costs around 0.5p.
It's a bit slow, at 2.9ppm in colour and 9.6ppm in black, although it reached 16.1ppm in draft mode. Prints generally look good, but text is slightly too faint on mixed pages.
Refillable ink tanks make this multifunction device great value but, more importantly, it's a reasonable printer, too. Its photos aren't the best but if you're looking for an affordable home workhorse, it's a fantastic option.
HP OfficeJet Pro 6970 Review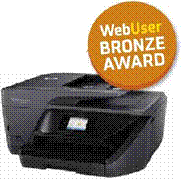 Despite offering an extra function that's probably superfluous for most people (the ability to send and receive faxes), this office- focused model is the cheapest of our three award-winners. It has a 225-sheet paper tray in the bottom and a 35-sheet document feeder in the top, which can scan both sides of multi-page documents automatically.
It's fast for such an affordable printer, reaching 4.7ppm in our colour test and 18.5ppm when printing black text. We found the scanner software frustrating to use, though, with limited options and a tendency to over-sharpen images.
If you use its highest-capacity supplies, a page of mixed text and graphics should cost around 6.8p to print – a couple of pence cheaper than is typical at this price. This helps make the Pro 6970 good value for a busy home office.
With its built-in fax machine as well as the usual printer, scanner and copier, this device is aimed more at home office users than creative types. However, if you need decent, speedy prints at a reasonable price, it's a good choice.
Canon Pixma TS9550 Review
FEATURES 4/5 PERFORMANCE
VALUE FOR MONEY 3/5
If you often need to produce prints that are larger than A4, this A3 printer will come in handy. Its rear sheet feeder holds 50 A3 pages, while another at the bottom holds 100 A4 sheets. Despite all this, it's not too big.
Prints aren't particularly fast or cheap, and the device is aimed more at home offices than artistic uses, so photo prints weren't as strong as those from our Gold Award winner.
It's not as cheap to run or as good a printer as the Gold Award-winning Canon model, but if you need to print A3 pages, it comes into its own.
Epson Expression Premium XP-7100 Review
FEATURES 5/5 PERFORMANCE 3/5
EASE OF USE 4/5
This feature-packed printer lives up to its name, with a smart touchscreen controller and paper trays for both A4 and photo paper, so you don't have to keep swapping them. It also has a document feeder on the scanner, making it easy to copy multiple-page documents. It prints text at 14.7ppm and colour pages at 6ppm, which is impressively fast, but it doesn't do enough to justify the extra few pounds you pay above Canon's Gold Award winner.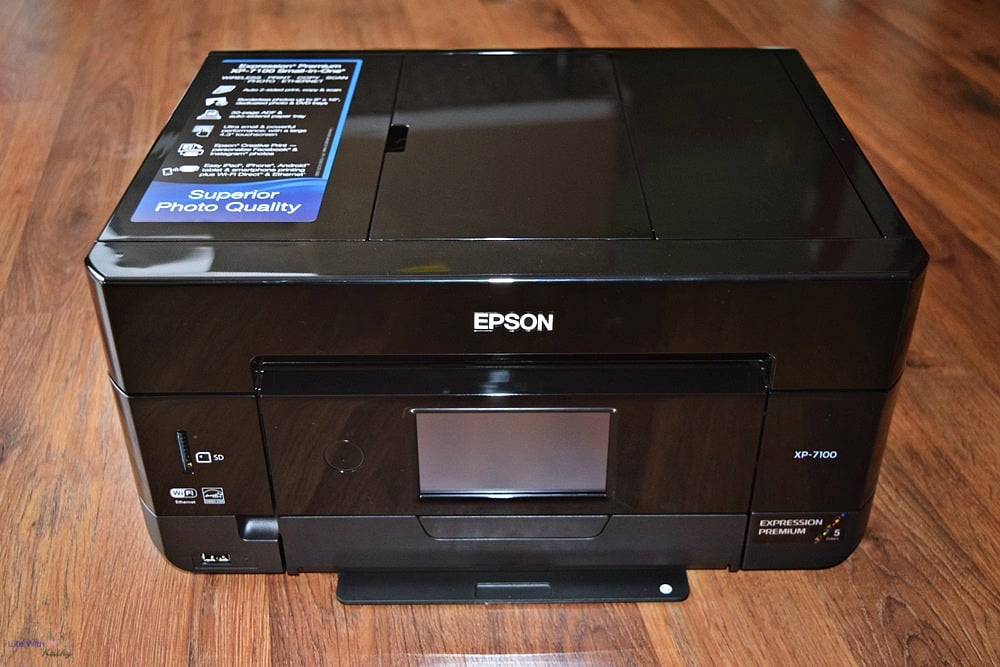 With plenty of bells and whistles, it lives up to its Premium name, but our award winners offer better value,
Epson Expression Home XP-452 Review
3/5
FEATURES 3/5 PERFORMANCE 3/5 EASE  OF USE 3/5 VALUE FOR MONEY 3/5
If your budget is small, this Epson model may catch your eye. It costs less than £ but comes with the usual printer, scanner and copier functions, and a colour screen. It's slow (at 2.4ppm in colour and 10.1ppm for text) but prints look good for the price. The drawback is that it costs 11.2p per printed page, so if you print a lot, you'll soon end up paying more than if you'd bought a pricier printer with better-value consumables.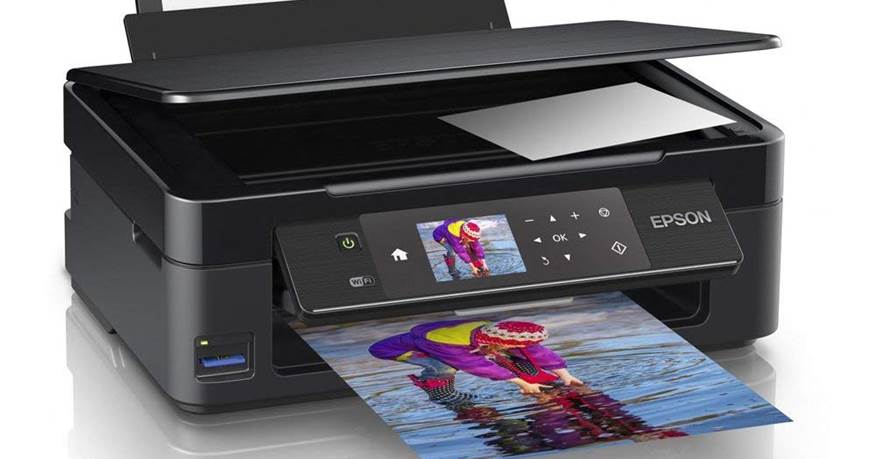 It's a reasonable printer and very cheap, but it could be a false economy if you produce more than a handful of prints.
Brother MFC-J491DW Review
FEATURES 3/5 | PERFORMANCE 2/5
EASE OF USE 3/5 | VALUE FOR MONEY 2/5
The biggest disappointment with this Brother device is its prints. Text printed well on plain paper, but colour prints looked washed out and lacked punch.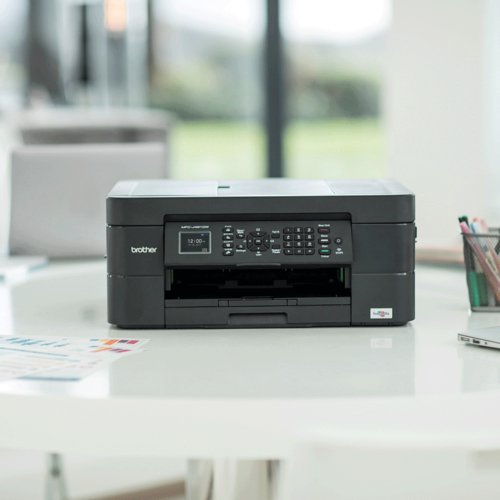 This office-focused model also has a fax function, which is probably superfluous for most home users. It features some nice touches, though, including an automatic sheet feeder for the scanner that folds away when not in use.
Colour prints weren't as good as we'd hoped from a device at this price, and because it's aimed at small offices, you're probably paying for features you'll never use, such as faxing.