We scout around for the gaming monitors that pack in the pixels for less. Here are 10 units for the budget- minded gamer.
[ LINDSAY HANDMER ]
GAMING IS NO longer dominated by the high end, and many of the best features are starting to trickle down to low- to mid-range options. Most importantly, it's possible to get adaptive sync and higher refresh rates on screens the low cost. This means that even a modest GPU can happy push out frame rates over 60fps, and display them without tearing or stuttering. The downside is that, at this level, only FreeSync is supported, so you will only get the best using an AMD GPU.
Of course, there are plenty of budget gaming monitors without adaptive sync, and for some eSports models, that is preferred. For the more casual gamer, these monitors are usually best avoided, as they need a fairly specific setup to be able to get the best from them without experience some tearing. here are also even cheaper basic monitors without any higher tech features, that can still give a decent experience thanks to different game modes.
As always, make sure to shop around for the best prices — we prefer staticice.com.au and getprice.com.au, but ebay.com.au is also often worth a look.
BUDGET GAMING MONITORS
The monitors were connected to a gaming rig with a higher-than-budget spec, to ensure maximum frame rates were possible. FreeSync was tested using an AMD Radeon RX570.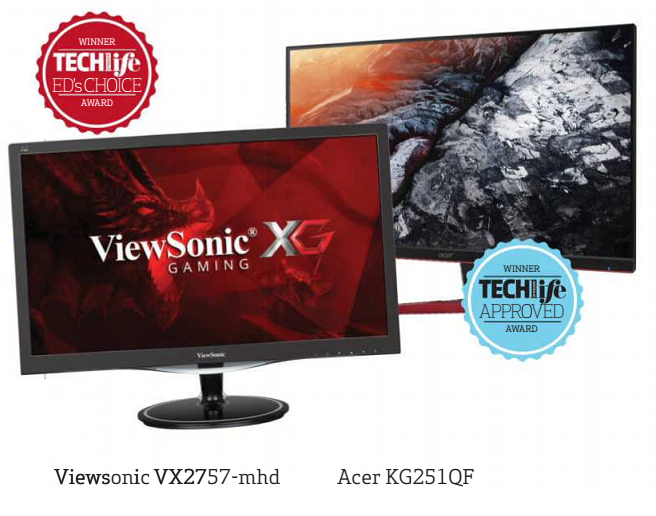 ViewSonic VX2757-mhd Review
AFFORDABLE GAMING HEAVEN.
WE'VE SAID IT before, and will say it again — the Viewsonic VX series of monitors are perfect for budget gamers. The 22-inch VX2257-mhd, the 24-inch VX2457-mhd costs more, and the big 27-inch VX2757-mhd (as tested). The key feature of all three is FreeSync support, coupled up with a 75Hz refresh rate. For lower- to mid-range hardware not chasing the ultimate frame rate, this gives a buttery smooth gaming experience for not a lot of money. The screens sport a 1,920 x 1,080 resolution, and use a TN panel to give an excellent 1ms response time.
The VX2757-mhd produces a decent image for the price, with a nice even backlight and no sign of ghosting. FreeSync operates from 47-75Hz, and happily eliminated any tearing and stuttering in our testing. he monitor has HDMI, DisplayPort and VGA inputs, but does not actually include a DisplayPort cable, which is needed to use FreeSync.
4.5/5
Acer KG251QF Review
AFFORDABLE GAMING PROWESS.
DESIGNED TO GIVE a smooth experience, the Acer KG251QF combines a 144Hz refresh rate with AMD FreeSync. The panel has a fairly unique 25-inch size, and a typical 1,920 x 1,080 resolution. As expected in this price range, it uses a TN panel, which gives a fast 1ms GTG response rate. You don't get an adjustable stand, and the monitor is fairly plain. But for actual gaming, it happily eliminates tearing and stuttering at even very high frame rates. It also has reasonable viewing angles and colour reproduction, as well as an even backlight with only minimal bleed. Round the back, the monitor has HDMI, DisplayPort and DVI inputs, and importantly, it comes with a DisplayPort cable, so is ready to go out of the box. he inbuilt 4W speakers are better than expected, too. he KG251QF has relatively thin side bezels, so is not a bad choice for a multi monitor setup. Still, it faces stiff competition from other FreeSync monitors.
4/5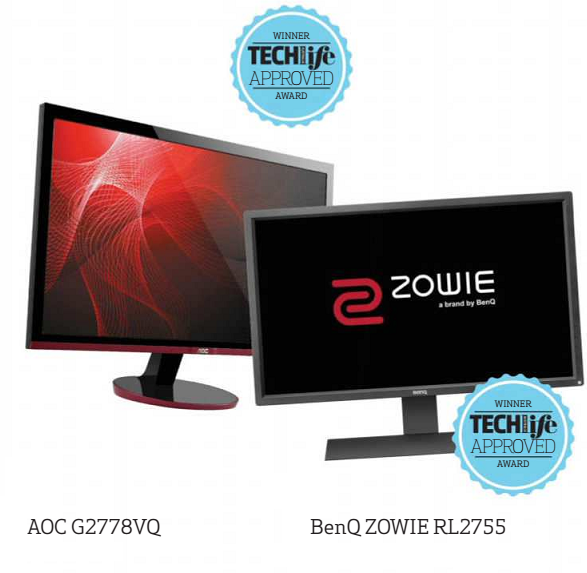 AOC G2778VQ Review
FREESYNC FUN.
WITH A LITTLE shopping around, the AOC G2778VQ can be picked up. The 27-inch monitor is aimed at low- to mid-range gamers who want a smoother gaming experience using FreeSync. It features a 75Hz refresh rate, which, while not as high as more expensive monitors, is enough for a vastly improved gaming experience. No surprise for the price, it uses a TN panel, with a 1ms GTG response time, and a 1,920 x 1,080 resolution. he monitor also has built-in game modes for different genres, as well as shadow control.
All the in all the G2778VQ provides a quality image, with vibrant colours despite the matte finish and very usable viewing angles.
It's also bright with an even backlight, and the fast response time means no ghosting. Most importantly, though, the FreeSync support totally eliminates any stuttering and tearing. Round the back, the monitor has HDMI, DVI and VGA inputs but no DisplayPort cable in the box, which is needed to use FreeSync.
4/5
BenQ ZOWIE RL2755 Review
AN ESPORTS MONITOR WITH A TWIST.
UNLIKE THEIR PC-FOCUSED brethren, the BenQ ZOWIE RL monitors are also built for getting the best experience when console gaming. here are two models — the 27-inch RL2755. Both monitors use a 1ms GTG TN panel, with a 60Hz refresh rate and no adaptive sync. They also use a 1,920 x 1,080 resolution and have dual HDMI inputs, as well as DVI and VGA connections.
Where the BenQ screen attempts to stand out is with a range of special game modes for different genres, but is optimised for FPS.
It also has a black equaliser ode to increase detail in dark area. he stand has the basic tilt adjustment, speakers and a 3.5mm audio output for using headphones. It produces a reasonably accurate image, with bright colours and an even backlight. he game modes are quite good, and it is designed to have minimal input lag. But it's a hard sell over some of the versatile competition.
4/5
CRITICAL SPECS
27-inch TN panel; 1,920 x 1,080 resolution; dual HDMI, DVI, VGA
back to menu ↑
BUDGET GAMING MONITORS BUYER'S GUIDE
WHAT TO LOOK FOR WHEN BUYING A GAMING MONITOR.
FREESYNC
You will need an AMD GPU to be able to use FreeSync, but it does give a wonderfully smooth gaming experience.
REFRESH RATE
A higher refresh rate allows your to actually see high frame rates and even just 75Hz makes a big difference when gaming.
PANEL TYPE
Most gaming panels are TN based, but for those who want accurate colours and wider viewing angles, there are a few that use IPS.
RESOLUTION
At the affordable end of the spectrum, 1,920 x 1,080 is the most common resolution and easily pushed to higher frame rates with low- to mid-range GPUs.
GAME MODES
Game modes can help tweak your experience for different genres, and having a black equaliser helps enhance dark areas.
CONSOLE VS PC
While most gaming monitors are aimed at those with PCs, there are also some with features for those who like to use a console.
STAND
The better monitors have a fully adjustable stand, which makes it easy to set at the perfect height and angle for comfortable gaming sessions.
ACCESSORIES
Check what is included in the box — some monitors don't include anything beyond a DVI cable, with the necessary HDMI or DisplayPort cables needing to be bought separately.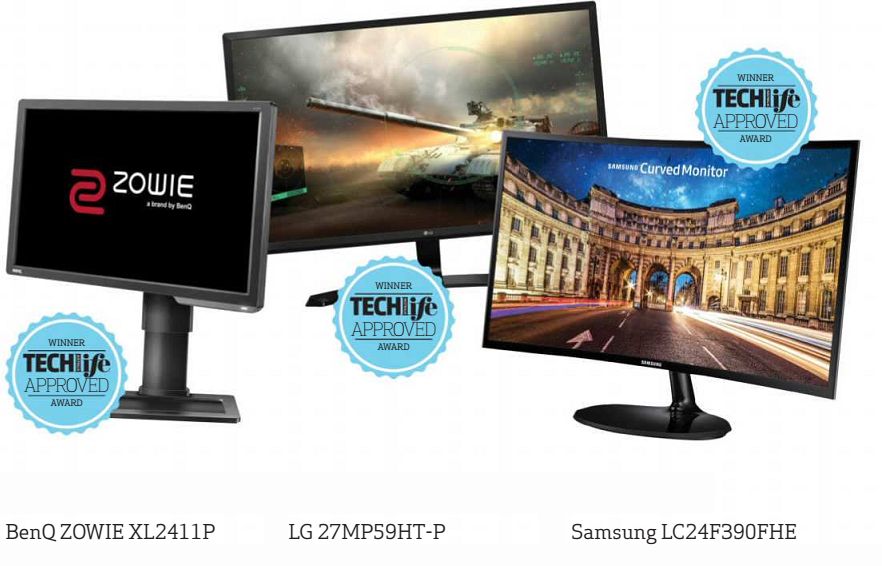 BenQ ZOWIE XL2411P Review
AIMED AT PROFESSIONALS.
JUST SCRAPING IN, the 24-inch BenQ ZOWIE XL2411P is designed specifically for eSports. The screen shows off a 1,920 x 1,080 resolution, and uses a TN panel to give a 1 ms response time. he gaming chops of the XL2411P come from the native 144Hz refresh rate, for ultra smooth gaming. It's aimed at a subset of gamers, though, who have a specific setup that can get the best from the monitors, as it does not feature any adaptive sync technology. Still, for those who can push the monitor with a decent GPU, it gives a top- notch experience. It also has special blue reduction backlight strobing, as well as a black equiser and modes aimed at different games, such as FPS.
As a TN panel, the colours and view angles of the BenQ monitor are not amazing, but get the job done. It also has an excellent height adjustable stand that makes it easy to set up the optimum gaming environment.
4/5
CRITICAL SPECS
24-inch TN panel; 1,920 x 1,080 resolution; HDMI, DVI, VGA
LG 27MP59HT-P Review
A GAMING OPTION WITH SOMETHING EXTRA.
WHILE MOST MONITORS aimed at gamers use TN panels, this uses IPS technology. hat's handy for those who want the best colour reproduction and viewing angles, and can help make the screen more usable for productivity tasks. It comes in two different sizes — 24-inch and 27-inch. The LG features a 1,920 x 1,080 resolution, and can display over 99% of the sRGB Colour Gamut. It also has a 5ms response time, which is brought down to a virtual 1ms with LGs motion blur reduction tech. But the real gaming features are the 75Hz refresh rate, coupled up to AMD's FreeSync.
In use, it gives a noticeably better picture than its TN-based competition. We also didn't notice any blurring during normal gaming, and FreeSync did a great job of eliminating tearing. he monitor also has some handy features, such as a black stabiliser mode, and splitscreen. While hardcore gamers will seek faster refresh rates, this is a great monitor for those who still need everyday image quality.
4/5
Samsung LC24F390FHE Review
A GAMING MONITOR WITH A DIFFERENCE.
WHILE MOST MODELS are boring and flat, the Samsung LC24F390FHE has a 19° curved panel. Even better, the 24-inch screen, while the larger 27-inch model. As far as gaming monitors go, the Samsung is a little weird, and uses a VA panel which has a slower-than-typical 5ms GTG response time.
It does have AMD FreeSync, but only operates up to 60Hz, so isn't aimed at those trying to push their frame rates. he Samsung has the typical 1,920 x 1,080 resolution, and HDMI and VGA inputs.
Thanks to the VA panel, the monitor has excellent colour reproduction and improved viewing angles. he 3,000:1 native contrast ratio is excellent, and helps give deep blacks and bright colours. Samsung has implemented FreeSync well, and it a gives smooth gaming experience, and even the 5ms response time shows no issues with ghosting. he curved panel does improve immersion, making this a solid choice for casual gamers.
4/5
ViewSonic XG2401 Review
MAKING A COMEBACK.
JUST GETTING RELEASED back into the market after selling out, the Viewsonic XG2401 is aiming to provide high refresh rate gaming. The screen's gaming credentials come from FreeSync support, as well as a high 144Hz refresh rate and 1ms response time from the TN panel. he 24-inch screen has a 1,920 x 1,080 resolution, and is aimed at mid-range AMD gamers who want to push for faster frame rates but don't have the grunt for higher resolutions.
For a TN panel, the screen gives decent colour reproduction and viewing angles, with even backlighting. With FreeSync enabled, it happily provides buttery smooth gaming with no evidence of tearing. It's well worth tweaking the display settings, and there are some game modes to help out. he monitor has dual HDMI ports, DisplayPort and dual USB. It also has a top notch stand, with height, pivot, tilt and swivel adjustments, as well as a cable organiser around the back.
4/5
ASUS VG248QE Review
FOR HIGH FRAME RATE GAMING.
SOME SAVVY ONLINE shopping is needed to find the ASUS VG248QE, but the screen just squeaks in under our price limit. Aimed at mid-range gamers who want to push their frame rates, the 24-inch screen features a 144Hz refresh rate but not any adaptive sync support. hat is not actually too much of an issue in the real world, as long as you plan to very consistently push your frame rates very high. The VG248QE has a 1,920 x 1,080 resolution and, thanks to the TN panel, a fast 1ms GTG response time.
Colours and viewing angles are fairly typical, but with a little tweaking, the screen can look quite good. Getting a fast gaming experience is easy, but it can take some fiddling to make sure it stays smooth. he monitor has some game modes, and an excellent stand with height, tilt pivot and swivel adjustments. It has HDMI, DisplayPort and DVI inputs, but only comes with a cable for the latter.
3.5/5
Dell SE2417HG Review
A VERY AFFORDABLE OPTION.
A GAMING MONITOR with the latest adaptive sync technology is great and all, but some gamers just want a super affordable options without all the extras. The Dell SE2417HG caters to that market. It measures in at 23.6-inch and has a 1,920 x 1,080 resolution, and a 60Hz refresh rate. The screen uses a TN panel, with a reasonable enough 2ms response time.
As the cheapest of the Dell gaming monitors, we didn't have overly high hopes, but the SE2417HG was quite usable. Sure, the viewing angles are a bit rubbish, but it's vibrant and bright with a fairly even backlight. We noticed a tiny bit of ghosting on faster titles, but for casual gaming, it's just fine. the monitor had dual HDMI inputs, as well as legacy VGA — though, annoyingly, only a VGA cable in the box. It does not include any speakers, but does have an audio line out to pass sound from HDMI.
3.5/5
CRITICAL SPECS
23.6-inch TN panel; 1,920 x 1,080 resolution; dual HDMI, VGA