Kaby Lake motherboards
Incremental improvements mean Intel's new CPU isn't likely to excite gamers. BENNETT RING goes skinny clipping in shallow water…
While we wait with bated breath for AMD's new Zen-powered CPUs, Intel has once again delivered an annual refresh of its existing product range in the form of the new 7th Generation Core CPU. With little competition from AMD, once again we see Intel release a product that has the smallest of improvements, with one exception – media encoding/transcoding performance. Overall, the new 7th Gen Core CPUs, formally codenamed as Kaby Lake-5, offer some of the smallest changes we've ever seen from a new Intel desktop CPU.
Keen readers will know that Kaby Lake CPUs were first launched for laptops (note the lack of the -5 at the end of the mobile product CPU names), with the desktop launch taking place several months later. From this it's obvious where Intel's intentions lay; they're not too fussed about improving desktop performance, instead focusing on power efficiency for mobile. While we can totally understand that approach, it means that Kaby Lake-S isn't a very exciting product for gamers.
14NM+
Arguably the biggest change isn't a change at all – it's a refinement in the manufacturing process. Last year's 6th Gen Core was built on a 14nm manufacturing process, while this year's chip now uses what Intel calls "14nm+". Basically the 14nm process has matured to the stage where Intel can now squeeze a little extra performance out of its chips without having to make major architectural changes. In fact, the basic design of the x86 cores appears to be unchanged from last year's chips; now they just operate a little faster. For example, the new high-end i7-7700K now has a base speed of 4.2GHz, while its Turbo speed has increased to 4.5GHz. This is in comparison to last year's i7-6700K, which had a base speed of 4GHz and a Turbo speed of 4.2GHz. So far, so yawn-inducing, but there is one area that has seen major improvement -hardware acceleration of video via the media engine that forms part of the integrated GPU found on these chips.
The big new feature is that this media engine now supports hardware acceleration of 4K HEVC content. Intel claims that this enables the mobile variant to support up to ten hours of 4K playback on a single battery charge; it can also encode a one hour 4K HEVC video in 12 minutes, vastly superior to the software encoding of 4K content of the past. Netflix fiends will also find the support for the latest security protocols means that only 7th Gen Core-powered PCs will support Netflix's 4K streaming (or you could just buy a $200 media streamer instead). There has also been an improvement to Intel's Speed Shift technology, allowing the CPU to more rapidly switch between low power/performance and high power/ performance modes. As a result, Intel claims performance improvements up to 19% in basic desktop duties, but our PCMark 8 Home Accelerated test didn't show this at all – the slight performance boost seemed to align perfectly with the frequency increase.
The manufacturing process has updated from 14nm to 14nm+. A plus sign is good, right?
Series 200 Benchmarks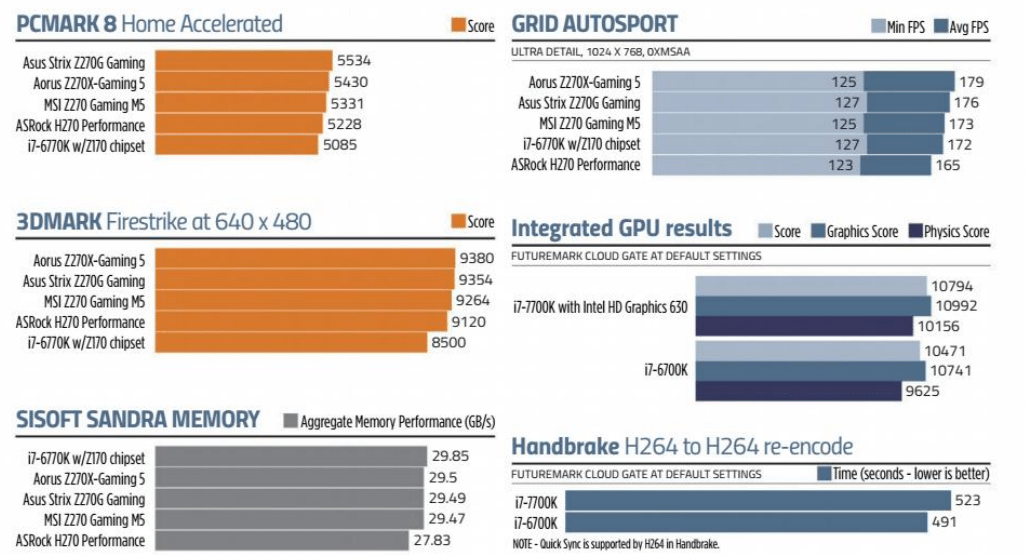 If you thought the new 14nm+ process might lead this chip to being an overdocker's delight, think again. While we've only managed to hit 4.7GHz with our sample, a mere 200MHz increase over last year's i7-we've seen Intel's wrath at such attempts in the past Don't expect them to emblazon their motherboard boxes with this information though; you'll have to dig deep to see if the H270 board you have in mind has overclocking support.
As far as PCIe lanes go, the new 2270 supports 24, while the H270 drops this to 20. The memory speed on the lesser board has also dropped a little, down from DDR4 2400MHz to DDR4 2133MHz. Yet, we've seen H270 boards promising DDR4 2400MHz support out of the box, making this a moot point. There will also be DDR3 versions of these chipsets, but if last year's 100 series is anything to go by, don't expect to see many motherboards hitting the market with this option.
If there's one major difference between the 2270 and H270, it's in the configuration of the PCIe to CPU lane configuration. The 2270 supports 1×16, 2×8, 1×8 + 2×4 configurations, making it suitable for Nvidia's SLI technology. However, the H270 is limited to just 1×16 lane, ruling out SLI for these boards. Thankfully the 2170 supports the full range of PCIe to CPU configurations, and sits somewhere between the 2270 and H270 in terms of pricing. However, it too only has 20 PCIe 3.0 lanes.
We can't recommend an upgrade to this new CPU if you're rocking a 5th or 6th-gen Core CPU
As you can probably tell, as gamers we're once again underwhelmed by Intel's latest CPU and chipset.
Yet we can totally understand their strategy; there's no need to pump huge amounts of R&D into their CPU architecture when there's no real competition in the gaming market. Which is why the launch of AMD's new CPU is going to be so exciting; finally we might see some real competition when it comes to raw CPU performance, which is what gamers care about. Until then, Intel's latest range is really only suitable for those upgrading from systems that are three or four years old.
KABY LAKE MOTHERBOARDS
Asus ROG Strix Z270G Gaming Review
Mini-form factor, maximum effort
When most of today's mobos from the big four are all so similar, it's nice to get something like this product in for review. It's the only board in our roundup that uses the mATX form factor, so is designed for mobile, smaller gaming rigs. Yet despite its small size, Asus has managed to pull a Tardis on this board, cramming in much more than you'd expect for such a small size.

5-Way Optimization with Auto-Tuning and FanXpert 4 automatically tailors overclocking profiles to your unique build for maximum OC performance and dynamic system cooling
Unmatched personalization with ASUS exclusive AURA Sync RGB lighting, two additional RGB headers and a 3D-printing friendly mount
Last update was on: 2022-02-10 11:26 pm
5-Way Optimization with Auto-Tuning and FanXpert 4 automatically tailors overclocking profiles to your unique build for maximum OC performance and dynamic system cooling
Unmatched personalization with ASUS exclusive AURA Sync RGB lighting, two additional RGB headers and a 3D-printing friendly mount
Maximize your connectivity and speed with Dual M.2, front panel USB 3.1, onboard 802.11ac Wi-Fi and Intel Optane Memory compatibility
Two Patent-pending Safe Slots feature an injection molding process that integrates metal framing for a stronger, firmly anchored PCIe slot built for heavyweight GPUs
Industry-leading 8-channel HD audio with the ROG exclusive SupremeFX S1220A driven by Japanese capacitors
Note: Please refer the User Manual before use.
There are two full length PCIe x16 lanes, so you can run SLI if you so desire, alongside twin PCIe x1 physical slots. Asus has stuck with the standard six SATA 6Gbps slots offered by the Z270 chipset, but also includes two M.2 ports for high speed SSDs, managing to do so by putting one of the ports on the rear of the board. There's even integrated Wi-Fi 802.11 a/b/g/n/ac which supports MU-MIMO for the latest routers. There are plenty of USB ports to go around, with four physical USB 3.0 ports included, along with twin USB 3.1, one of which is Type-C.
Sound is handled by Asus' SupremeFX solution, which is based on Realtek's latest S1220A codec. As expected it's been beefed up with premium capacitors, EMF shielding and twin headphone amps. HDMI and DP ports deliver output for the CPU's integrated GPU, while Asus' excellent BIOS design remains intact, offering easy overclocking. If you want to dive deep, there's a plethora of options for serious tweakers.
It might be rather pricey, but given the feature set for such a small board, it's one of the best bases for your mobile 7th Gen Core gaming rig. BENNETT RING 23
PROS:
Feature-rich
Quality-audio
Deep BIOS options for tweakers
CONS:
Rather expensive
Form factor Iimits the range of peripherals
Verdict:
This mATX board might look tiny, but it's got a huge range of features crammed into its tiny dimensions.
Rating: 4.5/5
Aorus Z270X-Gaming 5 Review
Gigabyte in disguise
Despite trying to separate the Aorus brand from maker Gigabyte for several years, the company has now decided to use the Aorus brand as a moniker for its high-end gaming products. So this is actually a Gigabyte product but it looks just like many other Z270 boards in this price point.
It's hard for mobo manufacturers to differentiate their products when their competitors are using the same chipset aimed at the same price point. And it seems Aorus hasn't really done much to set itself apart from the pack. This ATX board packs three steel-reinforced PCIe x16 physical slots, along with another three x1 slots. It's covered in RGB lighting, and features an RGB header if you want to add even more… just like every other board in this price range.
We do appreciate the fan headers though, with support for high-amp (2A) water pumps and six separate temperature controllers that can be used to automatically control fan curves. While it calls its audio solution Sound Blaster X-Fi MB5, it's actually based on the same Realtek ALC 1220 codec of many of its competitors, and comes with the usual extras; if you want dedicated Creative sound hardware, you're going to have spend much more for the higher-end Aorus boards. However, it does support Gigabyte's swappable amp technology, so you can change the tone of your sound if you prefer. Twin Ethernet is also a nice addition, but there's no built-in Wi-Fi. There are two M.2 slots though, with an additional port for a U.2 based drive.
To be frank, there's not a lot that separates this board from similarly priced Z270 boards. As a result, we think your buying decision will probably come down to brand loyalty and aesthetics over everything else. BENNETT RING 53
PROS:
Triple MVMe PCI SSD support
Additional ASMedia USB 3.1 controller
Onboard overdockng buttons/display
CONS:
At this price, they're al much of a muchness
Verdict:
In such a competitive crowd, there's not much more than the additional U.2 port and excellent fan controls that helps this board stand out.
Rating 4/5
ASRock Fatality H270 Performance Review
It might be based on the perceived-to-be-inferior H270 chipset, but as our performance benchmarks show, you don't lose a lot of performance when moving to a board like this. At least $100 cheaper than its competition, it's a great platform for building a more affordable rig where things like SU aren't a consideration.
While there are twin full-length PCIe 3.0 x16 physical slots, we should point out that the chipset limits one of them to running in x16 mode, while the other is stuck at x4. That's not a problem if 5LI isn't something you're looking for, while another four PCIe x1 physical slots allow for plenty of peripherals. Due to the lower PCIe lane count compared to the Z270, you're going to have to cut back on a single M.2 high speed SSD, but there are still two Ultra M.2 slots included on the board.
Given the price, a single Intel 1219V Ethernet port is more than respectable, but we were pleasantly surprised by the board's audio. Like its more expensive counterparts, it's using Realtek's ALC1220 codec, and sounds just as good as the rest It doesn't have quite as many SATA 6Gbps ports as the likes of the Aorus, sticking to the default six offered by the H270. Yet there are plenty of USB ports, including a single USB 3.0 Type-C connection. To be clear, it's version 3.0 though, so only has half the bandwidth of 3.1 connections.
At just under two hundred bucks, this is fantastic value… and ASRock has even enabled overclocking of both the memory and CPU. Yep, it's quite the steal. BENNETT RINGS
PROS:
Cheap without a performance hit
High-quality audio
CONS:
Slower than Z270
No SLI support
Lacks additional SATA ports
Verdict
You really can't go wrong with this board if you're intending to build an affordable 7th Gen Core system.
Rating 4.5/5
Heads or tails?
Thank you MSI, for delivering a superslick black motherboard that will be aesthetically appeasing to those of us who prefer our PCs to look like a serious piece of machinery rather than mobile Karaoke machines. At this price, the MSI Z270 Gaming M5 is going head to head against the Aorus. so what else is different apart from its subtler design?
Well, not much. MSI was keen to emphasize the M.2 shield, as it appears that M.2 SSDs can throttle back under duress. It's basically a small heatplate that goes over an M.2 SSD. This board has similarly powerful and flexible fan controllers as the Aorus board, while the physical layout is also extremely similar. There are three full length PCIe x16 slots, though only two come with steel reinforcement, while another three x1 slots await your soundcards, capture cards and the like. We're a little concerned the plastic shroud around the PCIe slots might get in the way of certain peripherals though.

A-Tech 32GB (2x16GB) RAM for MSI (Micro Star) Z270 Gaming M5 | DDR4 2666MHz PC4-21300 Non ECC DIMM 1.2V - Desktop Memory Upgrade Kit
Obviously there's plenty of support for RGB lighting and additional strips, while the BIOS is up to MSI's usual high standards.
Tweakers will delight at just how much time they can waste adjusting even the most insignificant of settings. Twin M.2 plus another U.2 connector is identical to the Aorus. though it doesn't have quite as many SATA 6Gbps ports, sticking to the default six. We're sure you can guess what's powering the audio subsystem – yep, Realtek's ALC1220 has been wheeled out once again.
With performance, features and pricing nigh on identical to the Aorus board, picking the right one could come down to a coin toss. BENNETT RING
PROS:
Excellent fan header support
Nice slick design
Twin M.2 plus U.2
CONS:
Here comes another one, just like the other one
Verdict
At this price, the MSI Z270 Gaming M5 delivers exactly what we expected – a solid, feature-packed board that is very similar to other offerings.
Rating 4/5