Bowers & Wilkins 606 s the larger standmount of B&W's sixth-generation edition of its entry-level 600 Series lineup, the 606 is likely to be the best seller, as the 685 S2 was before it. Along with its more voluminous cabinet comes a larger Continuum cone mid/bass driver and the same 25mm tweeter.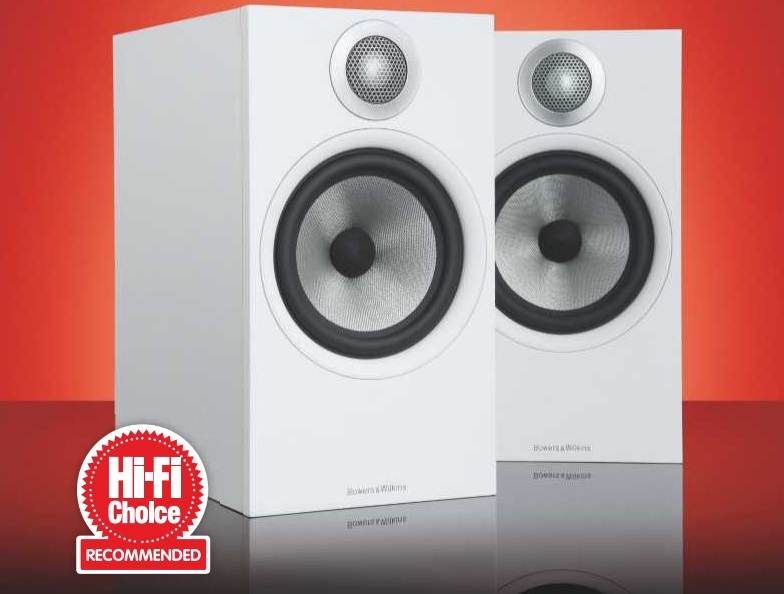 Sturdy and functional is probably the best way to describe the build and finish and there's nothing wrong with that. The overall effect is smart enough to fool casual observers into thinking they're looking at the much pricier 706 S2, especially if they venture round the back where the terminal tray and dimpled airflow reflex port are identical. Behind their Continuum cones, though, the mid/ bass drivers aren't quite the same. For the 600 Series, the motor system and chassis has been slimmed down and doesn't have a neodymium magnet. And while the decoupled, double dome aspect of the tweeter is the same, the aluminium dome lacks the 700 Series' rigidity-enhancing carbon coating or a housing that incorporates heat-sinking behind the dome. That said, the new tweeter uses an upgraded neodymium magnet and wears a new grille mesh from the 700 Series. Also, the dome has been repositioned slightly forward in its diaphragm in order to improve time alignment while internal components, such as inductors and bypass capacitors, are also welcome hand me downs from the 700 Series.
Sound quality
First up, is B&W's 707 S2  that impressed me in HFC 438 (see p41). In my smaller room with the Hegel H90 integrated amp fed by the Chord Electronics Hugo 2, its remarkable talent for filling a big space with confidence, authority and surprisingly solid and well-extended bass is less crucial. But confounding its small stature, it manages to conjure up a convincingly proportioned soundstage populated with believably scaled musicians and instruments. It's a presentation that marries body and weight with supple speed and agility and the ability to sustain a lovely rich, natural tonality and properly nuanced dynamic contrasts as the volume is pushed towards party levels.
Does the 606 sound like a close relation with less polished manners? In one sense, yes. In most others, no. For a start, it's less refined overall and its tweeter is a little more obvious.
DETAILS
PRODUCT Bowers & Wilkins 606
ORIGIN UK/China
TYPE 2-way standmount loudspeaker
WEIGHT 6.9kg
DIMENSIONS (WxHxD) 190 x 345 x 300mm
FEATURES
1x25mm aluminium double dome tweeter
1x 165mm Continuum cone mid/bass driver
Quoted sensitivity: 88dB/1W/1m (8ohm)
DISTRIBUTOR B&W Group Ltd.
TELEPHONE 08002321513
WEBSITE bowers-wilkins.co.uk
There's a lot of 'sss' going on in Christine And The Queens' Girlfriend and the 606 pushes into mild sibilance more readily, the 707 S2 staying silky. On less aggressively produced material this isn't an issue, but there's no question the 606 is the more 's-forward' of the two.
Whether this is down to voicing or simply the quality of the tweeter I wouldn't like to say, but whatever the reason, the slightly more forceful treble quality of the 606, together with its larger mid/bass driver and much bigger cabinet, has a profound effect on its sonic character. Expansive as the 700 Series baby's output is, the 606 sounds positively huge for its size and – quite a surprise this – more open, airy and expressive throughout the midrange. The resolution, ambient detail and honest-to-God transparency on offer here frankly beggars belief at the price. Allied to bass performance that digs half an octave deeper than the 707 S2 with less apparent effort, if a little more box colouration, Christine And The Queens step it up, sounding a tad less polished but palpably more potent and fun. Diana Krall – and jazz songstresses Basia and Lizz Wright, come to that – all sound smoother and sexier through the 707 S2, as you might expect. The 606 is no less insightful (if a little less subtle), but entertains on a scale and with an enthusiasm the more expensive 707 S2 can't quite match. That poses an interesting in-house choice.
Conclusion
Trickle-down tech can yield mixed results, but my time with the 606 shows that Bowers & Wilkins gets it right and its approach knocks this entry-level standmount out of the park. Right now, I can't think of a better way to spend around on a standmount speaker.
Editor choice
Bowers & Wilkins 606 Review
Affordable cutting-edge tech and knockout performance for the money
PROS
Exceptional sound quality with outstanding midrange and bass
CONS
Treble can sound too crisp; rather plain finish
Add your review
|
Read reviews and comments
Best Bowers & Wilkins 606 prices ?
$

1,228.27
1 new from $1,228.27
in stock

MORE DEALS