NEED A SHARED STORAGE SPACE THAT CAN BE ACCESSED BY MULTIPLE DEVICES WIRELESSLY? THESE WI-FI DRIVES OFFER THE PERFECT SOLUTION. READ OUR Best wireless hard drive
NATHAN TAYLOR
ALTHOUGH THEY'RE TYPICALLY more expensive and deliver slower transfer speeds than their wired USB siblings, for a certain kind of user, wireless storage devices make great travelling and home companions. They're a perfect way to carry a lot of data on the road with you when you're only bringing along a mobile or tablet, for example, and they often do double duty as a relatively inexpensive network-attached storage box for serving media to devices around the home.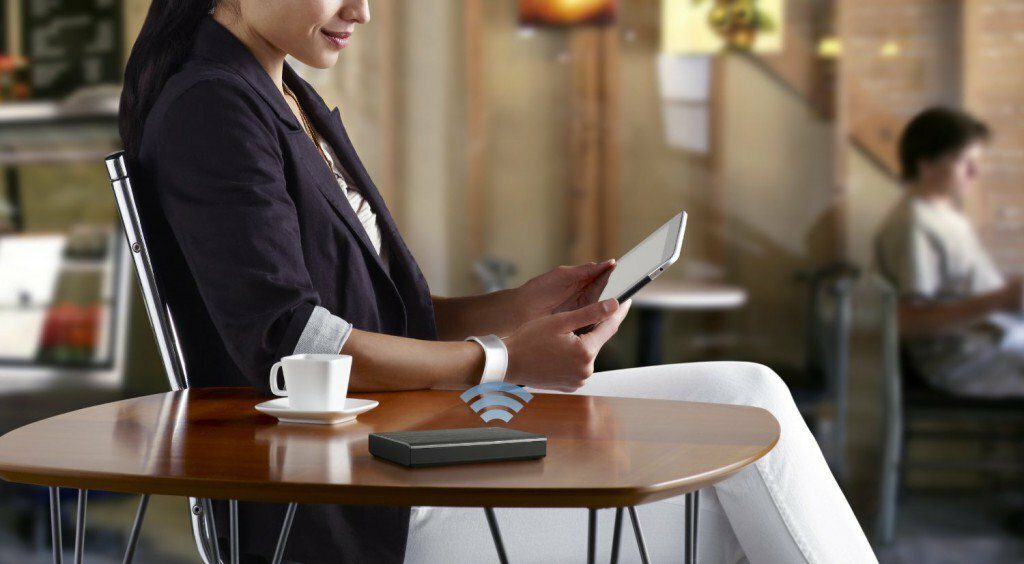 [wpsm_toplist]
For those unfamiliar with them, a wireless drive is an external USB hard drive or flash drive with an integrate Wi-Fi antenna. Most also have internal battery packs, so they can be used for a number of hours when not connected to a power source. The Wi-Fi antenna is used to create a hotspot; any devices connecting to that hotspot can access the contents of the drive, either through a mobile app or standard network-sharing file protocols like SMB or DLNA.
That effectively turns the drive into a kind of limited mini-NAS that you can take with you when you traveL You can access its contents from your mobile or your laptop, share media and files with people you meet just by giving them a password, and even, in some cases, directly download or back up data from your mobiles and cameras.
[wpsm_titlebox title="WIRELESS STORAGE BUYER'S CHECKLIST" style="3″]
WHAT YOU NEED TO KNOW WHEN COMPARING WIRELESS DRIVES.
WI-FI SPEED
All wireless drives on the market use the Wi-Fi protocol to allow client devices (that is, your laptop, phone, tablet or desktop PC) to connect. However, be aware that many use the older 802.11n standard, which theoretically limits file transfer speeds to around a maximum of 40MB/s — although, in real-world usage, you'll be lucky to get even half that. Western Digital's My Passport Wireless Pro was the only drive to feature newer 802.11ac tech, so if speed matters, it's the best choice.
BATTERY LIFE
Basically, all wireless drives have an internal battery of some sort, meaning they can work while you're on the go. Battery life can vary considerably depending on how large that battery actually is, as well what you're doing with the unit—constantly copying files to and from the drive or streaming media will drain that battery quicker than, say, sporadically working from documents stored on it.
USB OTG PORT
A handful of the devices we tested offered USB On-The-Go ports, which let you plugin another USB storage device (such as a flash drive) and then access the content contained on it. This can be a handy way of quickly backing up other USB drives or, using a BYO adapter, reading a variety of memory cards.
SD CARD READER
If you want to use your wireless drive as a way to back up photos without the need for a PC, look for one with a built-in SD card reader.
MOBILE APPS
Apps for Android and iOSarea must-have if you want to access the contents of a wireless drive directly from your smartphone or tablet. Well-designed apps will have the capability to not only manage files, but view media (such as photos and videos), too.
[/wpsm_titlebox]
WIRELESS STORAGE DEVICES ON TEST
HOW WE TESTED
To test these wireless drives, we connected each to a PC with an attached D-Link 867Mbps 802.11ac Wi-Fi adapter, stepped through any setup and configuration stages as required and performed some basic file-transfer tests alongside investigating the interface and any special features, such as DLNA streaming. Where available, we also tested any Android and ¡OS apps that allowed connection (and often playback of videos and browsing of photos) on the drive.
Western Digital My Passport Wireless Pro 3TB
FOR THOSE WHO WANT THE BEST
THE MY PASSPORT Wireless Pro is WD's second-generation wireless hard drive, and offers a heap more features than its non-Pro sibling. That includes the option of a 3TB capacity model (which is what we tested for this review); 802.11ac wireless; an SD Card reader; a USB 2.0 host port, as well as a USB 3.0 device port; and an integrated battery that can drive it for up to 10 hours. The SD Card reader and the USB 2.0 host port allow you to directly dump content from your mobile, flash drives and camera onto the drive without a PC. As an added bonus, the USB host port can charge mobile devices from the Wireless Pro's 6,400mAh battery. To connect it to a PC for faster file transfer, you instead use the Wireless Pro's USB 3.0 device port. Where USB 2.0 devices are pretty much limited to 30-35MB/s, the Wireless Pro hit 83.5MB/s when we tested it with a wired connection. Its use of 802.11ac was also a major performance boon: its wireless transfer speeds were well ahead of the pack — which'U likely come in handy as up to eight wireless device connections are supported at once.
CRITICAL SPECS
3TB (2TB also available); 802.11ac; SD card reader; USB 3.0 host. USB 2.0 device; 10-hour battery
Rating 4.5/5
Kingston MobileLite Wireless G3
A JACK OF ALL TRADES.
UNLIKE THE OTHER devices here, the G3 has no integral storage. Instead, it uses storage connected to its USB 2.0 host port and SD card port. That means it has as much 'capacity' as you're willing to plug into it. (For people who do want some capacity baseline, there is a Pro version with 64GB of flash storage). The USB 2.0 host port can deliver up to 2A of power, so most portable hard drives will work just fine with the MobileLite. That also makes it a decent charger; it has 5,400mAh of power in its own battery bank and is charged via micro USB. There's a wired Fast Ethernet port, the latter allowing the Kingston to bridge to a wired network and be an access point. Even if you're not connected to a wired network, there's an optional wireless bridge mode that lets the Kingston access a separate wireless network as a client, so you can access the Kingston's content and the internet at the same time. The mobile apps are fast and functional, with simple backup and file access, as well as an integral media player. You can easily attach portable drives to it, a USB 3.0 host port would have been nice, but it's still a great buy.
CRITICAL SPECS
No storage (64GB available in Pro); wired fast Ethernet; USB 2.0 host, micro USB charger; SD card reader
Rating 4/5
Seagate Wireless Plus 2TB
A CONVENIENT AND PORTABLE BATTERY-POWE
SEAGATE WAS ONE of the first vendors to release a wireless hard drive, and although this Wireless Plus model is technically its second-gen product, it's actually going on being two years old. Thankfully, it's easy to setup and still has enough capacity to compete with newer models. It functions as a standard USB hard drive when it's plugged into your computer, but when detached, it becomes a battery-powered 802.1 In Wi-Fi access point and server. That means that any device in range can connect to it using Wi-Fi and access the drive. Up to seven devices can be connected to it at once, and Seagate claims its battery can last up to 10 hours. Once a device is connected, the Wireless Plus will appear as a Windows Sharing device, and files can be copied using File Explorer or Finder like normal. You can also use the Seagate Media App, available for Windows, Mac and mobile, which provides a media playback and viewing platform for the contents of the drive. You can also view the content from a DLNA or AirPlay device, which makes it convenient for streaming media to your TV or other compatible players.
CRITICAL SPECS
2TB; USB 3.0; 802.11n; 10-hour battery life; 272g
Rating 4/5
Western Digital My Passport Wireless 1TB
SOME ELEMENTS ARE DISAPPOINTING, BUT IT'S ELEGANT AND EASY TOO.
WD'S ORIGINAL ENTRY into the wireless hard drive space is still a relatively compelling one. It's well designed and sleek and it gets most of the details right, from setup and configuration to connectivity and the mobile apps for accessing content. The My Passport Wireless can either create its own Wi-Fi network with up to eight clients, or connect to an existing one, and any devices connected to the same network can access the drive's content. They can do this through standard Windows file sharing, through bare-bones but usable mobile apps, or via DLNA streaming. Setup is handled smoothly and is readily accomplished from a mobile device or PC using the setup wizards and supplied video guides. WD rates the battery for six hours of video streaming. One handy feature for photographers is the SD Card slot.
WD did show its performance weakness compared to the Seagate drives. Although the drive specifications are nearly identical to its Seagate counterparts, the WD seemed to once again struggle with small file reads and writes.
CRITICAL SPECS
1TB; USB 3.0; SD card reader; 802.11n; 6-20-hour battery life; 270g
Rating 4/5
LaCie Fuel 2TB
ITS CUTE, BUT THERE'S NOTHING HERE WE HAVEN'T SEEN BEFORE.
LACIE'S BEEN IN the storage game for decades, and its wireless drive has been around for over two years now — but to its credit, this cute little device is quite compact; compared to the Seagate Wireless Plus, it's squarer and squatter, and slightly heavier, but there's not much else to differentiate it. Internally, the specs are eerily similar, right down to the battery life, and in use, the drive works in a very similar fashion. It creates its own Wi-Fi hotspot, and anybody connecting to it can access the files either through standard Windows file sharing, AirPlay or DLNA, or via a mobile app. Since LaCie was bought by Seagate, the Seagate Media App actually works just fine with it — it's an app that might be a little limited in its media playback support, but is easy to install and use. When it comes down to it, however, aside from the design, there's nothing really new or unique in the LaCie.
The Seagate does the same things and does them slightly better. Given they're roughly the same price, we'd probably favour the Seagate over this one… although the more-handsome design could sway some users.
CRITICAL SPECS
2TB; USB 3.0:802.11n; 10-hour battery life, 300g
Rating 3.5/5
Seagate Wireless 500GB
SOMETIMES. A SIMPLE DESIGN WORKS.
THE SEAGATE WIRELESS is a more limited version of the older Wireless Plus, offering less capacity and power but also coming in at a much, much lower price. But it essentially uses the same software platform. The model we tested came with just 500GB of storage, which can limit its usefulness as a more-permanent NAS device. It's also bulkier than it needs to be, with a 13cm x 13cm face. Even with that bulk, the battery is limited to roughly six hours of use and wireless is only 802.1 In, with a max of three simultaneous users supported. It does support a concurrent mode that lets it connect as a client to another wireless network, so you can connect to it and also access the internet. But its software platform is perfect for less technical users. Seagate provides very simple, usable apps for Windows and mobile for accessing and copying content. Files can also be accessed via web browser, and a sync tool on Windows makes keeping the drive contents up to date easy. We had no problems running three HD streams simultaneously, and it essentially maxed out the USB 2.0 connection for direct reads and writes. If you can handle the small capacity, this one's not a bad option.
CRITICAL SPECS
500GB; available In 5 colours; USB 2.0; 802.11n; 6-hour battery life
Rating 3.5/5
SanDisk Connect Wireless Stick 64GB
A THUMB DRIVE WITH WI-FI.
IF PORTABILITY IS your number-one priority in a wireless drive, then look no further. The SanDisk Connect looks much like a fat thumb drive and weighs just 22g. As small as it is, it still has an internal battery, capable of 4.5 hours of independent usage and recharged when you plug it into a USB port. As you might expect, the specs on the Wireless Stick are not exactly top of the line. Only single band 802.11n is supported and it's limited to 150Mbps. The USB is 2.0, so USB file transfers are practically limited to about 30MB/s (15MB/s in testing). Its application support is also limited. It does not have any integral DLNA or SMB support. If you want to access its contents over Wi-Fi, you'll have to use the SanDisk Connect Drive app on Android and iOS or a Web browser on PC. The SanDisk Connect Drive app is solid. You can stream media with it and back up your mobile. If you don't mind being limited to just the mobile apps, the SanDisk Connect Stick is pretty great. However, if you want performance or general access via Windows File Sharing or DLNA, you'll want to look elsewhere.
CRITICAL SPECS
64GB (also available In 16.32.128.200GB): 802.11n; USB 2.0:4.5-hour battery life: 22g
Rating 3.5/5