Affordable PC headsets compared
NO MATTER IF YOU WANT TO MAKE VOIP CALLS, VOICE CHAT WHEN GAMING OR RECORD YOUR OWN INSTRUCTIONAL YOUTUBE VIDEOS, A HEADSET IS A HANDY DEVICE TO OWN.
[ LINDSAY HANDMER ]
HIGHER-END MODELS CAN cost hundreds of dollars, but you can also pick up a headset for as little as $15. While the quality might not be quite the same, the underlying utility is just as good, and there are a few hidden gems available if you're prepared to shop around.
It's not just big, bulky, over-the-ear- style headsets for gaming in dark basements either. Headsets come in all shapes and sizes, including Bluetooth wireless models in bright colours that are great for listening to music.
We've also included headsets aimed at making hands-free calls on a smartphone.
You don't even need a soundcard or audio jacks for some headsets — instead they plug in via USB and are fully self contained.
We've reviewed models available for under $50, but don't be afraid of the lower end options, as they can provide excellent functionality for those on a budget.
HEADSETS TESTED
Each headset was connected to a smartphone or laptop, and used to make voice calls, record audio and play music. Mic quality was assessed using separate high-end Sennheiser headphones.
Logitech Stereo Headset
SIMPLE AND AFFORDABLE.
YOU DON'T NEED a particularly fancy headset for VoIP, or even gaming use — just decent quality at a good price. The Logitech H110 can be picked up, or even from common stores such as The Good Guys. The headset connects with the typical dual stereo plugs — headphones and mic, and has 180cm shielded cord. The headphones are rated with a frequency response of 20Hz to 20kHz, and the microphone from 100Hz to 16kHz. The H110 uses foam padded on ear style speakers, with an adjustable headband and is quite comfortable for longer-term use. The mic folds down, and the end can be bent into position. The headset is also symmetrical, so can be worn with the mic on either side — but remember to flip the stereo channels. Audio quality from the mic is excellent, and it works well for VoIP or gaming. The H110 is also backed by an excellent 2-year-warranty from Logitech.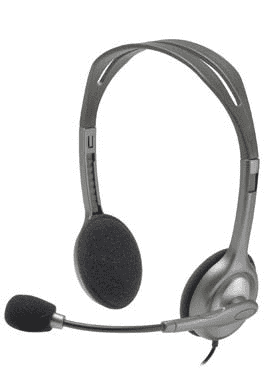 4.5
LOGITECH stereo'headset H110
CRITICAL SPECS
2 x 3.5mm plugs; 180cm-long cord, fold-down mic
Mi In-Ear Headphones Pro
ONE FOR THE MUSIC LOVERS.
GRABBING AN AFFORDABLE headset for your portable device is all well and good, but what if you love to listen to music too?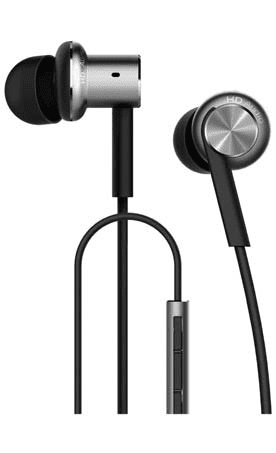 The Xiaomi Mi In-Ear Pro can be picked up, yet offers a listening experience superior to the $100 competition. The headset uses a hybrid driver setup that combines a large dynamic driver for low frequency kick, and a armature driver for high-end clarity.
The results is top notch sound quality for the price. The Mi headset also includes inline controls (volume and play/pause) and a microphone on the the braided cord, terminating in a gold-plated 4-contact 3.5mm plug. While the mic is fine for normal use, it clearly hasn't received the same focus as the earphones themselves. It's easy for voices to get a little indistinct, and there is a bit of noise from the cord. The headset comes with four different ear tip sizes, and sit into the ear — giving good noise isolation without being uncomfortable for longer use.
4.5
CRITICAL SPECS
Hybrid drivers; inline remote + mic; 4 contact 3.5mm plugs
MI IN-EAR HEADPHONES PRO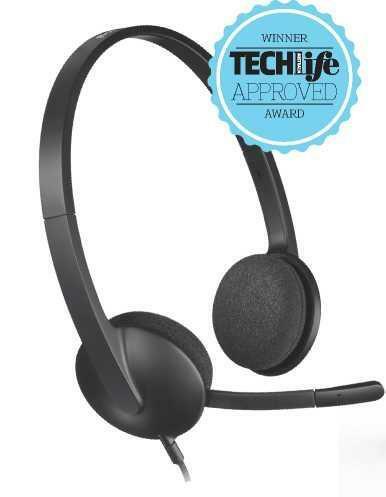 Logitech USB Headset H340
GO BEYOND 3.5MM JACKS.
NOTHING IS AS simple as using your existing sound card and good old 3.5mm plug, but USB has a lot of advantages. The Logitech H340 has opted for USB, which pushes the price up to around the $30 mark online. The advantage is that it can be plugged into just about any PC without relying on the internal sound card, and can gain more features via software.
The actual headset itself is solid but basic plastic, with large on-ear-style pads, and an adjustable headband. It's fairly comfortable, but for those with large heads, a little tight for longer-term use. The microphone folds up under the headband, which, while neat, can also be a little uncomfortable without fiddly adjustment. The headset has a 20Hz to 20kHz frequency response, while the mic is rated for 100Hz to 10kHz. In testing, earphone audio was clear and crisp, and the mic easily reproduced small nuances in recorded audio. The cord is 180cm long, and the H340 will run on Windows, Mac OS and Chrome OS.
4
LOGITECH USB HEADSET H340
CRITICAL SPECS
USB connectivity; 180cm-long cord; 2-year warranty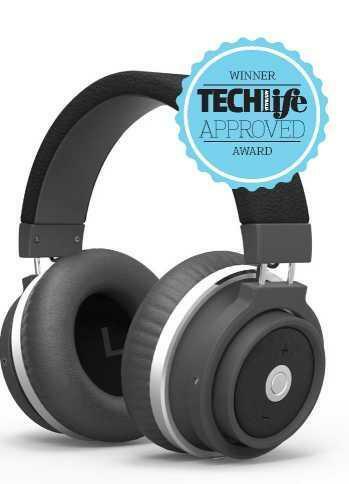 Promate Astro
BIG, BEEFY AND BLUETOOTH.
FOR THOSE WHO listen to a lot of music, work with a laptop or want to connect via a smartphone, going wireless has a lot of advantages. The Promate Astro headset uses Bluetooth 3.0, and includes controls for volume and answering calls/skipping tracks. The headset has large over-the-ear-style cups, which are very comfortable, if slightly small, and give great noise isolation. The adjustable band is sleek, but a little tight for larger heads. The microphone is built-in, without a boom at all, which is sleek, but reduces clarity and sensitivity a little. The headset charges from USB, and has a six-hour life from the 300mAh battery. The 40mm, 32-ohm drivers have a 20Hz to 20kHz frequency response and give a decent bass kick, but get a little muddy in the high end. There is no option for a wired connection, though, which is a shame. If you shop around, the Astro can be bought for under $50 — it's not widely available, though, so also check on eBay.
4
PROMATE ASTRO
CRITICAL SPECS
Bluetooth v3.0; 6-hour battery; 40mm drivers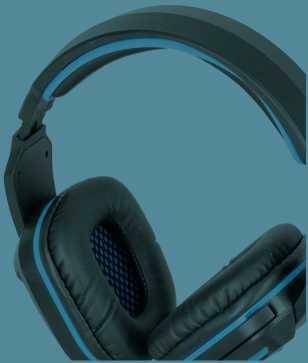 AFFORDABLE PC HEADSET BUYER'S CHECKLIST
THE KEY THINGS TO BE AWARE OF WHEN BUYING A HEADSET.
EAR CUP STYLE
Headsets typically either sit In the ear, on top of the ear with pads, or totally around the ear — the latter giving the best sound isolation.
WIRED VS WIRELESS
A wired connection typically gives the best quality playback and recording, but Bluetooth wireless is very convenient.
PLUG STYLE
Smartphone- and laptop-aimed headsets use a single 3.5mm plug, while desktop models use a separate jack for the mic and headphones.
MICROPHONE
The best audio recording quality comes from a boom microphone positioned near the mouth, rather than an omni-direction mic in the headset itself.
MUSIC
Bluetooth- and smartphone-aimed headsets are also often aimed at those who want to listen to music, as well as make calls.
INLINE CONTROLS
The better headsets include volume and mute controls on the cords, or the ability to answer calls on a smartphone.
FIT
Those with larger heads should aim for ear – surrounding cups that spread the load and ensure higher levels of comfort.
LEFT VS RIGHT
Many headsets can fold the microphone down in either direction, and are otherwise symmetrical, allowing it to be worn on either side.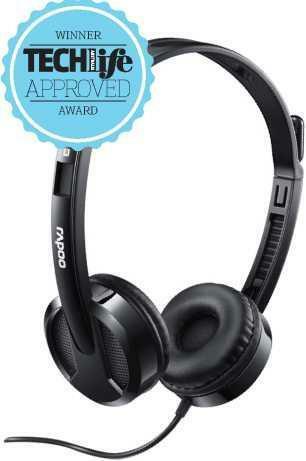 Rapoo H100
A SIMPLE, VERY BUDGET-PRICED SET THAT DELIVERS GOOD BANG-FOR-BUCK.
The Rapoo H100 is on the very affordable end of the headset range. The unit uses on-ear-style cups, with well-padded and pleather coated cushions that are fairly comfortable for longer-term use. The H100 is fully adjustable in size, and doesn't squeeze too tight, yet isn't loose either. Build from glossy black plastic, the H100 looks and feels like a much more expensive model. The drivers inside are 40mm, with a 20-20kHz frequency response and a 32-ohm impedance.
Audio quality is decent for the price, but of course better suited to VoIP or gaming than listening to music. The microphone is the usual fold down affair that can be then bent into the ideal position. Once again, the quality is great for the price, and perfect for basic use, but those looking to record higher-quality audio might fight it lacking. The headset uses the usual 3.5mm audio jacks, and includes an inline remote with volume controls and a mute button.
4
RAPOO H100
CRITICAL SPECS
3.5mm audio jack; fold-down microphone; inline controls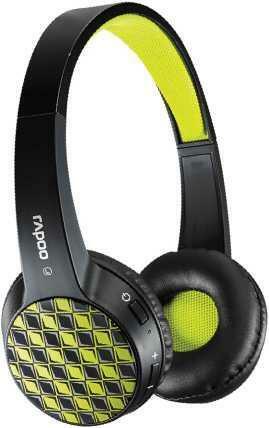 Rapoo S100
WIRELESS CANS FOR UNDER $50 COULD STILL BE GOOD… RIGHT?
EQUIPPED WITH BLUETOOTH 4.1, the Rapoo S100 headset makes it easy to connect to smartphones or most laptops. The headset is available in a range of colour styles, with swappable side covers, for people who want something that looks unique while listening to music on the go. The S100 packs a 450mAh battery for up to 20 hours of use, but can also be connected via USB cable if needed. Comfort is quite good, though those with larger heads might find it tight for long-term use. Music quality is about average — fairly clear across the board but lacking deep bass and crisp highs. The hidden omnidirectional mic does a good job at picking up voice calls, but isn't as clear as a boom style mic. The S100 includes the usual Bluetooth controls for answering calls, adjusting the volume, playing or pausing music, and skipping to the next track. The Bluetooth range is excellent, and we had no problem using it even one room over. Shop around online as you can grab the S100 for under $50.
RAPOO S100
CRITICAL SPECS
Bluetooth 4.1; 20-hour battery life; customisable style
APPLE EARPODS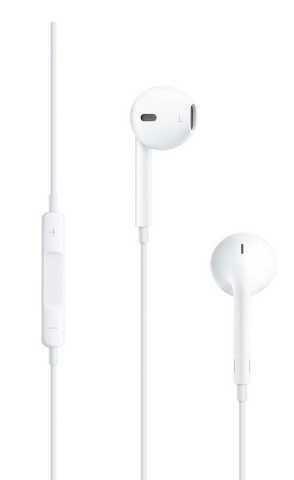 Apple EarPods
A WELL KNOWN SMARTPHONE HEADSET.
NOBODY CAN MISTAKE the plain white Apple EarPods, whether your love or hate them. The headset is ideal for those with an iOS device who want to be able to make calls hands-free or use other apps without relying on an inbuilt mic. The EarPods ditch the 3.5mm plug, and instead opt for a Lightning connector. While those with very old iOS devices are out of luck, the EarPods will work on iPhones, iPads and iPod Touches running iOS 10 or newer. The headset includes an inline control (containing the mic), to adjust volume and answer calls or skip tracks.
The actual EarPods sit comfortably in your outer ear, which reduces sound isolation, and leaves them more prone to pulling free. The sound quality is quite good, with warm tones, and enough bass to get by. The microphone isn't as good as larger models on full size headsets, but is more than capable for calls or VoIP.
Lighting connector; inline controls; pod style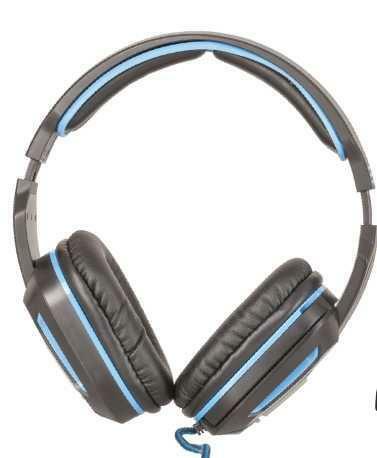 Jaycar Gaming Headset (AA2126)
PASSABLE FOR THE PRICE, BUT VOICE QUALITY COULD BE BETTER.
WITH LARGE OVER-THE-EAR-STYLE pads, the this headset is designed for noise isolation, bass and comfort for long gaming sessions.
The unit is at the upper range of those tested. It uses dual 3.5mm audio jacks, rather than USB, meaning it's not suitable for newer laptops that only have a single 'phones/ mic combo port — you'll likely need a desktop PC or an older laptop with separate 3.5mm in and out sockets. The mic uses a retractable pipe-style setup, which is minimalistic, but doesn't offer much in the way of positioning. The extra long 2m cable includes an inline volume control and mute switch, and is braided. They use 40mm diameter drivers, with a 20-20kKHz response rate, while the mic has a -38dB rating. It's very comfortable to wear, even for large heads. Audio quality is quite good, with plenty of bass, while remaining relatively crisp in the mids and highs. The mic is a little muddy, though — fine for gaming, but not as ideal for lots of VoIP.
3.5
Headset (Aa2126)
CRITICAL SPECS
2 x 3.5mm plugs; 2m braided cord; inline controls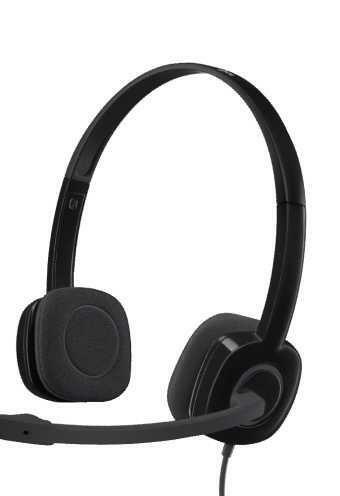 Logitech Stereo Headset H151
STEP UP TO A LARGER MODEL.
SELLING FOR $5-10 more than its basic H110 sibling, the H151 adds a lot of style, but what about substance? The core underlying tech is still the same — the unit uses dual on-ear headphones, and connects via two 3.5mm plugs. Where the H151 stands out is the inclusion of an inline volume and mute control, partway along the 180cm cord.
The headset is also made from glossy black plastic, with a quality feel. The microphone folds down in either direction, so can be worn on both sides, and the tip can be bent into the ideal position. The headset uses large on-ear-style pads, and an adjustable headband, that is comfortable even for large heads.
The earphones have a frequency range of 20Hz to 20kHz, while the mic is rated for 100Hz to 6.5kHz. Audio is quite good through the headset, but the microphone didn't stand out compared to the competition. The H151 weighs in at 80 grams, and is backed by a one-year warranty.
3.5
CRITICAL SPECS
2x 3.5mm plugs; 180cm-long cord; 1-year warranty
SENNHEISER CX1.00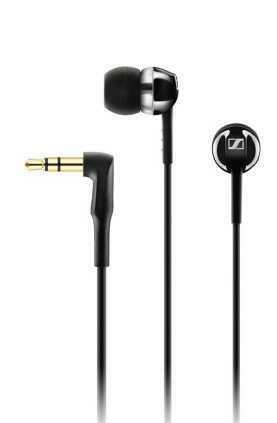 Sennheiser cx 1.00
ONE OF THE BIGGEST BRANDS IN THE BUSINESS.
SQUEAKING IN UNDER our limit (or a little less on eBay), the Sennheiser CX headset is aimed at smartphones and tablets. The unit uses the usual 3.5mm, four contact jacks and the rubber coated cable is 1.2m long. The microphone is hidden inside the inline controls, which also provide a play/ pause/answer call button, and volume up and down. The mic is quite good, and was very clear when making calls, or recording notes, with minimal cord noise. The headphones themselves are very compact, and sit in the ear, with four different tip sizes included. The CX was quite comfortable, but the small size means they are not quite as stable if pulled on. The sound isolation is excellent, and gives the sound an extra bass kick. The mids were a little flat, but the high-end felt sharp. The Sennheiser headset is available in black or white, and is backed by a better-than-average two-year warranty.
3.5
CRITICAL SPECS
4 x contact 3.4mm jacks; four ear tip sizes; inline controls