Affordable laptops
How much should you spend on your next laptop?
We tested models to find out whether you get what you pay for
The concept of an affordable laptop means different things to different people, so we took 10 laptops, and put them through our rigorous performance tests. The big question is: do you get twice the laptop if you pay twice the price for it?
To find out, we've picked out four models, including laptops from both ends of our price scale, to look at in detail.
ASUS ZenBook UX410 Review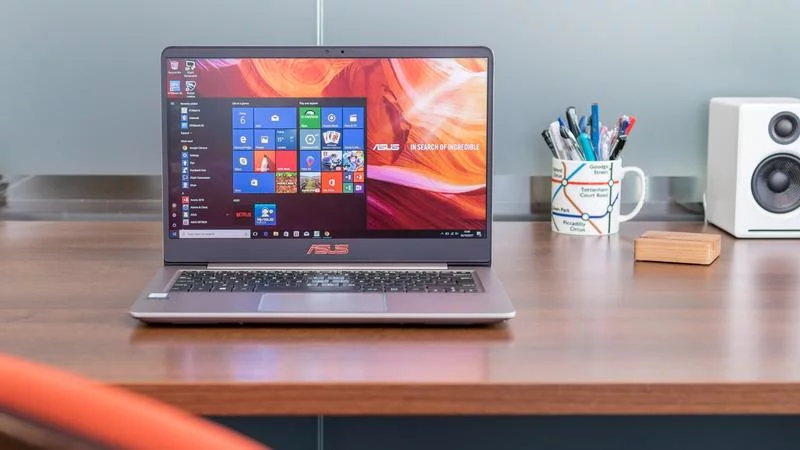 The Asus ZenBook UX410 isn't the cheapest laptop we reviewed in this test, but we think it's the best value, you get a laptop that looks and feels like a £1,000 model.
The compact, well-built, robust aluminium chassis houses a 14in screen with ultra-slim 6mm side bezels, giving it a smart and impressive look for a laptop of this price. And the slim lines don't come at the expense of connectivity: you get a full suite of USB 3 and HDMI ports, plus an SD-card reader and a USB-C port. There's also dual-band 802.11ac Wi-Fi.
Our only complaint is the core specification, which uses an Intel i3-7100U processor coupled with 4GB of memory and a 128GB SSD.
This means it managed only a mid-table placing among the 10 laptops we reviewed in this test, though it's fine for everyday browsing and office applications.
However, any downsides pale into insignificance when you look at its screen.
This model had the best colour accuracy of all the devices we tested, producing high levels of brightness and contrast (362cd/m2 and 1,189:1 respectively) and displaying 92% of Microsoft's sRGB colour standard. The sound is a tad harsh with the volume turned up high, but if you set it just loud enough to drown out the occasional whine from the cooling system, it's fine for casual listening.
The battery lasted for 8 hours and 12 minutes in our video playback test, which placed it third overall. That's not bad, but the battery life of the two Acer laptops we tested was significantly better.
If your computing needs are modest but you want everything to look fantastic on screen, this is an excellent option.
Acer Aspire 5 A515-51 Review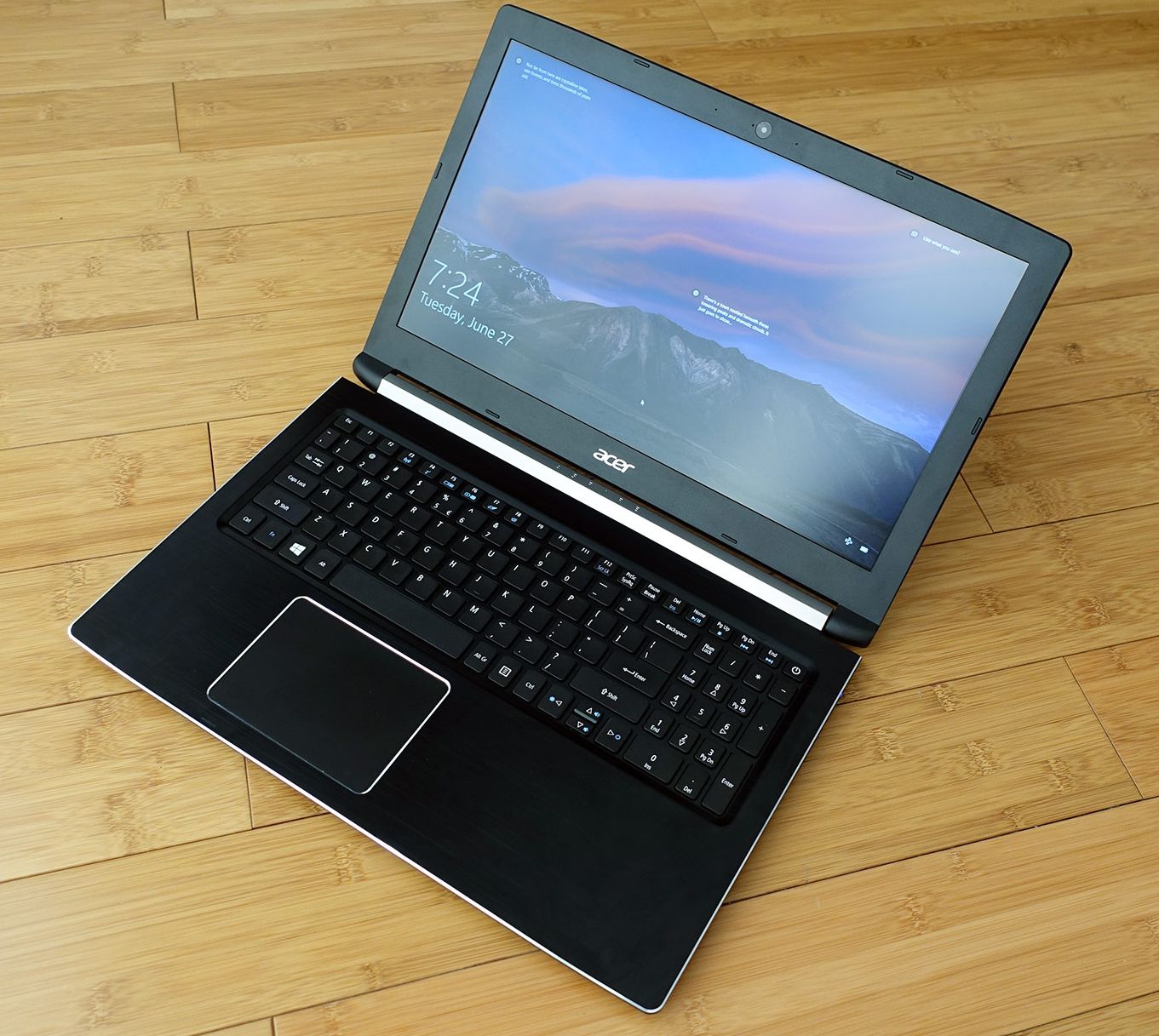 If you're not seduced by the Gold Award-winning Asus ZenBook's looks, and value performance over all else, the Acer Aspire 5 is a great choice. The chassis is predominantly plastic, with an aluminium keyboard surround, but this functional exterior belies its high internal specification, which boasts an Intel Core i5-8250 processor that topped our Windows performance benchmarks in this group.
The screen, however, is a bit of a let-down. At 15.6in, it's the joint biggest in this test and its 256cd/m2 brightness isn't bad as long as you're not in direct sunlight. However, it can only reproduce 55.5% of the colours in Microsoft's sRGB colour standard, which is disappointing. The speakers throw out a lot of noise but they lack clarity and finesse, so you'll want to plug in headphones, even at lower volumes.
HP 250 G6 Review
This HP model's glossy silver casing and faux aluminium keyboard feel sturdy, but it's entirely made of plastic. It bucks the current trend of ditching all manner of legacy ports and devices to achieve a smaller size, and comes with a DVD writer, Gigabit Ethernet port and VGA port, as well as the more common HDMI, USB 2 and USB 3 ports.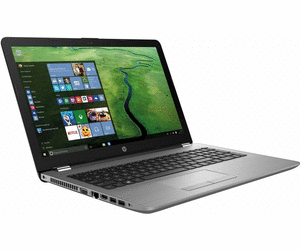 The model we reviewed had a good enough processor in the Intel Core i5-7200U, with 8GB of memory and a 250GB SSD. Its performance was some way behind the two Acer laptops but third out of 10 isn't bad, and its battery managed 6 hours and 59 minutes in our test, placing it fourth.
The screen is large, at 15.6in, but 234cd/m2 isn't bright enough to use in sunlight and it only produces 53.4% of the colours in the sRGB standard.
Lenovo IdeaPad 320S Review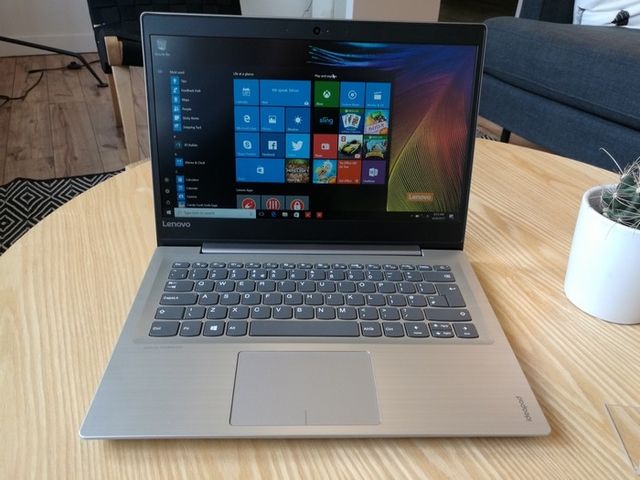 The cheapest laptop we tested still manages to look and feel a cut above a basic budget model, particularly with our test unit's "snow white'' finish.
At 1.7kg it's light enough to be toted around but you still get a 14in screen and decent connectivity, including a USB-C port.
It's not long, however, before you spot where corners have been cut to accommodate the low price. The keyboard and touchpad aren't quite up to the luxury levels of the more expensive models, but worse than this is the dim screen, which in our tests only peaked at 217cd/m2. Battery life was also short, lasting 5 hours and 8 minutes in our tests.
The limited Pentium 4515 processor and 4GB of memory hampered performance, with an overall Windows benchmark score of 27, which was at the bottom of this group.
| | | | | |
| --- | --- | --- | --- | --- |
| | GOLD AWARD | SILVER AWARD | BRONZE AWARD | |
| | Asus | Acer | HP | Lenovo |
| | ZenBook UX410 | Aspire 5 A515-51 | 250 G6 15 | IdeaPad 320S |
| PROCESSOR | Intel Core i3-7100U | Intel Core i5-8250U | Intel Core i5-7200U | Intel Pentium 4415U |
| MEMORY | 4GB | 8GB | 8GB | 4GB |
| SCREEN SIZE | 14in | 15.6in | 15.6in | Min |
| SCREEN RESOLUTION | 1,920 x 1,080 pixels | 1,920×1,080 pixels | 1,920 x 1,080 pixels | 1,366x 768 pixels |
| STORAGE | 128GB SSD | 1TB HD | 256GB SSD | 128GB SSD |
| USB PORTS | USB-C, USB 3, 2 x USB 2 | USB-C, USB 3, 2x USB 2 | 2 x USB 3, USB 2 | USB-C, USB 3, USB 2 |
| NETWORKING | 80Z.11ac Wi-Fi | 802.11ac Wi-Fi | Ethernet, 802.11ac Wi-Fi | 802.11ac Wi-Fi |
| MEMORY CARD READER | SD/SDHC/SDXC | SD/SDHC/SDXC | SD/SDHC/SDXC | SD/SDHC/SDXC |
| OPERATING SYSTEM | Windows 10 Home | Windows 10 Home | Windows 10 Pro | Windows 10 Home |
| SIZE | 323 x 223 x 19mm | 381 x 263 x 21.6mm | 380 x 254 x 23.8mm | 338 x 249 x17mm |
| WEIGHT | 1.4kg | 2.2kg | 1.99kg | 1.7kg |
ALSO TESTED