Packed with power and features, the Warbird RS10v2 is the new king of sub-£1,000 systems
STOP US IF you've heard this one before: an overclocked Intel Core i5-6600K walks into an NZXT S340 case and orders 8GB of RAM with a 250GB SK Hynix SSD on the side.
Yes, Yoyotech's Warbird RS10v2 has more than a few parts in common with the Best Buy-winning Chillblast Fusion Everest. Now that the latter has jumped to £1,000, they even cost pretty much the same, and while the RS10v2 has a few things to differentiate it – mainly the GTX1060 GPU, the closed-loop CPU watercooler and the all-black case – they do also serve to make it look a little like the Fusion Everest's evil twin.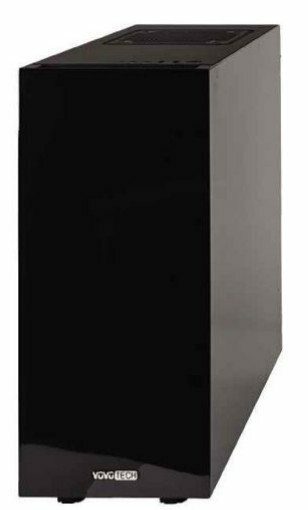 That's not to discount the Warbird's build, though. We know for a fact that the GTX 1060 is a stronger gaming GPU than the Fusion Everest's AMD Radeon RX 480, and this was reflected in our benchmarks, where the Yoyotech PC invariably came out on top with some highly impressive scores.
It blazed through Dirt Showdown with 144fps at 1,920×1,080 resolution, 103fps at 2,560×1,440 and even 58fps at 3,840×2,160, so you won't have to make many concessions at all to play older or less-demanding games at 4K – as usual, all these frame rates were recorded at the highest 'Ultra' settings.
HIGH SPEED RAILS
We can't say the same for the more taxing Metro: Last Light Redux, but the RS10v2 still proved to be the best-performing system we've tested at this price, scoring 55fps at 1,920×1,080 and 32fps at 2,560xiA40 (leaping to 61fps with SSAA disabled). At 4K, we had to be more cut-throat with the graphics settings, but ultimately attained 61fps with Medium quality, AF 4X texture filtering, SSAA disabled, normal tessellation, and motion blur and advanced PhysX effects switched off. For comparison, the Fusion Everest averaged 50fps using the same combination of settings.
This hot streak continued in Steam's VR Performance Test benchmark, in which the RS10v2 scored 8.8, with a VR-readiness rating of Very High'. In other words, most VR games will run fine, so don't hesitate to break out the Oculus Rift or HTC Vive if you've got one.
The only point of concern regarding VR gaming is the fact that there's only one HDMI socket at the back. VR headsets tend to connect via HDMI, so if it's already occupied by your monitor, you'll need to buy a DisplayPort or DVI-D cable to use both at the same time. That's a very situational complaint, though.
SETTLING SCORES
The RS10v2 also did well in our other 4K benchmarks, achieving consistently high scores of 117 in the image test, 124 in the video test, 125 in the multitasking test and 123 overall – handily beating more expensive rigs such as the CCL RavenVR. However, it's here that the Fusion Everest strikes back in force, as its own scores were notably higher across the board, including 143 for multitasking and 138 overall.
This complicates things with regards to which PC is 'better', especially if you value 2D application performance as much as or more than gaming prowess. Both have 8GB of RAM running at similar speeds, plus Core ¡5-6600K processors overclocked to 4.4GHz, so we're not entirely sure where the discrepancy comes from – we'd be surprised if it was a throttling issue due to heat, as another advantage of the RS10v2 is its chilly, quiet NZXT X31 watercooling unit (compared to the Fusion Everest's conventional air cooler).
Either way, at least there's good scope for future upgrades, as even with the graphics card and Wi-Fi card (another welcome bonus), the RS10v2 has two spare PCI-E x16 and PCI-E xl slots apiece, as well as two spare RAM slots and one empty M.2 slot. The 1TB hard disk and aforementioned SSD leave room for one more 2.5in and 3.5in drive each, though one of the few drawbacks to NZXT's sturdy case is the lack of 5.25in bays.
Around the back, there are only two USB2 and two USB3 ports, but a USB Type-C port and additional 35mm audio jacks – including SS-out, RS-out and C/SUB – help make up for it You'll find the Ethernet input and antenna mounting points for the TP-Link wireless card here as well. There are another two USB3 ports at the front of the case, though that's about the minimum we'd expect.
RULING THE ROOST
It's a tough call, but between the Warbird RS10v2 and the Fusion Everest, we're going to have to give the edge to Yoyotech, which means we have a new Best Buy. The Chillblast PC's 2D performance is faster, but it's not like the RS10v2 is slow in this regard, and extras such as the watercooler and Wi-Fi capability are hard to turn down when you're paying the same amount as a PC without them.
Besides, it's worth remembering that at its core, the RS10v2 is a gaming PC, and it's here that it excels. Whether you want buttery-smooth frame rates at 1080p or are looking to take your first steps into 4K or VR, you won't find better for less than four figures.
James Archer
Specifications
PROCESSOR Quad-core 4.4GHz Intel Core i5-6600K • RAM – 8GB DDR4 • FRONT USB PORTS 2x USB3 • REAR USB PORTS 2x USB2,2x USB3, tx USB Type-C • STORAGE 250GB SSD, 1TB hard disk • DISPLAY None • OPERATING SYSTEM Windows 10 • WARRANTY One year RTB, two years labour
YOYOTECH Warbird RS10v2 Review
Besides, it's worth remembering that at its core, the RS10v2 is a gaming PC, and it's here that it excels. Whether you want buttery-smooth frame rates at 1080p or are looking to take your first steps into 4K or VR, you won't find better for less than four figures.
Add your review