EVERYTHING YOU NEED TO KNOW ABOUT THE MYSTERIOUSLY TITLED NEW VERSION OF WINDOWS
CONTRIBUTORS: BARRY COLLINS AND MAX FIGGETT
Agreat cloud has lifted over Microsoft. For what was widely expected to be the launch of Windows 10 Cloud, a direct rival to Google's Chrome OS, turned out to be Windows 10 S. The "S" standing for? Well, nobody's quite sure.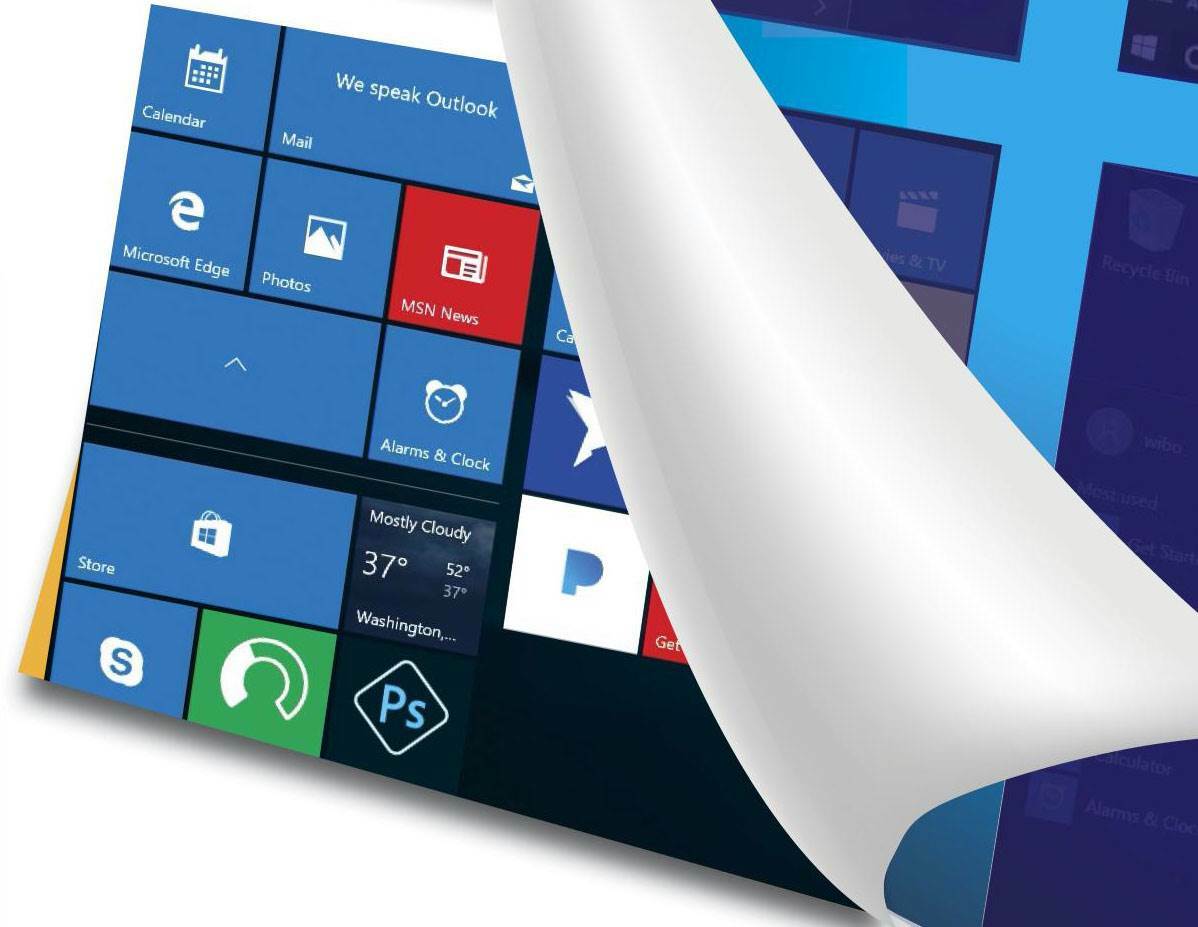 It could stand for schools, the primary target of Microsoft's new flavour of Windows 10, although the company very much wants consumers and maybe even businesses to run the new OS, too. It could stand for security, with Microsoft insisting that Windows 10 S won't be troubled by many of the threats posed to regular Windows systems. It may represent Store, with Windows 10 S restricted to installing only those apps that are showcased in the Windows Store.
The Windows Store has apps for big-hitters such as Dropbox, Netflix and Office, which won't be preinstalled on Windows 10 S
Aside from whatever that "S" means, we've got the answers to all your questions about the latest version of Windows, including what it will run on, if it can be upgraded and what life's really like when you're limited to running only those apps that have been vetted by Microsoft. Plus, we size up the portfolio of Windows 10 S laptops, including the all-new Surface Laptop. Let's explore what the new OS has to offer.
What, exactly, is Windows 10 S?
We shed light on the motives behind Microsoft's new operating system
So what is Windows 10 S? In short, it's Windows 10 without the ability to install whatever you like.
Windows 10 S is built on the same codebase as its parent OS – there's no reinvention of the wheel going on here.
Instead, Microsoft is having a second bash at selling the world a locked-down operating system that can only install apps from its Store. Microsoft's first attempt at this concept ended in ignoble failure. Windows RT was the ARM-based version of Windows 8 that would only run Store apps and reworked versions of Microsoft's own Office apps.
Microsoft is trying to make a virtue of only installing apps from its Store
Despite a (Microsoft-funded?) burst of enthusiasm at launch, few manufacturers released machines based on Windows RT and those that did soon regretted doing so. Sales were dismal and many customers who did pick up an RT machine returned it to the retailer, confused as to why a Windows laptop wouldn't install Google Chrome, Firefox or many of their favorite applications. The return rates were described as "painful" by a well-known PC retailer.
By the end, Microsoft was the sole horse left in the race, its own Surface RT tablet being the only device still running the cutdown version of Windows. It was quietly shelved with the launch of Windows 10 and nary mentioned again by Microsoft.
CHROMEBOOK KILLER?
So what's changed this time around? For one thing, people have warmed to the idea of running locked-down laptops, particularly in schools. Chrome OS accounted for 58% of new shipments into US schools in 2016, according to data released earlier this year by Futuresource Consulting. Windows' US market share dipped to an all-time low of 22%, although it still commands 65% of the education market worldwide.
As Mike Fisher, associate director of education at Futuresource, noted earlier this year, "Microsoft continues to face challenges to win back end user mindshare".
"Chromebook users and administrators continually refer to the simplicity and ease of use of the platform," Fisher said, before practically begging Microsoft to get into the game. "A potential new OS offering 'Cloud OS' – a stripped back, simplified OS, designed specifically for cloud with education in mind – would 'square the dots' on other recent moves Microsoft has made in education." Microsoft clearly heard the clarion call.
But, as Fisher noted in his remarks, the success of the Chromebook isn't due solely to an app lockdown that makes them easier to manage than conventional Windows PCs – it's also down to the price of the devices and the administrator tools. Our hardware guide on p36 provides a flavour of the prices being charged for the first Windows 10 S devices, and Microsoft claims to have the management tools sorted, too.
Alongside Windows 10 S, Microsoft unveiled Intune for Education, a version of its cloud-based application and device management suite for schools. Microsoft claims the dashboard has been designed for schools who "want to put devices in classrooms and not touch them again for the rest of the school year", with the dashboard simplified to make it accessible for "teachers playing the role of IT [admin] in the classroom". It will be priced at US$30 per device managed, so a darned-sight cheaper than hiring an IT support technician.
CONSUMER DEVICES
Like Google, Microsoft doesn't only have its eyes on the education market. According to figures from analyst IDC, Chromebooks outsold Macs in the US for the first time last year. And although Google doesn't spell out Chromebook unit sales, there's even a suggestion they've been responsible for halting the long decline of PCs. IDC reported a slight 0.6% increase in PC sales earlier this year, its first recorded growth in five years. Rival research firm Gartner, on the other hand, recorded a continued 2.4% decline. What could explain the discrepancy between the two firms' figures? IDC includes Chromebooks in its PC count, Gartner doesn't.
Even if hard data is difficult to come by, there's little doubt that Chromebooks have been mopping up some of the market that was reserved for low-cost Windows laptops.
Which makes it all the more bewildering why Microsoft has chosen to showcase Windows 10 S on its high-end Surface laptop – a 13.5in svelte ultraportable with a Core i5 processor, 4GB of RAM and 128GB SSD, with the eyebrow-propelling price of US$999. The top-of-the-range Core i7/16GB of RAM/512GB SSD model costs in excess of two grand. Does Microsoft really get this market? There are other signs that Microsoft doesn't quite have the courage of its convictions. Most notably, it's giving Windows 10 S users a ripcord – if they find the OS too restrictive and want to upgrade to Windows 10 Pro, they can do so at any time for US$49. However, as Andreessen Horowitz analyst Benedict Evans noted on Twitter: "Am I missing something or is 'Windows 10 S' basically Windows but with a fee to change this setting?" he wrote, alongside a screenshot of a setting from OS X that allows you to restrict app installs to the App Store. It gets worse: that same setting is already in Windows 10 (see opposite).
So is there really nothing else to Windows 10 S than a tickbox that prevents downloads of any executables you might stumble across online? In all honesty, there's not a whole lot more. Microsoft has reduced the time it takes for a machine to be usable if someone logs in for the first time: it should now only take 15 seconds, with obvious benefits for those using a shared machine in the classroom.
It also demonstrated how Windows 10 S machines can be imaged from a USB drive in around 30 seconds, which is far quicker than your average Windows install.
But the key selling point of Windows 10 remains doing less, not more: Microsoft is trying to make a virtue of only installing apps from its Store. So what is life like when you try and live off the Store alone? We've been trying it out and share our experiences overleaf.
back to menu ↑
What's in Store: Living with Windows 10S
What's life like if you stick to Windows 10 S? Barry Collins tried to survive on Store apps alone
Windows 10 S will allow users to install only those apps found in the Windows 10 Store. Things aren't as grim as they were back in the days of Windows 8, when the only apps found in Microsoft's Store were the "Modern" apps forced to follow Microsoft's strict and awkward UI guidelines.
Instead, the Store is now comprised of both Universal Windows Programs (mobile-style apps that can run across the full spectrum of Windows devices) and old-school Win32 applications ported to the Store using Desktop Bridge (such as Photoshop Elements).
The Win32 apps have constraints placed on them that don't apply to regular Windows 10 apps with their own installer, but these largely work in favour of the consumer. They're not allowed to sneakily add extra programs or background services during installation, for example, and all updates must be provided through the Store, meaning that apps should automatically upgrade to the latest version (if you want them to).
We've been ploughing through the Windows Store to find out what's on offer in certain key categories.
BROWSERS
Microsoft is naturally very keen that you use its own Edge browser. So keen, in fact, that Windows 10 S won't allow you to change the default browser, nor can you shift Bing as the default search provider. That noise you can hear is a nation tutting.
You can install other browsers, but good luck finding them in the Store.
Chrome, Firefox, Opera and Safari aren't available (there is a Get Opera app, but it merely links to the regular installer, which will be outlawed). And there's a reason for that – Microsoft doesn't allow competing browser engines into the store: "Windows Store apps that browse the web must use HTML and JavaScript engines provided by the Windows Platform," Microsoft told ZDNet recently.
There are a couple of niche browsers in the Store. The incredibly basic Monument Browser is, judging by its screenshots and feature set (offline reading, ad blocker), designed for the eight Windows smartphone owners still in existence. It feels very much like a re-skinned Edge on the desktop and can also be installed on the Xbox One console.
Sidekick, meanwhile, is a browser that claims to protect your privacy by automatically blocking site tracking, spyware and pop-ups and wiping your browsing history at the end of every session. It has a bizarre ad-blocker where you must press the Clean button at the top of the browser and click on ads to make them vanish, a system that's heavy on effort and low on reward. These are the best of desperately thin pickings.
PRODUCTIVITY
As with Windows RT, Microsoft has announced it will be bringing its flagship Office apps to Windows 10 S. This time they will appear in the Store rather than pre-installed on PCs. That's just as well, as there's little in the way of Office-style apps elsewhere in the Store: no LibreOffice, Scrivener or any of those focused writing apps that clutter the iOS App Store.
Productivity as a category is pretty well served, though. There are apps for Dropbox, TeamViewer, LastPass, Evernote, GoToMeeting and many other well-known brands.
If you don't want to access Slack through the Edge browser, there's a dedicated Windows Store app for that, but rivals such as Basecamp, Trello and even Microsoft Teams are all absent – although still accessible through the browser.
If you're a developer, the shock news that three of the most popular Linux distros – Ubuntu, SUSE and Fedora – are on their way to the Windows Store will come as a very welcome surprise. Even if you're not a coder, it might even help you get around some of the Store's conspicuous absentees.
Chrome and Firefox both run on Linux, as does Audacity and many other useful apps that aren't in the Windows Store. It seems odd Microsoft is almost encouraging this "backdoor".
CREATIVE
Creative professionals might struggle to rub along with what's available in the Windows Store. There's no Adobe Creative Suite, none of the well-known video editing suites and no Audacity for audio editors.
At a consumer level, Adobe Photoshop Elements 15 is in the Store, but its priced rather handsomely at US$99.99 at the time of writing. Given you can buy it for around $100 Australian dollars online, it highlights a key disadvantage of Windows 10 S: you can't shop around. You're stuck with whatever price the developer sets, and given that Microsoft takes a 30% cut on apps sold through the Store, there's no real incentive for software developers to sell through that channel when they can take 100% of the profit if they sell directly to consumers.
Aside from Adobe, there's also a healthy selection of the free or low-cost photo editing apps that are perennially popular in app stores: Polarr, Phototastic and PhotoFunia to name but a few. You won't go short if you're looking to ruin your photos with crazy filters, that's for sure… GAMES Games are one of Windows 10 S's strongest hands. Not only does it now have a healthy stock of the lightweight game apps you'll find on other platforms – various Candy Crush titles, Fallout Shelter, Grand Theft Auto and a Windows 10 version of Minecraft – it also has full-blown PC games nestling in the Store.
There are plenty of AAA titles on offer, including Forza Horizon 3, the Halo range and Gears of War 4. Some of these title support Xbox Play Anywhere, so you can play the game on both the PC or Xbox One console and only pay for it once.
The difficulty here is system requirements: unlike most games you'll pick up on mobile stores, the PC games each have different minimum specs, but here the Windows Store does something quite clever.
The game's minimum and recommended specs are listed on each app's page, and Windows automatically puts a tick or cross alongside each spec to show whether your PC is up to the job.
Even if you don't have a top-of-the-range graphics card, the Windows Store is also beginning to house a selection of titles from indie developers; the kind you'd more often associate with Steam, which aren't quite as demanding. Titles such as the Monkey Island-like Thimbleweed Park and its quirky 8-bit graphics will run on pretty much any Windows 10 system. Space sandbox game Astroneer is slightly more demanding, but keenly priced at US$19.99.
Certainly, no other app store has the breadth and diversity of games that the Windows Store boasts.
ENTERTAINMENT
You won't go short of things to watch and listen to with Windows 10 S. The Store includes apps for some of the major videoon-demand apps, such as Netflix and Sky's Now TV. Amazon Prime is a notable absentee, although it will remain viewable via the web browser. Still, the convenience of offline downloads is lost without dedicated apps.
There is a Windows Store version of the increasingly omnipotent Plex, but its user interface is hateful and the installation of the various add-ons required to get some of the more "interesting" content is hit and miss. We tried to install several add-ons for video services, including BBC iPlayer, but only the Vimeo add-on worked reliably.
Windows Store has apps for some of the major musicand video-on-demand services
The Windows Store does offer both videoon-demand and music itself. It's always mind-boggling why people would pay US$24.99 for a season pass to a series such as Better Call Saul when you could buy a month's worth of Netflix at $8.99 to watch the entire canon and much more besides instead, but, judging by the charts, people do. Music can be purchased as individual tracks or albums, although Microsoft steers you towards the $11.99 Groove Music Pass at every opportunity, which offers a promised library of 40 million tracks to stream across pretty much any device.
However, with Spotify and (large gulp) iTunes both on their way to the Windows Store, Groove faces stiff streaming competition.
ABOVE Photoshop Elements 15 is usually AUD$100 online, but is US$99 on the Windows Store TOP RIGHT You can store photos using the Dropbox app, and then tweak them with a range of free or low-cost editors RIGHT The Store will automatically tell you if your PC is up to the task of running a game