USE YOUR WI-FI ROUTER TO MAKE YOUR HOME SMARTER, STEP BY STEP AND WITHOUT SPENDING A FORTUNE. BY ANTHONY CARUANA
It probably sits in a corner, silently. It's the beating heart of your network and you scarcely give it a second thought. But your router is more than a device that shares your internet connection to the devices on your network. Your router is the hub of your home automation system.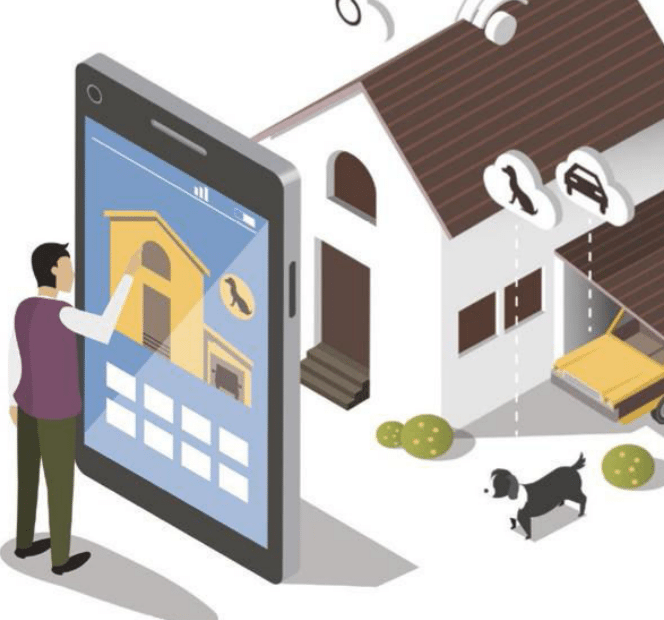 When Bill Gates and Steve Jobs started their businesses back in the 1970s, they saw the computer as the hub of the home. What they didn't foresee was the proliferation of devices we would be using in our homes.
A scan of my own network (1 use the iOS app Fing on my iPads and iPhone) reveals more than 25 devices. Of those, just four are computers (a Mac mini, two Surface Pros, and a MacBook). But there are two media streamers, a smart TV, a connected Blu-ray player, several smart switches for controlling power use, smart light-bulbs, a NAS, printer, tablets, security cameras, a pair of Sonos Play:5 speakers, an Xbox 360, smartphones and a few other bits and pieces.
Although there are hundreds of different home automation products to choose from, starting with a router that can handle lots of simultaneous connections, protect you from network intruders and shift data around quickly is a must.
WHAT TO LOOK FOR IN A ROUTER?
There are hundreds of routers on the market at almost every price point from $50 to $500. Choosing the best one for a home automation means looking beyond the price tag.
802.11ac is now the preeminent standard for Wi-Fi connections. While you might pick up an 802.11n device cheaply, investing in the fastest, most current standard ensures you won't be forced to upgrade your router to get the best from a new device.
Less expensive routers tend to have a fixed feature set that can't be extended. That might be OK if all you want is a device that shares an internet connection but if you're looking for security features, the ability to control bandwidth and internet access to specific devices, and ease of use then investing in a high-end router is important.
My home network is built around a Synology RT2600ac (synology.com). It supports the most recent wireless networking protocols, is fast, reliable and has a great interface that makes it easy to change settings and take advantage of add in programs.
For example, there's a VPN plug-in, Surveillance Station for capturing feeds from compatible security cameras and an intrusion detection system that complements the built-in firewall.
Many homes, particularly older properties with solid walls and multi-storey houses, are challenged when it comes to getting a strong wireless signal through the house. Linksys (linksys.com) has just launched their new Velop system. This
"Choosing the best router for home automation means looking beyond the price"
mesh network system creates a network of interconnected devices that makes each node a router, range extender, access point, or bridge. Simply plug the devices into the power, give one an internet connection and your wireless network will deliver high speeds right to the edge of your network without the need to mess around with NAT and IP address settings – a common challenge when adding a second wireless router.
Get that Wi-Fi spread through the house with an extender as the first step
MESH IT UP Mesh networks have an advantage over traditional hub and spoke LANs. Network traffic is routed through the most efficient path from the edge of the network to other devices. With a traditional router, each access point covers a region of the network but needs to connect back to the core router. In a mesh network, even nodes that are too far from the core router can connect by using the other nodes as bridges back to the core. Mesh networking uses the 802.11s protocol. Different manufacturers implement this using either Hybrid Wireless Mesh Protocol (HWMP), Optimized Link State Routing (OLSR), or the awesomely named Better Approach to Mobile Ad hoc Networking (Batman) system.
Other companies, such as Netgear with its Orbi system (netgear.com) Eero (eero.com) and Luma (lumahome.com) offer mesh networking solutions that can cover the typical four-bedroom home with three small base stations. We're also expecting the Asus HiveSpot (asus.com), TP-Link Deco M5 Plus (tp-link.com.au), and the D-Link Covr (dlink.com.au) to appear locally this year.
A typical three-node mesh network setup will set you back between $300 and $600 depending on the brand you choose and the features. But that's not a lot more than a single high-end router that might not cover a larger home.
ORGANISING YOUR HOME AUTOMATION NETWORK
There's no one right way to design a home automation network. Each house has its own peculiarities that will impact network performance.
As a rule, where you can use a wired connection, that's what you should use.
For example, I have a NAS on my network and I have that connected to my router via Gigabit Ethernet. Although I could add a wireless adaptor to the Synology DS916+ NAS my experience suggests 1 get better performance and reliability from cabled connections.
If you're having difficulty getting a strong Wi-Fi signal around your house, then you could consider powerline adaptors that use the electricity cables in your home for network traffic.
Powerline adaptor performance can vary depending on the rated speed of the devices and the quality of your power cabling. The latest devices have a rated maximum speed of 500Mbps but it's unlikely you'll get those speeds unless everything is perfect. Also, you'll need the adaptors to be on the same electrical circuit. So, you'll need to know how things are arranged electrically in your home.
I discovered, in my small three-bedroom unit that my power outlets were on two circuits so the power-point closest to my router was on a different circuit to the one in my office. Fortunately, I get a strong Wi-Fi signal for my computer and printer. But it meant my VoIP office phone had to go.
TP-Link, Netgear, Belkin, D-link and others offer powerline adaptors for sharing your network.
Once you've got the connectivity side of things sorted out, it's time to look at what devices you can connect.
Power and Lights
The easiest starting point for a home automation project is lighting. Getting started with some smart home lighting is only marginally harder than changing a light bulb.
Belkin WeMo, Philips Hue, TP-Link, Yeelight and others have developed lightbulbs with screw-in or baton fittings that can be easily added to your network and controlled by mobile apps – even when you're not home.
Some bulbs can change colours so you can set up a party ambiance or combine it with some Barry White for a night of romance.
Globes cost considerably more than a regular lamp. Don't be surprised to see prices of around $60 although $20 can get you started. f If you get an electrician involved, then replacing your light switches with smart switches is also a good option. These allow you to keep using standard globes in your light fittings, making the switch from dumb to smart lighting control less expensive.
For example, my family room has two light fixtures with three globes each. Replacing all the globes would set me back at least. But a switch gives me the same control via my network.
HEATING AND COOLING
Climate control has the potential to be a good target for home automation but the Australian market seems to be lagging.
"Each house has its own peculiarities that will impact network performance"
While the Nest thermostat and its associated accessories are popular in the US, nothing similar has made a mark locally. And the Nest doesn't yet have local approval.
Consoles are great candidates as media hubs
Get a NAS hooked up for media sharing
TP-Link is among many making good powerline extenders
Brivis, Lennox and Honeywell all offer controllers that either support Wi-Fi or have a Wi-Fi interface in development. While that sounds like good news, integrating those into a system for controlling an entire home may be challenging.
ENTERTAINMENT
Keeping the folks entertained is an important part of any smart home.
If you purchase all your content from Google, Microsoft, or Apple then life is reasonably easy. A Chromecast, Xbox or Apple TV will make it easy to stream content you own from your own server or mobile devices. All those devices, as well as a bunch of smart TVs and Blu-ray players can also access the catch-up services for many local TV stations as well SVOD services like Netflix, Foxtel Go and Stan.
If you want to avoid being stuck in someone's walled garden, then you can look for a streaming solution for your own media. My favorite is Plex. You can run it directly on many NAS units or from a computer running the Plex server application. This will let you access media from almost any device on my network as there are clients for all the major desktop and mobile platforms.
SECURITY
Keeping the doors and windows locked and making sure you know if there's an intruder in your house is another strong use-case for home automation technology.
The latest security cameras offer very high image quality now that the security camera industry has been dragged into the digital age. The quality of images they can capture, even in near dark conditions are quite amazing.
Swann, D-Link, Belkin and others have networked cameras that include infrared vision to capture images in low light, motion detection so they automatically capture images when something moves within their frame as well wired and wireless connectivity.
If you're planning to send footage to a NAS or some other local storage, make sure you check the camera you choose supports that feature. I've got a D-Link DCS-930L camera that lets me direct images to my NAS. But my Belkin NetCam can only send footage to a cloud service that requires a monthly fee.
Schlage might not be a company you know but they offer a HomeKit-enabled door lock that lets you use either a key, app or PIN code to enter your home. As it works with HomeKit, it can take advantage of Siri and be integrated with other HomeKit-enabled devices.
Lockwood is a more well-known brand. The offer some smart locks but haven't entered the home automation space yet although their Touch 001T-1K1CPDP offers smartcard and PIN-code entry.
PUTTING IT ALL TOGETHER
Today's home automation market makes it easy to control a number of separate devices. But it's hard work to get different devices to work together.
For example, what if you could have your remote garage door, door locks and lighting integrated so you could walk straight into a nicely lit home without having to fumble with keys after a long drive home?
Getting all those things to work seamlessly is not as easy as it should be – yet.
Apple wants everyone to live in their walled garden. While HomeKit does a fine job of centralising the control of many devices, it means you can only choose devices that support their protocols. That leaves some us, like me, in a position where we have a power and lighting system I like that doesn't work with HomeKit and never will. Google Home, a voice-activated speaker is another emerging tech worth keeping an eye on. And given Google's openness I expect a much faster and wider adoption. For example, while Belkin WeMo devices don't support HomeKit, and never will according to a statement by the company, a recent firmware upgrade made the lights and switches Google Home compatible. That means lights could be voice controlled.
Amazon's Alexa offers similar features and is widely supported as well.
One tool that does offer some promise is IFTTT (If This Then That). IFTTT lets you assemble recipes – macros that pull together actions from a variety of devices. For example, I created a recipe that turned the light on in my hallway when my Fitbit recorded that I had woken up in the morning and then turned the light off after 15 minutes. Your chosen devices and services need to support IFTTT but their library covers most of the big players in home automation and other fields so you can put together your own recipes.
We are still some time, perhaps years, away from interoperability between different home automation devices and platforms. Until then, the standards battle will continue which will make complete home automation challenging.
Access, share and control your media anywhere by voice