Slow, but so cheap
This is the successor to the Vodafone Smart Prime 7, but the 'Prime' has disappeared and now it's the N8. Did Vodafone realise that 8 was, unlike 7, divisible by a number other than itself and one? Or was it designed in the Crouch End area (postcode N8)? Anyway, it's a tenner more expensive (plus Vodafone's usual compulsory top-up), so maybe the N stands for 'not as cheap'.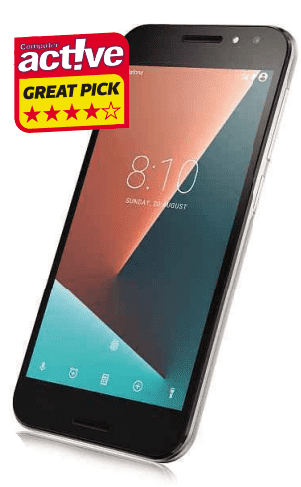 More boringly, it might reflect the operating system upgrade to Android 7.0 'Nougat'. Vodafone has mercifully resisted adding any of its own tools to the latest version of Google's mobile operating system, but the N8's 1.3GHz MediaTek quad-core processor still isn't really up to running it. It's a bit faster in theory than low-cost phones from the likes of Alcatel, but in use you can't help noticing everything is slow to respond. Switching between apps takes an age, and every now and then it just stops completely for a little think. If real-life nougat did this, it would be much less popular at airports.
"It's slow but, for under £100, is otherwise quite a classy phone"
It's a shame, this is otherwise quite a classy phone. Available in grey or gold, the back panel is plastic but pleasantly textured, set in a sculpted metal frame. Below the raised central camera is a fingerprint reader with support for contactless payment system Android Pay – unique in a phone at this price. The 5in 1280×720-pixel screen is a bit dull, with a blue tinge, and
SPECIFICATIONS
5in 1280×720-pixel screen • 16GB flash storage 13-megapixel rear camera • 5-megapixel front camera • Fingerprint reader • 802.11n Wi-Fi • Bluetooth 4.0 • 3G/4G • microSD card slot (max 32GB) • Android 7.1 • 145x72x8.6mm (HxWxD) • 151g One-year warranty
has a cheap coating that picks up fingerprints and isn't as smooth to swipe as most. But that rear camera takes very acceptable 13-megapixel photos, with good colour reproduction (when viewed later on your PC) and lots of detail. You get manual controls and extra modes for 360-degree panoramas and time-lapse videos too. And, unusually, the 5-megapixel front selfie camera has flash.
The N8's battery, on the other hand, gave up after eight hours and 44 minutes of video playback, four hours shy of the Prime 7, and it's not removable, so you can't carry a spare. Along with the performance and screen quality, it's a frustrating drawback. But we'll put up with for 85 quid.
VERDICT:
We're narrowly going to recommend this. For the money, the features are amazing – it's just a shame the basics have been skimped on
ALTERNATIVE:
Few phones are cheaper than the N8. The similar Pop 4 has a slightly better screen and battery life but no fingerprint reader
Vodafone Smart n8 Review
We're narrowly going to recommend this. For the money, the features are amazing - it's just a shame the basics have been skimped on