How to use your hybrid effectively
Lindsay Handmer rolls up his sleeves and shows how these once clunky convertibles are now brimming with tricks.
Once unrefined and hard to use, 2-in-1 laptops are now four or five generations along and offer some pretty compelling advantages. The most common designs either detach the screen or fold it back through 360°. Hybrids offer the best of both worlds — a physical keyboard and trackpad for getting complex work done, and a tablet-like experience for working with the touchscreen, use in limited space or just for relaxing.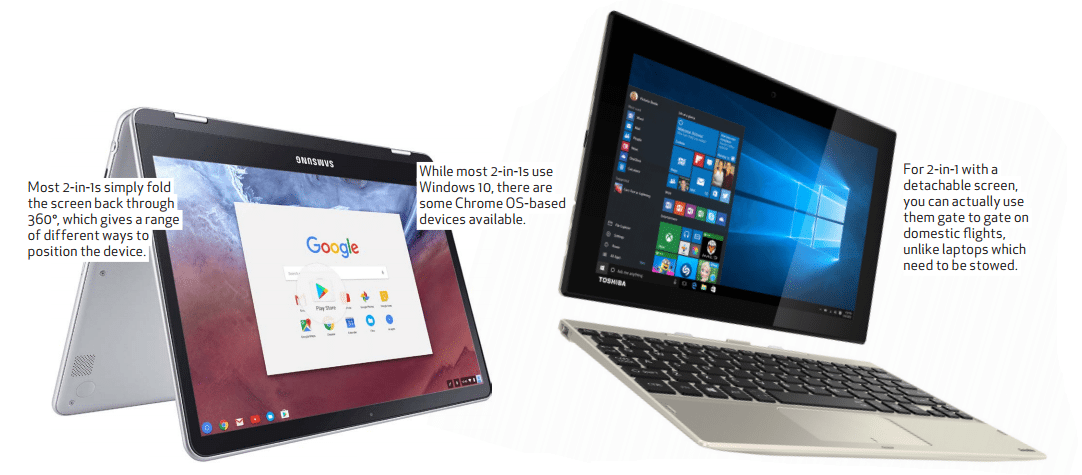 We've focused on Windows 10 devices, but there are a few Chrome OS-based 2-in-1s available, too. It's not always an easy transition, so we've put together our top tips for getting the most from your 2-in-1 device.
EMBRACE TOUCH
After years of using laptops without touch capabilities, adjusting can be slow. Many users who dislike touch have simply never tried it long enough to get past the 'it feels weird' part. So use touch as much as possible, and stick with it until you figure out what's truly easier, and what isn't.
KNOW THE CLASSIC 2-IN-1 POSES
Intel did a study and found 2-in-1 users spend around 70% of their time in normal laptop mode. Approximately 20% of the time, 2-in-1s were used (detached or folded up) as a tablet.
The final 10% varies depending on model, split between reversing the screen, and folding the device into a 'tent' shape and using the touchscreen.
TOUCH CAN BE FASTER EVEN IN LAPTOP MODE
It will seem weird at first, but when typing, it can actually be faster to reach for the touchscreen rather than the trackpad. We use touch for hitting 'OK' after entering a password, selecting the search box, swiping through images, scrolling, closing a popup or opening an app from the taskbar.
HOW TO MANUALLY SWITCH TO TABLET MODE
Tablet mode should turn on by default when your 2-in-1 is folded or detached.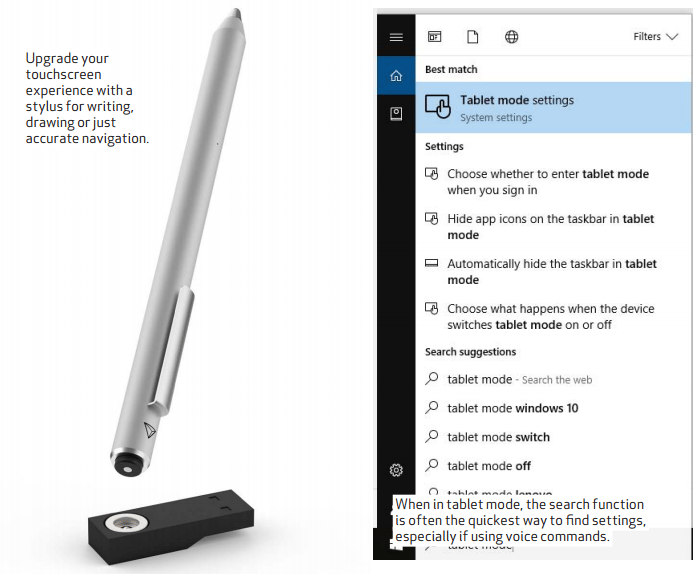 You can manually enable it, and change the default actions under 'Settings > System > Tablet mode'. You can also turn it on or off in the Windows Action Centre (bottom right or 'Windows-A').
ORIENTATE YOUR SCREEN FOR BEST EFFECT
Like a tablet or phone, Windows 10 will automatically rotate the orientation of your 2-in-1's screen when it's tilted.
This can be a great way to read websites, which can be better suited to portrait viewing. But sometimes, you don't want it to rotate — open the Action Centre and select 'Rotation lock'.
LEARN THE TOUCHSCREEN GESTURES
In Windows 10, the touchscreen (and compatible trackpads) can recognize a bunch of handy gestures. Microsoft doesn't have a help file on it, but the third-party Win 10 forums site has a good list at goo.gl/N84UYO. The usual tablet options work, such as scrolling, pinch to zoom, as well as tap and hold.
To access the action center, swipe in from the right.
MASTER THE ONSCREEN KEYBOARD
In tablet mode, the only option for finger-based text input is the onscreen keyboard, which should pop up automatically in relevant situations.
Otherwise, turn it on using the keyboard icon in the bottom right.
With the keyboard open, touch the ENG icon (bottom right) to change the style or jump into the settings.
LEARN TO PITCH A TENT
Also known as 'easel' or 'A frame' mode, this often underused fold has numerous advantages. The shape makes the touchscreen a lot more stable, with no hinge bounce, which is great for heavy touchscreen use, especially when playing games. It also has a smaller footprint, which is ideal for watching movies on a plane or in bed.
HOW TO MINIMIZE FINGERPRINTS
Marks on the screen are something 2-in-1 users have to live with, but it doesn't have to affect usability. Make sure your hands are clean, or touch with lesser used fingers. It's possible to buy screen protectors for many models, but they too can get greasy. Make sure to clean the screen regularly with a soft microfiber cloth.
LEAVE THE KEYBOARD BEHIND
For those with a detachable screen, going sans keyboard on public transport can be freeing. For domestic airline travelers Down Under, tablets (or suitable 2-in-1s) can be used from gate to gate, while normal laptops have to be powered down and stowed away.
BUY A STYLUS
Once you master day-to-day touchscreen use, considering buying a stylus to take it to the next level.
Using the appropriate app, you can take handwritten notes directly onto the screen, and save it or convert it to text later. A stylus also turns a 2-in-1 into a powerful drawing and media-editing device, especially on the go when trackpad use is cramped.
AVOID GLARE FOR A BETTER EXPERIENCE
Touchscreens are great, but by necessity, they add a highly reflective surface compared to a matte laptop screen. This can cause real issues with glare and highlight finger smudges, so be aware of your environment and try to position yourself to avoid lighting from behind. Some screen protectors can also add a glare reducing surface.
USE YOUR ASSISTANT
In tablet mode, it can sometimes be fiddly to find the specific settings or app you are after. Instead of searching manually, use Cortanaand do a search.
To avoid the onscreen keyboard completely, try using voice control — it's surprisingly effective with a little practice and really improves the no-keyboard experience.
GIVE MICROSOFT EDGE A TRY
Just like Windows 10 itself, Microsoft has put considerable work into optimizing the Edge browser for touchscreen use. While other browsers can be tweaked for touch, Edge has nice big navigation buttons, and a reading mode (the book icon next to the URL bar) that gives a simplified experience on compatible websites.
MORE THAN JUST A LAPTOP
Laptops often spend the majority of time unused, but with a 2-in1, it's easier to think outside the box.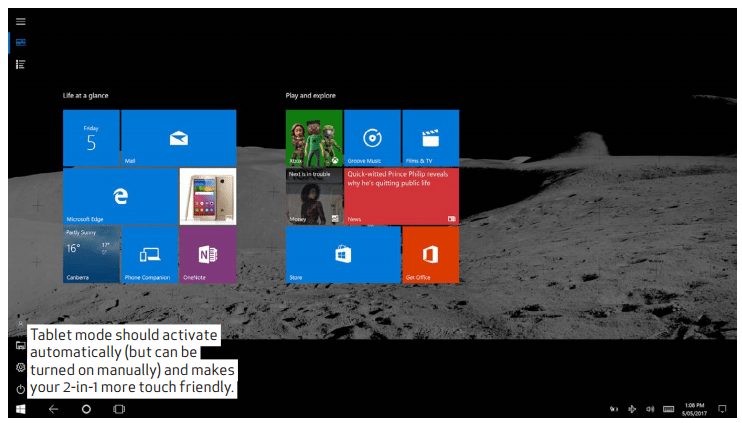 Flip your device into tent mode, start a Google Photos slideshow, and sit it on a bookshelf for an instant digital picture frame. Or during parties, load it with music, so guests can flip through and select tracks. There's so much you can do with a hybrid. Get creative!