Editor choice
Top Windows 10 laptops
Update - 2016.10.06
Don't spend a fortune on a new PC – these four affordable Windows 10 laptops cost £200 or less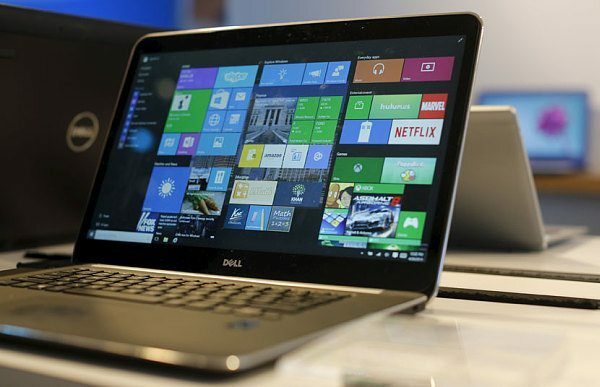 When it comes to buying a Windows 10 laptop on a tight budget, the first sweet-spot is around the £200 mark. Four manufacturers offer affordable laptops at around this price, and all of them feature Intel's 1.6GHz Celeron N3050 processor. Supported by 2GB of memory and a small 32GB eMMC storage drive (essentially a type of solid-state drive but using technology that isn't as nippy as a standard SSD) they aren't designed to run the latest games, but are perfectly good for browsing the web and performing simple office tasks.
Acer Aspire Cloudbook 14
FEATURES ★★★★★ PERFORMANCE ★★★★☆ EASE OF USE ★★★★★ VALUE FOR MONEY ★★★★★
When you're only paying £200 for a Windows laptop, you can't necessarily expect it to look as snazzy as more expensive models, but Acer's Aspire One Cloudbook 14 has a particularly bland, utilitarian design. While the outer lid's textured finish feels great to the touch, it's a far cry from the vibrant colors of theDell Inspiron 11. However, it's the thinnest of the laptops we've reviewed here and offers impressive extras.
The ample 14.1in screen is beneficial not only because it's bigger than those of the 11in Asus and Dell models, but also because it allows room for a larger, less-cramped keyboard and a generously sized touchpad. The image quality isn't brilliant but it's fine for the price -none of the laptops reviewed here has a top-of-the-range screen.
The Cloudbook 14 doesn't have as many ports as the other devices on test here, but you get a couple of USB ports (one USB3 and one USB2), a full-sized HDMI port and a headphone jack. There's also an SD card slot that accepts microSD cards with an adapter, which is handy for boosting the laptop's storage capacity.
You'll need to boost the storage because, as with all the laptops on test here, the Cloudbook 14's 32GB eMMC drive has only 10GB left when Windows is installed. Handily, the PC comes with 1TB of OneDrive storage and a year's subscription to Office 365 Personal, which is worth £60.
The performance is good enough for basic applications such as browsing the web and working in Office but the hardware won't provide you with the kind of power you need to run the latest games. However, its low power requirements helped it achieve a great result in our battery life test, where it lasted 11 hours and 20 minutes.
VERDICT ★★★★★
A £200 laptop will obviously have some compromises, but Acer has done an Impressive job of limiting them with the Aspire One Cloudbook 14. Its battery life Is great, the Min screen size leaves plenty of space to work In and the bundled Microsoft Office and OneDrive storage add further value to an already good deal. With an Identical processor, memory and hard drive specification to the other three laptops we review here, overall performance is less of a factor In this test, with results showing negligible differences. It's the little extras that lift the Acer to the top of the group and win It our Gold Award.
back to menu ↑
Asus Transformer Book Flip TP200SA
FEATURES ★★★★☆ PERFORMANCE ★★★★☆ EASE OF USE ★★★★★ VALUE FOR MONEY ★★★★★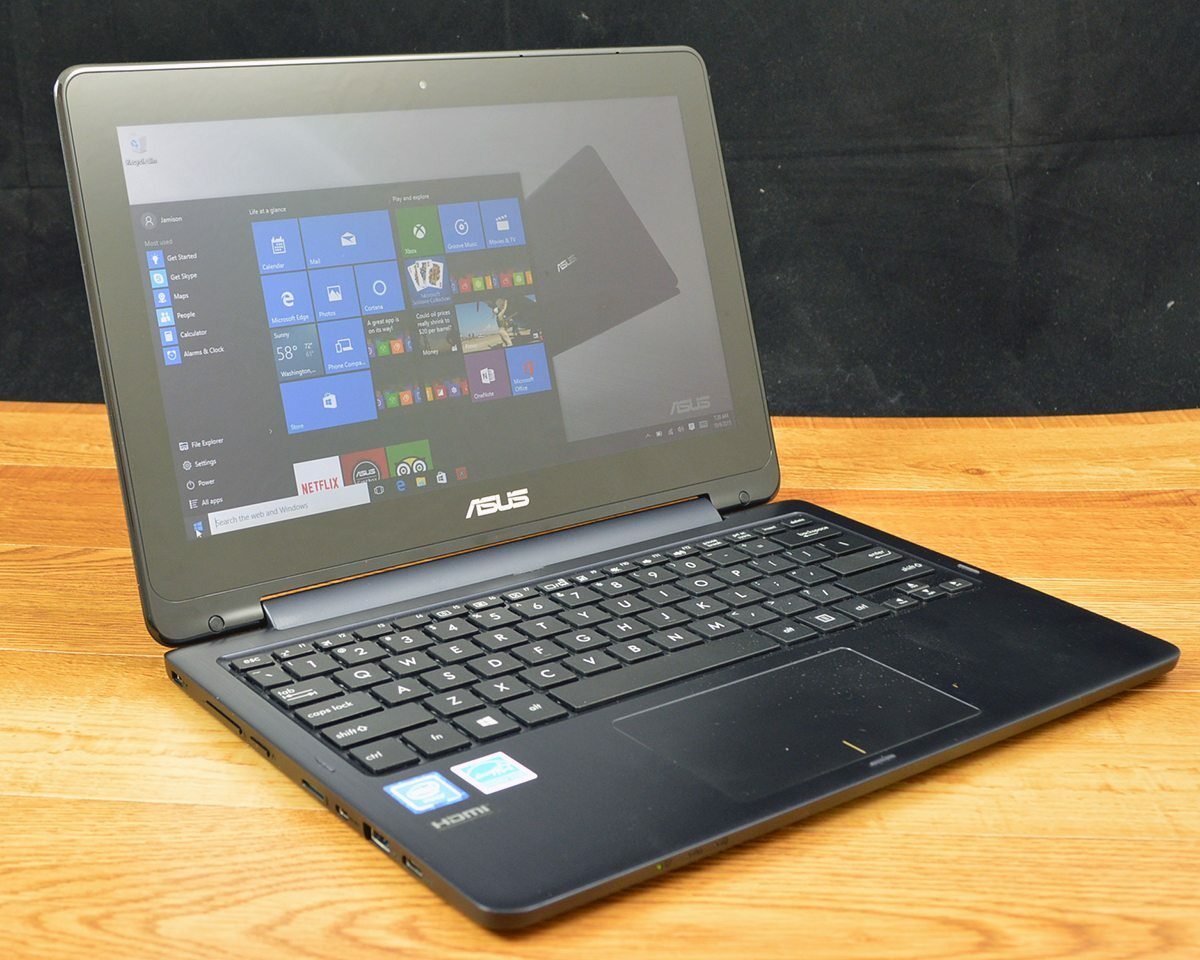 If you'd prefer something smaller to carry around than the Gold Award-winning Acer with its 14in screen, the Asus Transformer Book Flip TP200SA may fit the bill. Not only does it have a smaller case, but the keyboard attached to the llin touchscreen flips all the way over and completely out of the way, so you're left with a tablet.
With the same limited resources as the other laptops in this test, it's no computing powerhouse, but it had no trouble keeping up with its rivals. The battery life is slightly disappointing at nine hours and 13 minutes in our test, though, losing a couple of hours to the Acer and Toshiba models.
The smaller screen and case means the keyboard is smaller than most, and we found it a little cramped to type on. The touchpad and touchscreen both worked well, though.
VERDICT ★★★★☆
With the only touchscreen in this group, and a keyboard that flips round and out of the way, the TP200SA is great for anyone who's torn between a tablet and a laptop. The reduced size makes the keyboard a little cramped, though.
back to menu ↑
Toshiba Satellite C40-C
FEATURES ★★★★☆ PERFORMANCE ★★★☆☆ EASE OF USE ★★★★☆ VALUE FOR MONEY ★★★★★
The Toshiba Satellite C40-C won the Bronze Award in our last budget laptop group test and is still available to buy through some Amazon resellers. It's also slightly cheaper now than it was.
Like the Gold Award winner, the Toshiba has a 14in display, which makes it more suitable for working on than the smaller Asus and Dell laptops. It has the same processor, 2GB of memory and 32GB eMMC hard drive as the others, but despite this it was the slowest laptop in the group In our performance tests.
On the bright side it has the best battery life of them all, although it beat the Acer by only five minutes. It's also larger and heavier than the Acer model and significantly thicker at 23mm when folded up, but it has an attractive brushed-metal look to it that is much nicer than the plastic used on the other models.
VERDICT ★★★★☆
The Toshiba has the best build quality of all the laptops we reviewed and its battery lasted the longest In our tests. However, It falls behind the others for Its performance, and It's the thickest and heaviest of them all.
back to menu ↑
Dell Inspiron 11 3000 Series
FEATURES ★★★☆☆ PERFORMANCE ★★☆☆☆ EASE OF USE ★★★★★ VALUE FOR MONEY ★★★★☆
While the other laptops we've reviewed here are a tad boring to look at, Dell has added a touch of flair to its Inspiron 11 3000 Series, with a choice of glossy red, white or blue cases. The laptop has an 11in screen but manages to use full-sized keys, so it's a bit easier to type on than the Asus model.
The keys are still cramped together, however, so the Min models are better if you plan to do a lot of typing. The smaller size also means it only has room for a microSD slot, rather than the more versatile SD option.
The big disappointment is the battery, which lasted only five hours and 50 minutes in our test. If you reduce the brightness significantly, you might just about get through a school or work day, but it's going to be tight.
VERDICT ★★★☆☆
Being the best-looking laptop In our test isn't enough to get the Dell Into our awards. Its lackluster battery life holds It back, but It may still be worth a try If you want a smaller model that doesn't compromise too much on keyboard size.