Make sure your PC is protected without paying for the privilege
Bitdefender Antivirus Free Edition Review
www.bitdefender.co.uk/solutions/free.html
Essentially consisting of the AV section of the full product, Bitdefender Antivirus Free Edition's light, well-constructed scanning mechanisms – which are almost universally faster than the industry average – and unrivalled virus definitions mean it's back at the top of the tree. AV-TEST's December testing round did pick out a few flaws in its handling of zero-day threats, however.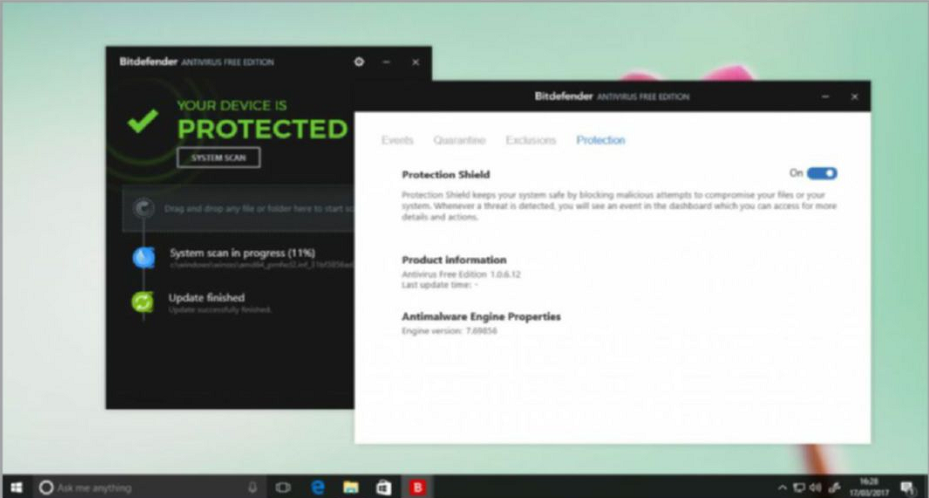 The free version's insistence on running in autopilot mode is a
Bitdefender Antivirus Free is the best free security software you can get today.
double-edged sword, making the process of virus management easy while also taking it out of your hands; while we're inclined to trust it, there have been cases in the past of automatic systems going slightly rogue, such as the incident a few years back when Panda Antivirus identified itself as a virus and locked up a large number of Windows systems.
While Bitdefender Antivirus Free Edition isn't exactly popup-free – it can be quite annoying, in fact – it's clean, clever, and efficient enough to take our top spot this time around.
RATING 5/5
Avast Free Antivirus Review
www.avast.com/en-gb/free-antivirus-download
Avast and AVG haven't yet fully merged, despite the former formally acquiring the latter in mid-2016. The newly combined company says the two free anti-virus products will remain separate, although there's a joint AV package on the way soon. Obviously, though, Avast now has a lot more data to work with, having expanded its effective userbase to 400 million users.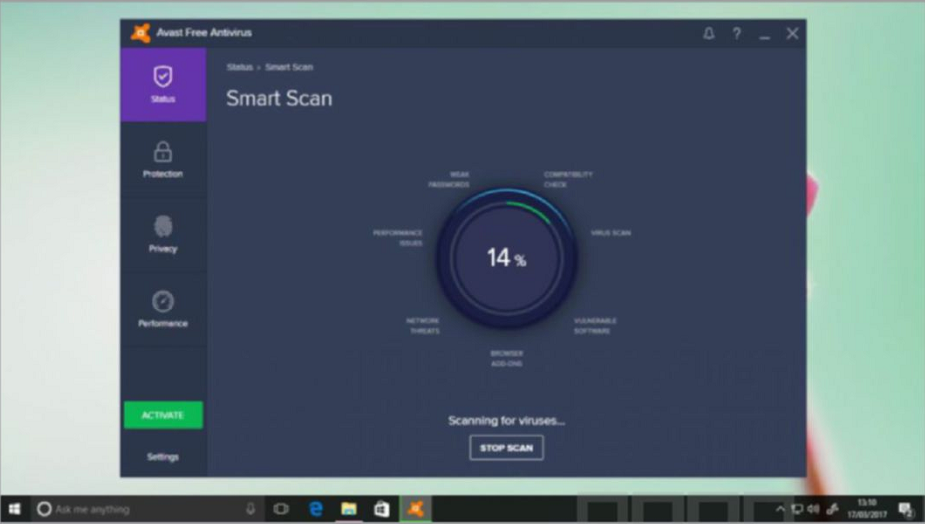 Following its takeover of AVG, Avast now benefits from a much larger user base.
The latest edition of Avast Free Antivirus adds an automatic gaming mode to mute pop-ups and reduce system load when you're firing up a processor- hungry game, and the interface has been given an overhaul. There's a password manager, too, which is an undeniably good addition to your security portfolio.
It scores well on AV-TEST's widespread malware benchmark and continues a clean sweep against zero-day attacks. Less impressive is the slight negative effect Avast has on software launch times.
RATING 4/5
Sophos Home Review
Marketing itself as 'business-grade security', Sophos Home does a little more than most free anti-virus software, and actually seems better suited to families.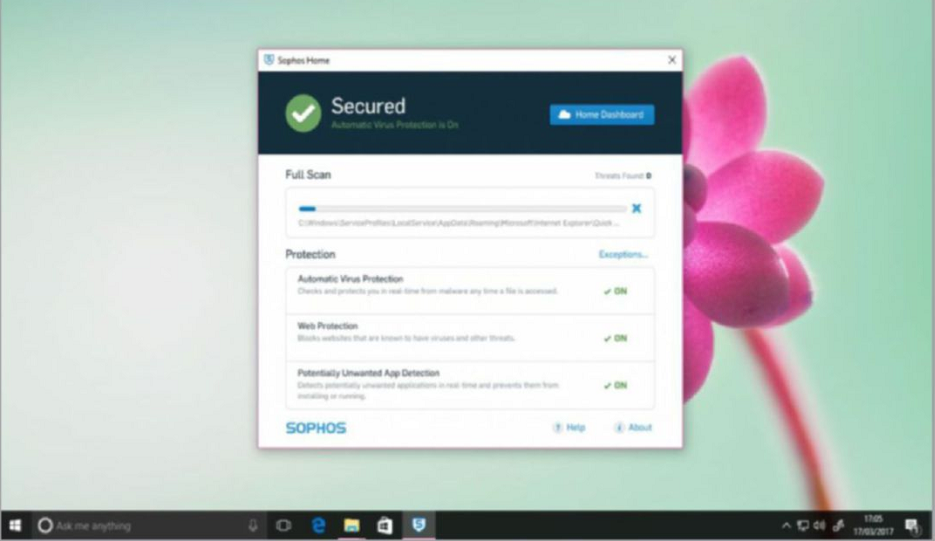 You get standard anti-virus and anti-malware protection, along with browser tools such as anti-phishing and, most importantly, content control.
Sophia Home offers enterprise- level antivirus protection for home users.
Combine this with central management for up to ten PCs, and you can effectively lock down your kids' browsing options – giving you slightly less things to worry about.
Although AV-TEST hasn't formally assessed Sophos' skills, fellow lab AV-Comparatives offers a decent rating of its anti-virus abilities. Desktop notifications can be a bit intrusive, although since Sophos Home isn't a direct advert for another consumer-level product – the company mainly deals with business software – you're not constantly badgered with requests to upgrade.
RATING 4/5
Kaspersky Free Review
www.kaspersky.co.uk/free-antivirus
The paid-for version of Kaspersky's Windows security software frequently tops charts of best anti-virus solutions and AV-TEST once again gave it full marks across the board in its latest round of testing.
As you would expect, Kaspersky Free is a scaled-down version, ditching additional features such
Kaspersky has finally launched a free version of its hugely successful AV software.
as privacy protection and safe payment sandboxes to concentrate on powerful, no-frills and – most importantly – free protection for your PC. The result is a tremendously easy to use and navigate bit of software that does an effective job of keeping you protected from viruses.
Using the nuts and bolts real-world scanning engine of the paid-for suite, Kaspersky Free is fiendishly hard for viruses and trojan horses to break down. And we love that it doesn't constantly pester you with nudges to upgrade to the full version.
RATING 4/5
Kaspersky Free Review - Kaspersky has produced lots of paid-for antivirus programs over the years, but although it also ...