THE BEST FREEVPN CLIENTS 2017
THE BEST FREE VPN CLIENTS 2017 – Remain private online, wherever you are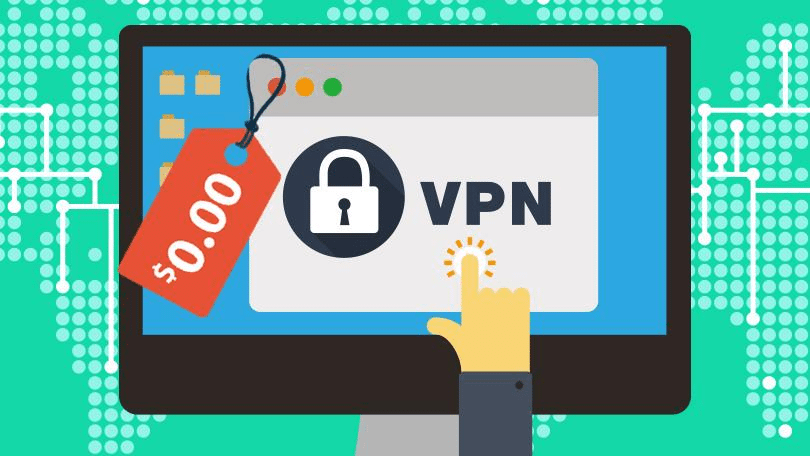 Tunnel Bear www.tunnelbear.com
TunnelBear might have a cutesy design, but it's a serious free VPN. There are free and paid-for subscriptions to choose from. The only restriction with the free one is that you are limited to 500MB of traffic each month.
This isn't a huge amount, so you won't be able to use TunnelBear without paying, but it's great for those times when you feel like you need a little extra protection.
Performance is impressive and ease of use is second to none. In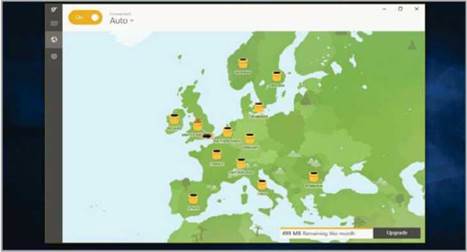 Protecting your identity doesn't get easier than this. TunnelBear is one of the best free VPNs around.
all likelihood you won't need to change any of the default settings, and the automatic connection option should work fine, but you can manually choose from one of 20 countries as your adopted location. Delightfully simple and reassuringly secure, TunnelBear is certainly one of the best free VPNs for all of your devices.
Note that TunnelBear recently tuned up its privacy policy, so it collects even less data on users – removing the need to supply a first name to sign up, and ditching its record of the user's number of total lifetime connections.
RATING 5/5
back to menu ↑
Windscribe https://windscribe.com
Windscribe is a relative newcomer, but its generous data allowance and commitment to protecting your privacy make it one of the best VPNs around. The free service gives you 10GB of bandwidth per month and lets you choose from eight remote server locations.
You only need to create a username and password to sign Windscribe is a super secure free VPN with a very generous data cap.
up. Windscribe doesn't store connection logs, IP stamps or visited sites; when you're actively connected to a server it stores your username, the VPN server you're connected to and the amount of data transferred, but this is erased within three minutes of the session ending.
The 10GB data allowance is enough to make Windscribe's free service a practical option for everyday browsing and there are several ways to boost it higher.
And if that isn't enough to tempt you, there's even a built-in adblocker and firewall.
RATING 4/5
back to menu ↑
Hotspot Shield Free www.hsselite.com
Hotspot Shield Free is one of the best free VPNs around today.
You can choose to anchor yourself to one of 20 countries if you pay for the Elite version of the app, and this should enable you to access just about anything you want; in the free version, you're limited to locations that Hotspot Shield chooses for you.
If you use public Wi-Fi regularly, this is a great free VPN for protecting your privacy.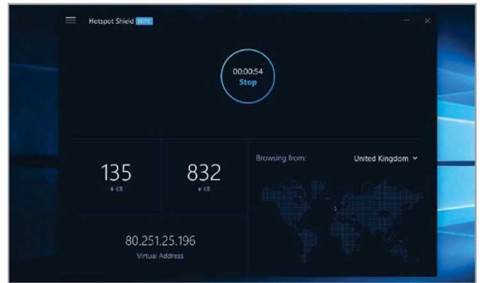 Hotspot Shield Free gives you the option to have the free VPN automatically enabled whenever you connect to a wireless network that is deemed 'unsafe'. Online performance does seem to suffer a little when Hotspot Shield is enabled, but the bandwidth limit of 750MB per day is generous.
Note: Hotspot Shield's free VPN service recently came under fire from the Center for Democracy & Technology (CDT), a pro-privacy non-profit organisation. The CDT said Hotspot Shield intercepts and redirects traffic to partner sites, including online advertising firms. Hotspot, however, has denied this.
RATING 4/5
back to menu ↑
Speedify http://speedify.com
Speedify has one main aim as a VPN provider: to ensure that while you benefit from encryption, your internet connection remains as speedy as possible.
Want a secure, yet speedy free VPN connection? Then look no further.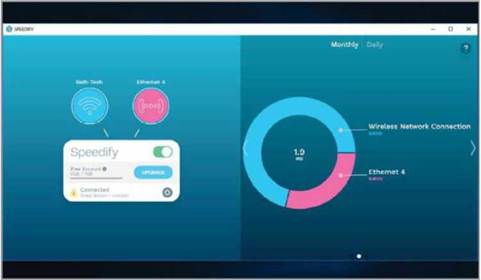 To that end, Speedify makes use of all available connections to get the best performance, potentially combining Ethern et, say, with a tethered mobile connection. Even if you only have one type of connection, the firm claims its turbocharging technology will still help speed things up.
As well as the promise of better performance, Speedify operates a clear no logging policy, so it won't monitor your traffic. Plus, it offers access to over 30 VPN servers.
The free plan boasts full access to those servers, with the only restriction being the amount of data you can download. Free users get 4GB of data in the first month, but that drops to 1GB after. That's not a massive amount, but it's still enough for basic surfing.
Rating 3/5