We reviewed the Synology DS415+ some months ago now and were extremely impressed by its capabilities. However, while the 415+ is a more enterprise or SOHO-orientated product, the DS415Play is clearly a home-based offering.
The DS415Play is labelled as being the ultimate media centre, and while that may sound a little extreme and self-confident, it's not too far from the truth.
Inside this four-bay NAS drive you'll find an Intel Atom CE5335, dual-core 1.6GHz CPU, complete with 1GB of DDR3 RAM and dedicated hardware-based transcoding engine that can handle H.264, MPEG-4, MPEG-2 and VC-1.
The drive bays, which are accessed via the removable glossy black cover, are vertically stacked and can take a combination of 2.5" SSD or 3.5″ SATA-3 traditional hard drives, up to a maximum raw capacity of 24TB.
You'll also find three USB 2.0 ports, two USB 3.0 ports and a single gigabit Ethernet port. There's a pair of large, 92mm fans located on the back of the unit that remove any excess heat generated from the much abused quartet of drives. And thanks to the excellent Synology DiskStation Manager operating system, there are also ample services and apps that can be applied or downloaded and added with a click of a button.
The entire setup is really very good indeed, especially the DiskStation Manager OS. Like its competition, the QTS OS from QNAP, DSM is a Linux operating system that's entirely accessible via a web browser, and it allows you to configure and manipulate nearly every aspect of the unit and the connected drives to the finest degree. It's also lightning fast, not just when browsing through the various settings but also when you apply a change to the system or the drives themselves.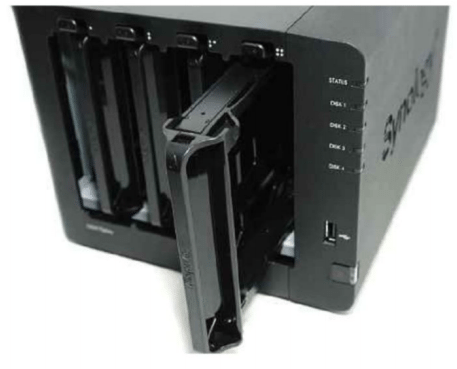 Formatting and RAIDing four 1TB drives took mere minutes (around six to be exact), and the entire setup was ready to go as soon as the whole process had completed. Further to this, installing and running any of the apps – whether they're security, backup or media related – was a breeze, both in ease and completion speed.
Even with an anti-virus scanner installed, along with all manner of FTF| cloud and backup services running, we still managed to view eight different HD movies on as many different devices without the drive even remotely considering this as an issue.
Its very easy to compare the Synology DS415Play with the QNAP TS-451, as they are both exceedingly quick, easy and feature an abundance of services and extras. The only hardware aspect that the Synology is lacking when compared to the QNAP example is the HDMI port and the ability for it to be a dedicated media centre (as in physically connected to a TV).
The Synology DS415Play is an extremely capable and excellent NAS drive. It's well designed, easy to use, compact enough to exist in the living room, very powerful and can be expanded to cater for nigh-on any user's wishes and whims.
DETAILS
Price: £382.39
Manufacturer: Synology
Website: goo.gl/MhDWV2
Required spec:
Up to four SATA-3 drives, gigabit network for best results, any modern web browser.