The AMD chip also includes a Radeon 8670D graphics core.
Stealth PC is a new name in the Custom PC labs, and its system – the minimally named 1.0 – makes a striking first impression, simply because it's so small. This machine isn't designed for high-end gaming – instead, it's been built to handle a multitude of tasks in a small, portable space.
To that end. Stealth has picked and altered a Powercool K3i mini-ITX chassis. The main change to the case concerns the roof: the usual slab of aluminium has been replaced by a sheet of clear Perspex in order to expose the innards. It's also been given a little extra sheen by a small blue strip light that's stuck to the inside of the front edge.
The rest of the chassis is built from aluminium and. from the outside, it makes for a good-looking machine. The front houses a smart metallic button, and each side is decorated with black fins.
It's a neat mod. but the see-through slab and the blue light also highlight the cramped interior: the 37mm-tall SitverStone AR05 cooler sits right next to a pair of G.Skill memory sticks, and the blue fan and red DIMMs rob the Stealth of any color-matching cohesion. Cables snake around the major components on every side too, with the hard disk connectors rising up to meet the 2.Sin drive that's installed into a Perspex board screwed into the front of the machine.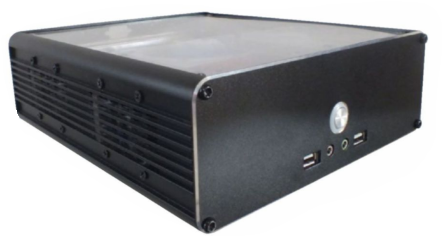 The low-profile SilverStone cooler sits on top of one of AMD's Richland APUs – the part chosen to provide a balance between processing power and graphics ability in lieu of the room needed for a discrete CPU. The A10-6700 has four Rledriver CPU cores clocked to 3.7GHz and a top Turbo speed that's 600MHz higher, and it's accompanied by 8GB of G.Skill memory running at 2,133MHz. Storage, meanwhile, comes in at 1TB – although the Western Digital Red drive used won't compete with SSDs for speed.
AMD's chip also includes a Radeon 8670D graphics core. It's branded as an 8000-series part, but it's based on the 7000-series architecture. It has 384 stream processors clocked to 720MHz with a boost peak of 844MHz. and uses system memory. It's roughly on a par with low-end discrete cards such as the Radeon R7 240.
It's all plugged into a Gigabyte GA-F2A88XN-WIFI motherboard. As the name suggests, this board has integrated Wi-Fi. and it's a decent feature, with dualband ability and support for the fastest 802.11ac standard. It supports up to 64GB of memory, and its backplate serves up plenty of USB ports, five audio jacks and an S/PDIF connector. Not surprisingly, the Stealth 1.0 is short on upgrade room; there's room for a second hard disk or an SSD but. while there's a 16x PCI-E slot, it can't be used.
The Stealth also includes a two-year warranty collect and return warranty, covering parts and labour. The package comes with a wireless keyboard and mouse too, and a handy carry case for lugging the machine and its external PSU around.
Performance
Being an affordable, mini APU machine, we didn't expect the Stealth 1.0 to generate big numbers in our benchmarks. In our image editing test the Stealth could only score 28,198. for example, and the Stealth's overall result of S8.3S1 is a long way behind the scores we've seen from Intel desktop machines too. although it's a fair bit quicker than the results we've seen from Intel NUC-style systems. The Broadwell-based Gigabyte BRIX S (see Issue 141, p20). for example, only managed to produce a total system score of 45,435. The Stealth 1.0 might not be a multi-threaded powerhouse, but it has enough grunt for media applications, general work tools, web browsing and so on.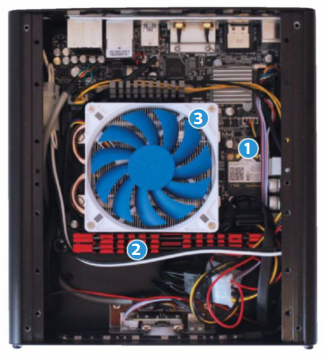 It's a similar story with gaming. BioShock Infinite is the easiest game in our current roster of test titles, but the AMD APU struggled to run it. We only hit playable frame rates by running BioShock at its Low settings and at 1,366 x 768 -and. even then, the game only returned minimum and average results of 27fps and 33fps.
We had more success with Skyrim. which is older and less demanding. The game's Medium quality settings delivered an average of 26fps at 1080p. and dropping quality levels to Low saw the game never dropping below 43fps. In short, you won't be able to play new. demanding games at top settings on this machine, but you'll be able to play less demanding ones without much trouble, especially if you're prepared to drop the graphics settings and resolution.
Interestingly, the APU's clock speed also fluctuates quite widely depending on the workload. After 15 minutes of running our standard stress test, which stresses the CPU and GPU cores, the chip's delta T of 4S*C was fine, but the processor's stock speed of 2.5GHz was throttled back to just 1.150MHz in this test The temperature shows that the machine isn't overheating, but rather that this throttling is a result of AMD's power management features, which manage the clock speed when both the CPU and GPU portions are loaded, in order to keep the TDP in check.
On the plus side, power consumption is low. although not as low as a NUC system. In our test, the Stealth drew 93W from the mains at load – less than a standard desktop rig.
On the downside, however, it's noisy. During stress tests, the machine's noise output was consistent but loud – on the same level as mid-range full-sized PCs. It was a little quieter when idle, but still noticeable. Of course, a set of speakers will drown out the noise, but it isn't the system to buy if you need low noise levels or a good media system, as the fans will prove irritating during quiet TV and movie moments.
Storage performance was predictably slow too. The Western Digital drive provides a good 1TB of space, but its sequential read and write speeds of 89MB/sec and 96MB/ sec are average, and a long way behind SSDs. and Windows feels less responsive in use as a result.
Verdict
Stealth PC's debut machine packs a reasonable punch into a small space, and it's great to see the benefits of an AMD APU without the wasted space of a full-sized desktop rig. as well as the custom touches to the case. The result is a machine that's a little bigger than an Intel NUC-sized system (and the score below is based on comparison with other mini PCs. rather than full-sized desktop PCs), but also more powerful It offers enough power for general computing, work and running games on modest settings, and in a chassis that's so small it comes with its own bag for carrying the machine.
However, it could really do with an SSD at this price, and it makes a surprising racket for a system made by a company called Stealth, even when it's idle. The Stealth 1.0 is a good PC if you need a portable machine for general-purpose use. especially as it includes peripherals and a carry case, but be aware of its noise levels, and don't expect it to handle demanding games at high settings.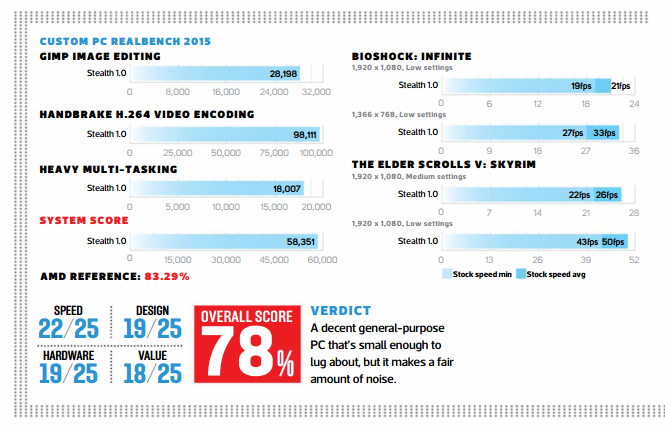 MIKE JENNINGS
Stealth 1.0 Review
A decent general-purpose PC that's small enough to lug about, but it makes a fair amount of noise
Add your review