Are huge video, image and music files swallowing your hard-drive space? Mike Plant explains how to reduce them to a more manageable size
If your PC is running low on hard-drive space you'll soon know about it. Open a program and it'll grind to a halt. Try booting up and you can clear your diary for the day while you wait. Work on a document and it'll suddenly reset itself at a moment's notice.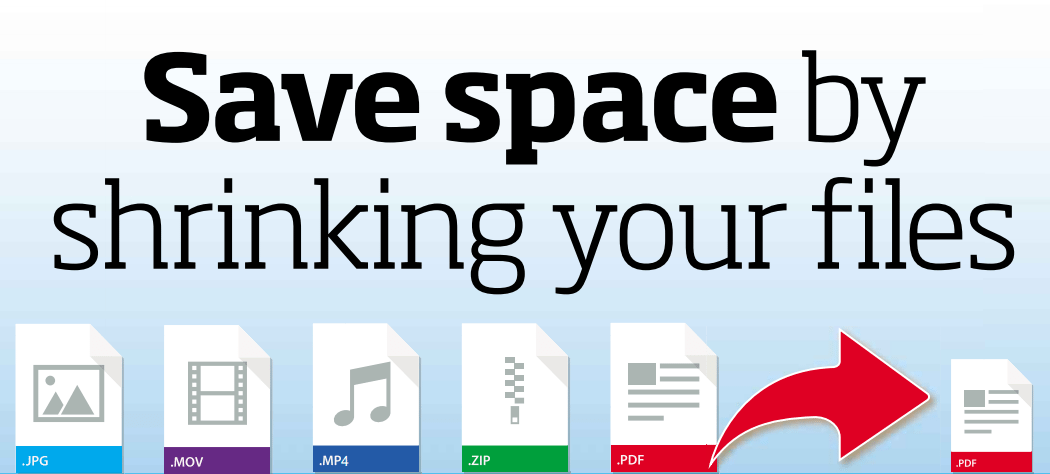 Deleting files you no longer need will help, but what if you've already deleted everything you can bear to part with? The usual advice is to buy an external hard drive, but these don't come cheap.
Here we'll explain how you can keep your files and still free up space, without having to put your hand in your pocket.
Photos
It wasn't so long ago that digital photos were just a few kilobytes in size. These days, a photo taken in RAW format on a DSLR camera can quite easily exceed 30MB. Even smaller image files taken on a mobile phone can exceed 5MB depending on the quality of its camera. Improved picture quality can be worth the extra space required to store them, but start saving these photos to your hard drive and your PC may soon be struggling under the strain.
To reduce photo file size while retaining image quality, you can use photo viewer, IrfanView (www.irfanview.com).
To download it, go to the list on the left, click Download, then the FossHub download link and install it in the usual way. After opening IrfanView, click File, Open, navigate to the photo you want to downsize and click Open. Next, click Image, then Resize/Resample.
In the pop-up menu, you can either type a new size into the 'Set new size' field, select a standard dimension (such as 1024×768 pixels) or click Half to reduce the photo's dimensions by 50 per cent (see screenshot below). By clicking the Half button we were able to shrink a 5MB
Lower the 'Save quality' of your photos to reduce their size
photo (4032×3024 pixels) taken on our Android phone, to just 457KB (2016×1512 pixels) without reducing its quality on our monitor. We suggest you experiment with the dimensions settings until you find the perfect one for the photos your camera takes.
To save your new photo so you can compare it to the original before you delete it, click File, 'Save as', type a file name, then click Save. We also suggest you tick the 'Save file with original date/ time' box in order to preserve the original photo's metadata (see our feature on page 60 for more on why this is important).
If you'd rather not change the dimensions of your photo, you can try saving it as a slightly lower-quality JPEG. Open your photo, click 'Save as', then tick 'Save file with original date/time' and 'Show options dialog'. The latter opens a new window called 'JPEG/GIF save options'. Move the 'Save quality' slider at the top of the window to the left to lower the image's quality (see screenshot left), then click Save in the left-hand box (rename it if you want to compare it to your original). Try experimenting with the position of the slider. For example, we dragged the 'Save quality' slider to 50 without compromising our image, shrinking it from 5MB to 1MB.
Videos
One way to shrink your videos is to trim their length using a video editor, but obviously this means sacrificing some of your footage. If you don't want to do this, your best option is to use a compression tool such as Free Video Compressor (www.freevideocompressor.com).
On the website, click Download and install the software. Open Free Video Compressor, click Open, then browse to and select the video you want to compress. Next, use the Desired Video Size dropdown menu to specify the amount of your reduction. Bear in mind that the lower the percentage, the more the video quality will be compromised. We found 70 per cent (see screenshot above) was the ideal trade-off. Next, click Compress, then rename your video. Click Save to start compressing your video (by default 'compressed' is added to its name).
You'll now see a progress bar as the video processes – this can take an hour or two depending on the length of your video.
Music Compressing music files can also free up hard-drive space. But overdo it and your Led Zeppelin albums might start sounding like the Spice Girls. Free web-based tool Online Audio Convertor (www.online-audio-converter.com) makes it easy to reduce entire batches of music files (including MP3s) without compromising quality.
We used it to compress a 10-track album from 41.1MB to 35.2MB. That might not sound like much of a reduction, but repeat the process for every album you own and you'll soon start to claw back some space.
On the website click 'Open files', then select as many music files as you want. Next, move the Quality slider to Standard, then click Convert. Once the process has completed click Download to save your converted files as a ZIP.
Be aware that the process involves uploading and downloading files to and from the internet, so if you have a metered broadband connection keep an eye on your data limit.
If you'd rather avoid using the internet, it's possible to do something similar in our favorite audio editor Audacity (www.audacityteam.org). Once it's installed and open, click File, Open, then select the file you want to shrink.
Click File, Export Audio, select Medium from the Quality dropdown menu (see screenshot left), then click Save.
Remember to rename it if you want to preserve the original and compare audio quality. The only downside with Audacity is that you have to process each song individually, rather than convert them in batches.
PDFs Manuals and other large documents are often saved in PDF format for the sake of convenience. PDFs are handy but can take up a lot of hard-drive space, particularly if they contain many images.
An easy way to resize your PDFs is to use Smallpdf's compression tool (www.smallpdf.com/compress-pdf).
Go to the site, click 'Choose file', select your PDF, then click Open. Your PDF will then be uploaded and compressed.
Click the Download File Now link to save the new, smaller version of it to your PC.
STOP USING ZIP FILES
The main point of ZIP files is to make text documents smaller. It was never meant to compress audio and video, so it doesn't do a very good job We suggest you ditch the ZIP format and try some alternative compression formats.
The 7Z (7-Zip) format, for example, is more adept at handling a wider range STOP USING ZIP FILES of file formats. While our favorite compression software, PeaZip (www.peazip.org) is capable of creating 7Z files and ZIPs.
To create a 7Z compressed file, install and open PeaZip, navigate to the files you want to compress, select them, then click Add. Select 7Z in the first dropdown menu (see screenshot), then click OK. To extract a 7Z file, double-click it and PeaZip should open by default. If not, and you're prompted to choose a default program, click 'Select a program from a list of installed programs', then double-click PeaZip.