A budget board, but still really good value.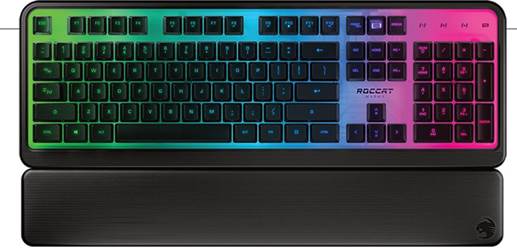 The Roccat Magma gaming keyboard proves that you don't need to settle on a limited design to save cash with a membrane deck. Thanks to a distinctive panel with RGB lighting sitting underneath the main board, the Magma cleverly disguises a drop in aesthetic customization options with a replacement effect that some may even prefer.
Coming in at just $99, this is a particularly affordable piece of kit. However, unlike many other cheap gaming keyboards, you're not skimping on too much to keep that cost low. As it stands, the Magma will serve a wide range of everyday play styles well. It won't live up to the performance you'll find in the best gaming keyboards further up the price bracket, but on the flip-side, no-one is expecting it to.
The Magma's most noticeable feature is a translucent plastic panel covering the deck beneath the keys. Rather than per-key
RGB, the Roccat Magma opts for a set of ten LED lights stretched across this panel, and configurable in five zones of customization. If you're looking to pinpoint precision over the look and responses of your gaming keyboard, this certainly isn't a feature to gloss over as there is a definite drop in clarity and control. However, the resulting effect can prove surprisingly satisfying, especially when pooling just a couple of colors together for a more subtle glow.
You're still getting a smooth response and satisfying distance of travel.
While much of the Roccat Magma's design is overshadowed by that distinctive panel, the plastic shell that surrounds the deck is surprisingly sturdy. That said, the translucent sheet does have a little too much give when pushed to feel fully solid. It would take some considerable key hammering to put that much pressure on the plate in normal use, but it is certainly noticeable under closer inspection.
As for the key caps themselves, they use a smooth ABS plastic which doesn't offer too much in the way of grip but is to be expected at this price point. The downside? The legends on top of the caps aren't too well defined, and while things do improve with the RGB effect switched on, the top two rows suffered fading around the top edge of each character. If you're not used to feeling your way around those function and number keys, this might take some adjustment.
Despite all that, you are getting a full-sized deck here, with the exception of dedicated media controls, and a ridged palm rest as well.
TABITHA BAKER
With a unique design guaranteed to stand out, smooth and responsive membrane keys, and a strong macro functionality built in, the Roccat Magma gaming keyboard offers excellent value for money. You are losing a little sensitivity in the keys which, combined with the heavy actuation force, will hamper faster play, but overall, there's plenty of functionality here to offer a standout experience for the cash.