Description
It's always worth checking out the latest mini-ITX hardware, for the simple reason that manufacturers often take different approaches to solving the usual issues of limited space, whether they're dealing with motherboards or cases. Every now and then a really interesting design turns up, such as Lian Li's new Q58 case. Read our Lian Li Q58 Review.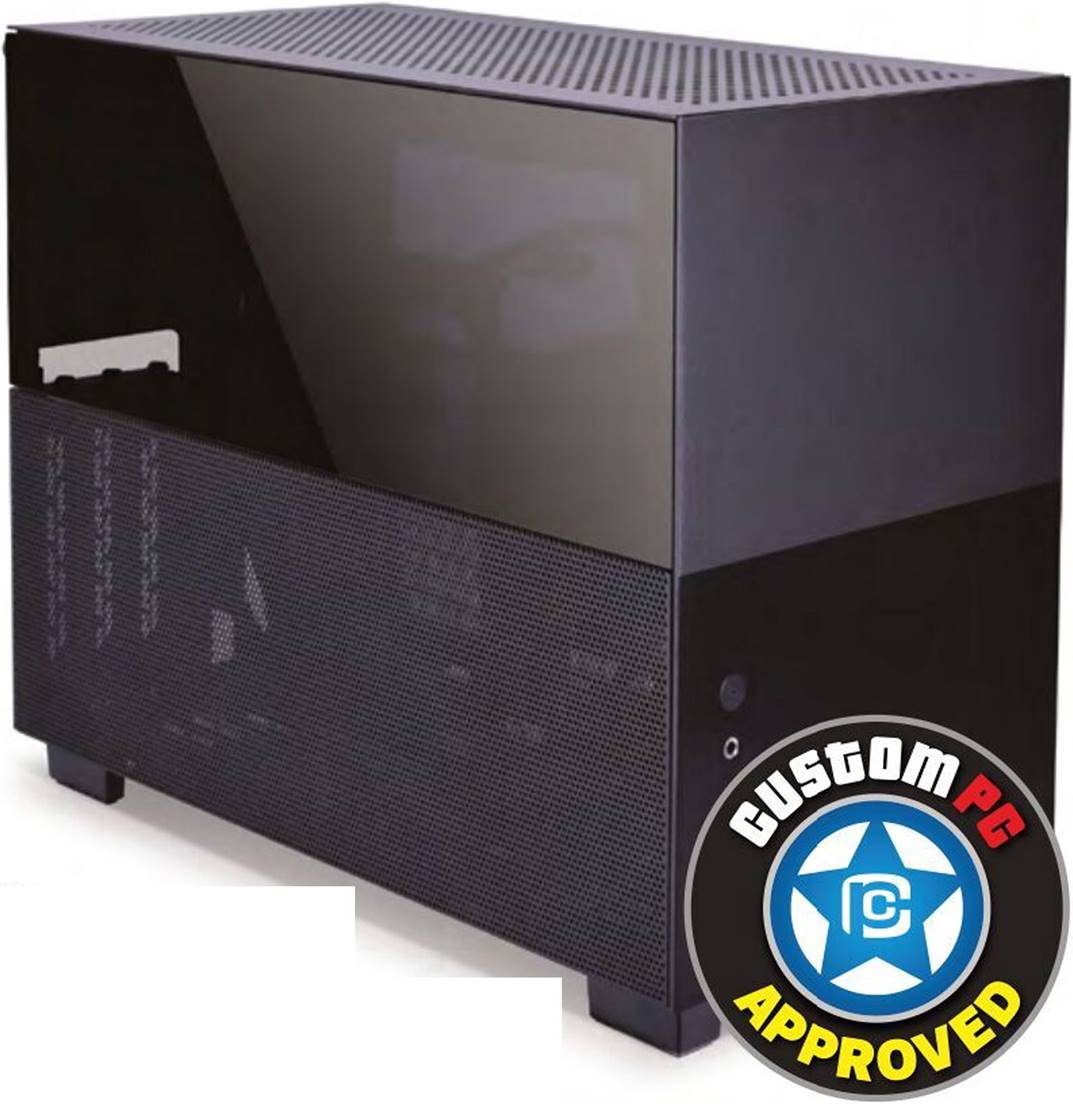 It comes in black or white, and it's a sandwich­style mini-ITX case that uses riser cables to connect the motherboard and graphics card, which sit back to back. In addition to the colour options, you can also choose to have PCI-E 3 or PCI-E 4 riser cables, with the cheapest option being £ and the most expensive one costing £. This price range means the Q58 offers reasonable value compared with the likes of the NZXT H1 and Streacom DA2 V2, although it makes the Q58 a little more expensive than the Cooler Master MasterCase NR200P.
The Q58 has a similar design to the Raijintek Ophion Evo, but Lian Li has added its usual premium feel and flair. Each side section sports a pair of lateral panels, with the top section made from tempered glass and the bottom section made from perforated steel. These sections fold up and down respectively, opening up the interior like a set of double doors.
The benefits of this design approach are twofold. Firstly, it simply looks great – you could even lower one of the doors to show off your graphics card to your mates. Secondly, the fact that the lower panel is meshed results in an airflow boost to air­cooled graphics cards and CPUs.
The case has a spartan exterior, with Just a power button, audio port, and single USB 3.1 Type-C and USB 3 Type-A ports on the front panel. It's extremely compact too, measuring just 17cm wide, 25cm tall and 34cm long, and our white sample looked extremely clean and cute (yes, cute, I said it) on our test bench. It's not just the double-door panels that are interesting with this design either – it starts to get really interesting when you look at the interior, and the underside between the rubber-tipped case feet.
Lian Li has added a lower fan bracket to the bottom that extends downwards, allowing you to fit a 120mm fan to the underside, and while the company doesn't mention it, there's easily enough space to fit a 120mm radiator on top, especially if you use a slim fan and radiator. The case also features a brilliant hinged door at the rear with a combined 3-pin digital RGB and PWM fan hub mounted to it. This hub has three fan headers and three 3-pin RGB headers, and its placement here means it's kept out of space-limited areas of the case and is easily accessible too.
Meanwhile, the top panel pops off with no tools required, revealing a removable fan mount that can house a pair of 120mm or 140mm fans or corresponding radiators. There's 60mm of clearance between it and the motherboard tray too, giving you plenty of space for radiators and fans.
Out of the box, the Q58 is configured in SFX PSU mode, with the PSU mount located in the lower front of the case next to the motherboard. There's an extension cable running from the power socket to an external port at the rear of the case. However, the case also allows for ATX PSUs to be used, thanks to an included optional bracket. This sits in place of the fan bracket in the roof, taking up one of the fan mounts to cater for an ATX PSU instead.
The fact there are still two locations for 120mm fans and radiators, even with an ATX PSU installed, is important, as the case only has room for 67mm-high CPU coolers. It caters better for large graphics cards, with up to 320mm of clearance, and GPUs will benefit from having side ventilation too, unlike the design of a number of other sandwich-style cases.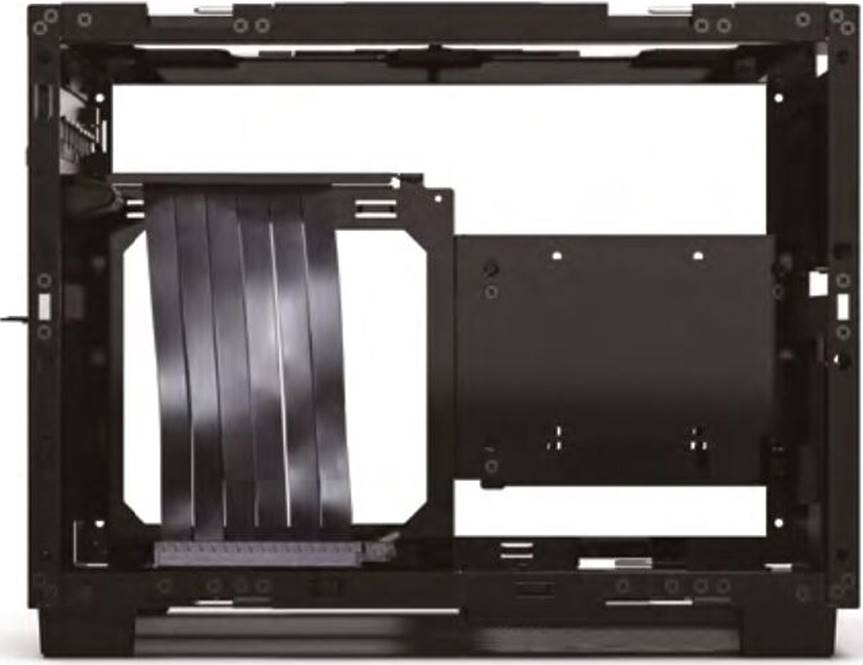 If you go for SFX PSU mode, you'll also get space for a single 3.5in hard disk as well as three 2.5in SSDs, although the former will occupy one of the roof fan mounts. The single 2.5in bay at the front of the case features a tool-free mount with integrated power and data ports too, although the provided data cable that then runs to your motherboard is guite short – we had to re-route it in order to reach the SATA ports on our motherboard.
Lian Li has done a good job with cable tidying, providing numerous Velcro ties in the case as well as extras in the accessory box. As the lower half of the case is obscured by the mesh vents, most of the cables should be hidden from view too, whichever PSU you opt to use.
There are no fans included as standard, so we've added a 120 mm Noiseblocker fan to at least see how the case performs with some airflow and, needless to say, we'd recommend you do the same. Out of the box, the CPU delta T was 53°C, which was on par with the Kolink Rocket Heavy, but warmer than the Cooler Master MasterCase NR200P and Jonsbo A4. Adding an exhaust fan in the roof cut this temperature to 50°C, matching the NR200P.
The CPU delta T of 47°C with no fans was toasty compared with all other mini-UTZ cases we've tested, except the Phanteks Shift 2, so while the GPU's access to cool external air is definitely there, your card will still get hot if there's no fan to get rid of the warm air building up in the case. Adding a single roof exhaust fan lopped 4°C off that temperature, so whether you do it with an AIO liquid cooler or case fans, we'd definitely recommend boosting the Q58's stock airflow.
Conclusion
The Lian Li Q58 is a fabulous mini-ITX case, but while the Cooler Master MasterCase NR200P might be cheaper and less suave, it does offer a better cooling package out of the box. The Q58 is more of a blank slate, with better liquid-cooling support, and an intuitive, attractive and unique design. Kit it out with some sort of liquid cooling, and it's easily one of the most appealing mini-ITX cases available.
ANTONY LEATHER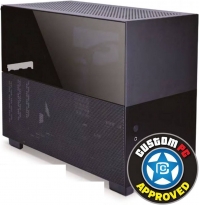 Lian Li Q85 Review
A gorgeous, unique case design but you'll need to add some extra cooling.
CONS
Average out-of- the-box cooling
SSD mount cables are short
Limited CPU cooler height limit
Additional information
Specification:
Lian Li Q58 Review
Computer Cases
Product properties