ASUS ROG FLOW X13 GV301 Review
All prices mentioned above are in British pound.
This product is available at Amazon.co.uk.
At amazon.co.uk you can purchase ASUS ROG Flow X13 GV301 AMD Ryzen 9-5980HS 32GB 1TB SSD 13.4 Inch 120Hz GeForce GTX 1650 + GeForce RTX 3080 Dock Windows 10 Convertible Gaming Laptop for only £2,991.97
The lowest price of ASUS ROG Flow X13 GV301 AMD Ryzen 9-5980HS 32GB 1TB SSD 13.4 Inch 120Hz GeForce GTX 1650 + GeForce RTX 3080 Dock Windows 10 Convertible Gaming Laptop was obtained on 2021-10-28 9:01 pm.
$4,060.42
Best deal at:

Amazon.co.uk
Buy for best price
Last Amazon price update was: 2021-10-28 9:01 pm
×
Product prices and availability are accurate as of the date/time indicated and are subject to change. Any price and availability information displayed on Amazon.com (Amazon.in, Amazon.co.uk, Amazon.de, etc) at the time of purchase will apply to the purchase of this product.
Add to wishlist
Added to wishlist
Removed from wishlist
0
Last updated on 2021-10-28 9:01 pm

ASUS ROG FLOW X13 GV301 Review
Description
The Asus ROG Flow X13 is one of the most exciting gaming laptops on the market right now, as it's not just a laptop. This machine is at its best when you buy it alongside the ROG XG Mobile graphics dock, which turbo-charges its gaming ability. The dock contains an Nvidia GeForce RTX 3080 Laptop GPU with a hefty peak power level of 150W, alongside its conventional 6,144 stream processors and 8GB of memory. The reliance on laptop graphics is a smart move – it means the dock weighs just 1kg and is only 208mm long and 30mm thick. Companies such as Razer have experimented with graphics docks, butthose products are larger, weigh more than 5kg and take a desktop graphics card.
Asus' dock doesn't just provide extra graphics power – it improves connection options too. It has four USB 3.2 Gen 1 ports, plus DisplayPort and HDMI outputs, as well as an SD card reader and a Gigabit Ethernet connection. There are two downsides – the cable should be longer, and the laptop GPU can't match the desktop RTX 3080 for performance and can't be upgraded.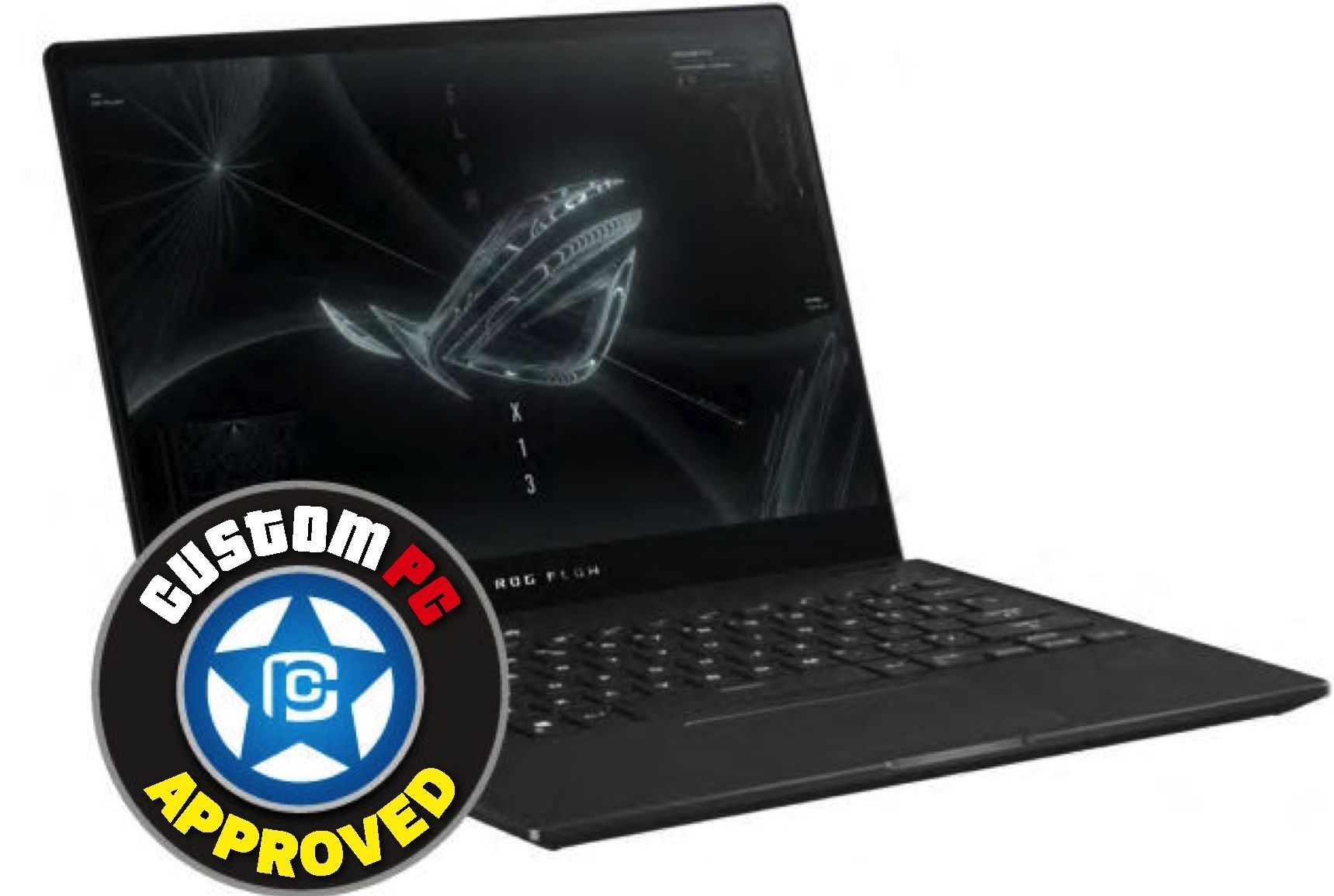 Spec
CPU 3GHz AMD Ryzen 9 5980HS
Memory 32GB 2133MHz LPDDR4
Graphics Nvidia GeForce GTX1650 Max-Q 4GB/GeForce RTX 3080
Laptop 8GB in eGPU dock
Screen 13.4in 1,920 x 1,200 IPS 120Hz
Storage 1TB WD SN530 M.2 SSD
Networking Dual-band 802.11ax Wi-Fi, Gigabit Ethernet, Bluetooth 5.1
Weight Laptop: 1.3kg; dock: 1kg
Ports Laptop: 2 x USB 3.2 Gen 2 Type-C/ DisplayPort, 1 x USB 3.2 Gen 2, lx HDMI, 1 x audio; dock: 4 x USB 3.2 Genl, lx HDMI, 1 x DisplayPort, 1 x SD
Dimensions (mm) Laptop: 299 x 222 x 16; dock: 208x155x30 (WxDxH)
Operating system Windows 10 Home 64-bit
Warranty One year parts and labour return to base
The dock makes sense when you consider the FlowX13 itself. This laptop weighs just 1.3kg and measures 16mm thick, so there's no room for a top-tier GPU. Instead, it uses a modest GeForce GTX 1650 Max-Q. Meanwhile, processing power comes from an AMD Ryzen 9 5980HS, which has eight SMT- enabled cores (16 threads) alongside base and boost speeds of 3GHz and 4.8GHz – a serious processor for such a slim machine.
Elsewhere, the tiny Asus has 32GB of dual-channel LPDDR4 memory and a 1TB WD SN530 M.2 SSD. The laptop has dual-band Wi-Fi 6 and Bluetooth 5.1. Exterior connections on the laptop itself are only middling though – there are two USB 3.2 Gen 2 Type-C ports, with one needed to power the machine, alongside single audio, HDMI and USB 3.2 Gen 2 Type-A ports.
The X13 is also equipped with a 1,920 x 1,200 IPS display, which has a 16:10 aspect ratio and 120Hz refresh rate. The taller-than-usual display provides more on-screen real estate, while that refresh rate is ideal for mainstream gaming and esports, although it's not quite high enough for super-competitive gaming. It's a touch-screen model too, and it has 360-degree hinges, so it can swing around into tablet or tent modes.
The screen itself has great image quality. The 297cd/m2 backlight and black point of 0.17cd/m2 are excellent – the former is bright enough for most situations and the latter offers superb depth. The contrast ratio of 1747:1 is fantastic, and means you get loads of punch and vibrancy. The delta E of 0.82 is great, and the panel rendered 97.3 per cent of the sRGB colour gamut. It's a brilliant display and makes games look bold, accurate and colourful.
The Asus even has good speakers – there's punchy bass, a pleasing mid-range and a clear, detailed top end. These speakers are easily good enough for mainstream gaming, and better than those included on most larger laptops.
The X13's small size means the keyboard has no numberpad, and the backlighting is white rather than RGB. The buttons are crisp, fast and consistent, though, and their solid base means you can hammer the keys in games without issue. Many people will prefer larger keys, but this hardware is excellent for gaming on a small machine. The trackpad is fine too, although you'll want a USB mouse for gaming.
On the outside, the X13 is built from aluminium, magnesium and plastic, and it looks subtle with some industrial touches. It's robust, with a rigid base and hardly any screen movement. The laptop and dock are easily sturdy enough to put into a bag and take to gaming events.
The X13 and XG create a two-tier environment that Asus reckons will prove easier to manage than using a thicker, heavier conventional laptop. If you want a small, light laptop for work and esports, you can use the X13, and if you want extra gaming power, you can bring the dock too – or attach it when you're at home.
Performance
The 150W RTX 3080 zipped through Assassin's Creed Valhalla with a 99th percentile minimum of 48fps and 68fps average, and it handled Cyberpunk 2077 with a 99th percentile result of 48fps. Its 40fps 99th percentile and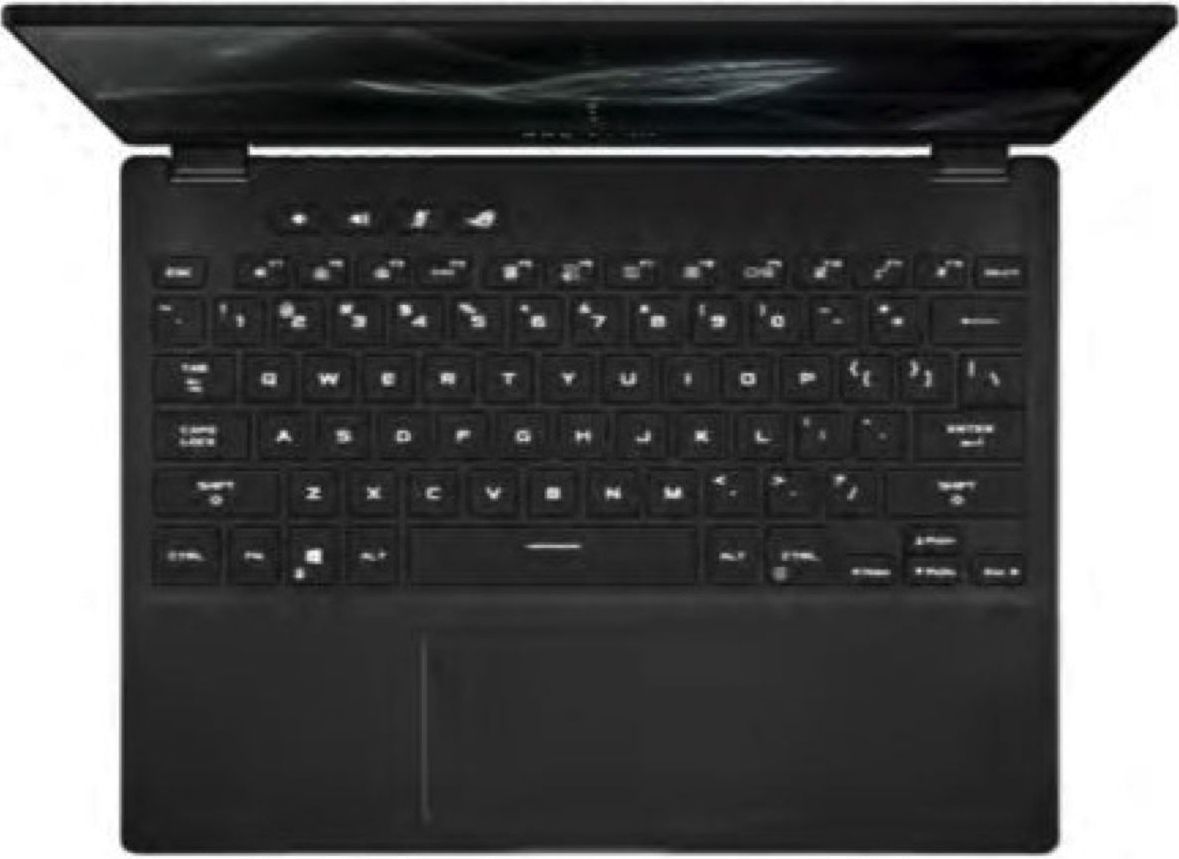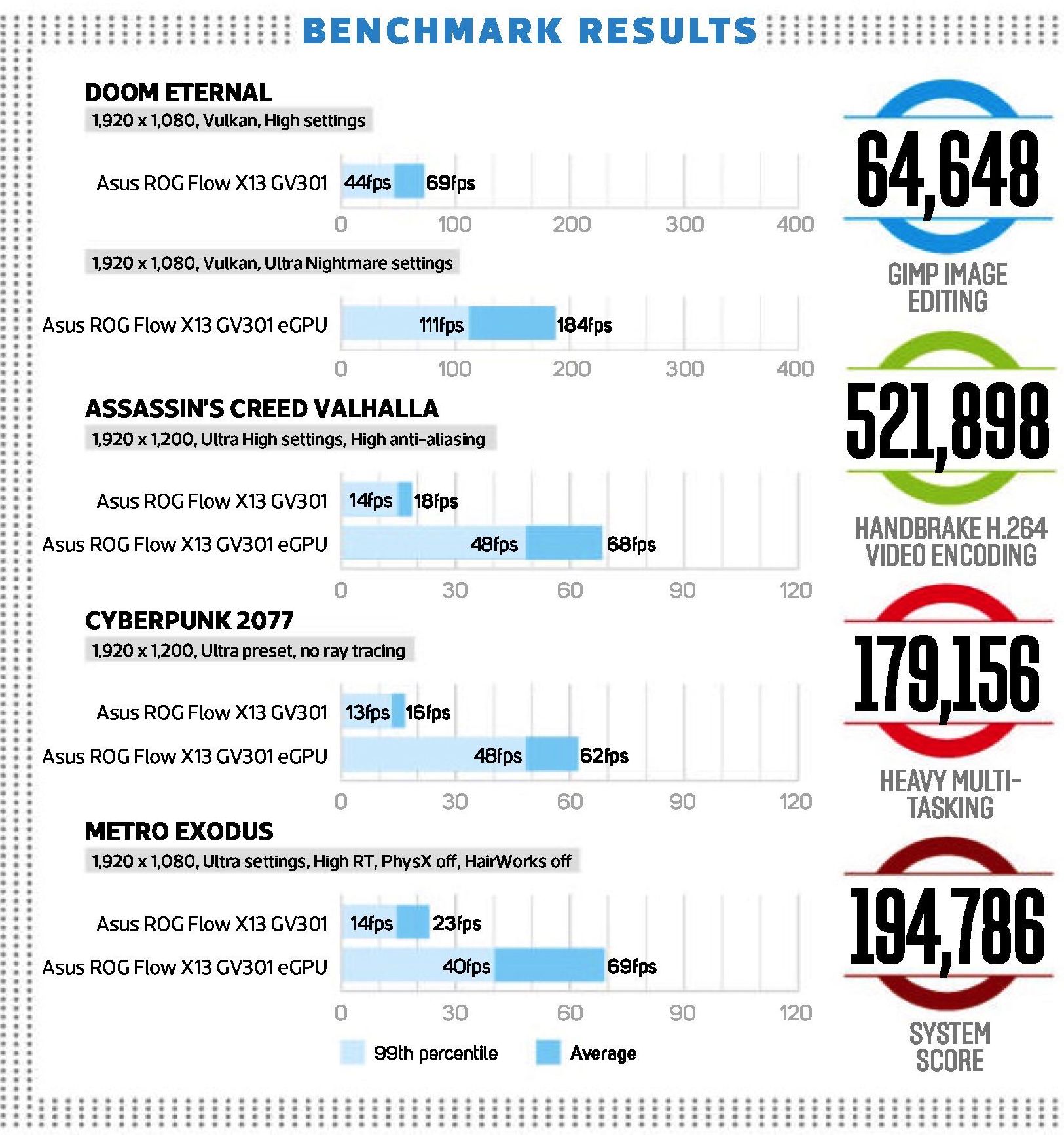 69fps average in Metro Exodus with ray tracing enabled is also a great result – all three of those games benefited from average frame rates beyond 60fps.
In Doom Eternal, the Asus' dock delivered a 99th percentile result of lllfps and an average of 184fps. Those scores bode well for high-end gaming. You'll be able to play today's top games smoothly without any graphical compromise, and the dock is quick enough to handle esports games on the laptop's 120Hz screen.
Those results were all recorded at 1,920 x 1,080. Upgrading to the Asus' 1,920 x 1,200 native resolution only saw results decline by a couple of frames. Conversely, you can get a few more frames by deploying the laptop's Turbo mode, albeit with extra noise.
They're good scores, but this isn't the best performance you can find from the laptop RTX 3080. We reviewed the Asus ROG Strix Scar G733 with its 130W RTX 3080, and the machines were virtually identical in terms of performance. Also, the Alienware m17 R4 ran the chip at 165W and was a few frames per second faster.
Without the dock, the modest GTX1650 delivered a playable result in Assassin's Creed Valhalla with the game running at its Low settings, but the laptop GPU couldn't get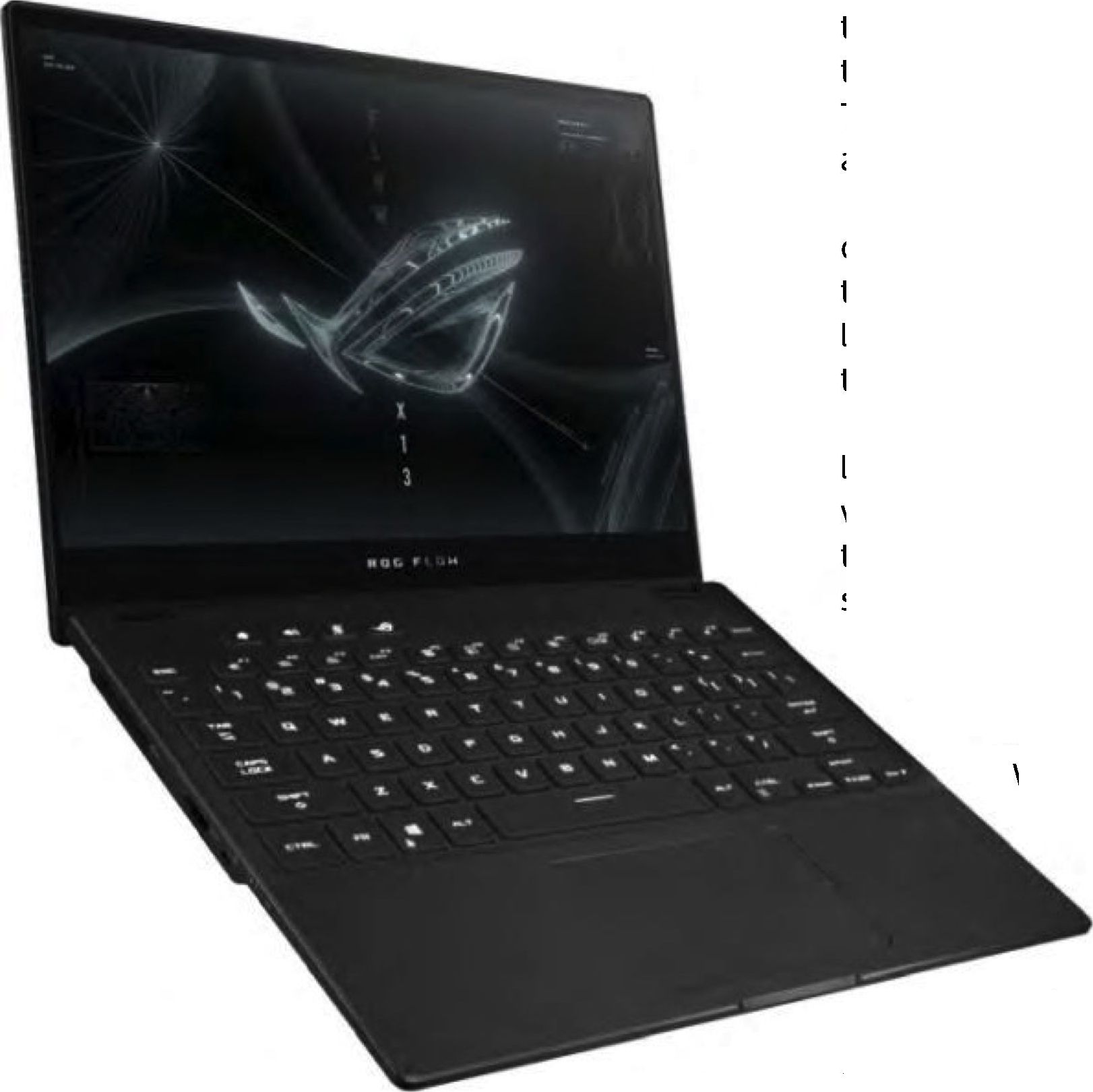 beyond a 25fps minimum in Cyberpunk 2077 and Metro Exodus with the graphics settings dialled right down. The X13's Doom Eternal 99th percentile result of 44fps was playable, albeit not at the speeds required by the 120Hz display. Without the dock, the X13 is only suitable for esports – and it did, at least, play Rainbow Six Siege with a minimum of llOfps at Medium settings.
Meanwhile, the Ryzen 9 5980HS is a low-power version of AMD's beefiest laptop chips, and it performs well. In our single-threaded image editing test it scored 64,648, and it dashed through our heavily multi-threaded Handbrake benchmark to deliver a result of 521,898. Both are better than Intel's current Core i7 laptop chips, and the latter is barely slower than Intel's Core i9-10980HK.
AMD's own Ryzen 7 5800H, Ryzen 9 5900HS and Ryzen 9 5900HX are faster, but they're used in larger laptops. Those are the CPUs to buy for proper multi-core mobile power, but the 5980HS is still excellent. It's easily capable of tackling mainstream content-creation work, and it never struggles with any number of browser tabs and Office applications.
Deploying the laptop's Turbo mode also saw the X13's Handbrake score improve to 546,523, giving you a modest boost to heavily multi-threaded content creation software.
While it's admirable that Asus has crammed such a powerful CPU into this slim, light laptop, the Ryzen chip pushes the machine's thermal limits. In single and multithreaded benchmarks the processor hit a delta T of 67°C, which is as high as this processor can handle. In the singlecore test, the CPU ran at 4.5GHz, and in the multi-threaded test it ran at 3.2GHz. Both speeds fall short of the chip's theoretical pace. On the plus side, the laptop GPU hit a delta T of 52°C, and the dock's RTX 3080 peaked at 54°C – both acceptably lowtemperatures.
No matter what you do with this laptop, you'll have to contend with heat and noise. If you play games or run work tasks, there's noticeable fan noise – it's level with most larger gaming machines – when you're gaming, you'll want to use a headset or speakers to drown it out.
The dock outputs at a similar volume. If you push the laptop components hard, the underside becomes very warm, the area above the keyboard becomes too hot to touch and plenty of hot air is ejected from the right-hand side of the base. The dock outputs loads of hot air too, but at least you can move that out of the way, and using the dock does reduce the laptop's temperature.
Don't expect outstanding battery life either.
Without the dock, the X13 lasted for one hour and 16 minutes during gaming, and it ran out of juice after four hours of video playback and three hours of everyday work. In that respect, it's a conventional gaming laptop.
Conclusion
The Asus ROG Flow X13 and its accompanying XG Mobile dock offer the best combination of a laptop and external GPU that we've yet seen.
The external GeForce RTX 3080 dock offers genuine high- end gaming pace in a box that you can easily sling into a bag, and only desktop GPUs and the beefiest laptops provide more speed. Meanwhile, the laptop packs plenty of CPU power into a slim and sturdy body, along with a good keyboard, its own esports-capable GPU and a dazzling display.
There are downsides though. The laptop and dock are hot and loud when they're working, battery life remains mediocre and the keyboard is small. Many people will prefer traditional gaming laptops, which provide bigger screens and keyboards in heavier, thicker bodies.
Impressively, though, the Asus ROG FlowX13 and XG Mobile bundle doesn't cost any more than a gaming laptop with equivalent components, so there's no real premium to pay if you want to go down this modular route.
This setup won't suit everyone, but this hardware is worth consideration if you want the portability that only comes from an ultra-portable laptop, along with the gaming performance of a high-end GPU. The laptop is worth buying in isolation too, if you want a slim and light laptop that's also capable at handling esports.
MIKE JENNINGS
VERDICT
Editor choice
ASUS ROG FLOW X13 GV301 Review
An innovative package that combines ultra-portable computing with genuine high-end gaming power.
PROS
Genuine high-end gaming power
Innovative form factor
Great screen quality
Powerful processor
CONS
Often hot and loud
Mediocre battery life
Small display
Few ports on laptop
Add your review
Best ASUS ROG FLOW X13 GV301 prices ?

£

2,991.97
1 new from £2,991.97
in stock

MORE DEALS

See also THE COMPLETE GUIDE TO…OLED laptops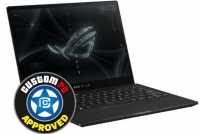 An innovative package that combines ultra-portable computing with genuine high-end gaming power.
PROS
Genuine high-end gaming power
Innovative form factor
Great screen quality
Powerful processor
CONS
Often hot and loud
Mediocre battery life
Small display
Few ports on laptop
Additional information
Specification:
ASUS ROG FLOW X13 GV301 Review
Camera
Connections
| | |
| --- | --- |
| HDMI | Yes |
| Headphone Jack | Yes |
| Microphone Jack | Yes |
| USB-A | 1 |
| USB-C | 2 |
Display
| | |
| --- | --- |
| Screen Resolution | 1920×1200 |
| Screen size | 13,3 |
| Refresh Rate | 120Hz |
Wireless
Laptops
| | |
| --- | --- |
| Graphics Card | Nvidia geforce series |
| Operating System | Windows |
| Processor | AMD Ryzen 9 |
| RAM | 32GB |
| SSD Size | 1TB |
Product properties
| | |
| --- | --- |
| Available colour | |
| Features | Convertible / Hybrid, Touchscreen |
| Release Year | 2021 |
Specification