This speedy devil gets hot and bothered
When a graphics card includes a special mounting bracket to stop it shrugging free of the shackles of its PCIe slot, you can rest assured it's a behemoth. The new Devil 13 from Powercolor is one such heavyweight, with a slightly absurd weight of two kilograms. There's a good reason for all this extra baggage though, as hidden beneath the frankly gigantic heatsink is not one, but two AMD Radeon R9 390 processors. No wonder it costs so darn much.
Given the rather outrageous cost, the initial presentation of the product is a welcome sight. It's packed in a beautiful box that reveals two trays within, and it's all luxuriously padded in soft black rubber. Within the first tray is a rather strange sight, Razer's highly customizable and wireless Ouroboros mouse. Considering this normally sells for $140 on its own, it's a rather expensive addition to the package that many gamers would probably rather not have, as picking a mouse is a very personal choice. It also undoubtedly helps account for the stonkingly high price tag. Tucked away elsewhere in the box are the usual power connectors, driver CD, stickers and the aforementioned mounting bracket.
But we're here for the card itself, and what a behemoth it is. Measuring a lengthy 305mm, you'll need a rather spacious case to squeeze this beast in. It'll also knock out three of your expansion slots on the back of your case, with a chunky depth of 59mm. There's a reason it's so big – the R9 390 is a relatively hot little demon, so having two of them on one card requires a huge heatsink. Each GPU has a toasty TDP of 275W, so Powercolor has had to get creative when cooling two of these. Rather than drop the GPU frequency as we've seen on other twin-GPU cards in the past, Powercolor has kept both GPUs with their standard speed of 1GHz. Instead the company has basically grabbed two standalone coolers, and merged them into one giant slab of heatpipes and fins. These are then cooled by three fans, each of which includes the usual set of blades along with a smaller set of blades that apparently add 20% to the cooling prowess of the card.
Just in case twin R9 390 GPUs aren't fast enough for you, Powercolor has also provided options for tweaking. The 15-phase power supply ensures a crisp, clean power supply, but you're going to need four 8-pin power connectors to provide it with enough juice. The box recommends a 1000W power supply as a minimum, but we managed to get it working fine with a Corsair RM850i. On the back of the card are a row of LEDs that indicate the power load, while a glowing Devil logo will pulsate through your Perspex case window. There's also a small button that allows tweakers to switch between one of two BIOS', just in case they push things too hard.
Given the inclusion of two GPUs, we have to admit that the range of outputs was a little disappointing. As expected given its AMD heritage, there's no sign of HDMI 2.0, with DisplayPort 1.2a instead used to deliver 4K resolution at 60Hz. There's also the usual twin DVI-I, and a single HDMI 1.4a… and that's it. Given how much space is on the rear plate of the card, and the inclusion of twin GPUs, it would have been nice to see a few extra outputs.
A whopping 16GB of onboard GDDR5 memory is included, but only 8GB is available to games, which is a current limitation of multi-GPU setups. In the far future DX12 might get around this issue, but until then even the 8GB frame buffer found here is more than enough. Unlike the GPU, the memory bus is running slightly slower than the speed of a single R9 390, down from 6Gbps to 5.4Gbps. We're not sure why, as it's usually the GPU that needs throttling on dual-GPU cards due to heat reasons, and not the memory. Thankfully we were able to increase this during our overclocking tests.
Given the high specifications of this card, we threw a bunch of extra high-resolution tests at it, and it managed to blow them all away. Even 4K wasn't too much trouble in our Shadow of Mordor and Metro Last Light tests, though newer games like Battlefront will probably have to run at 2560 x 1440 to get reliable 60Hz+ performance. However, there is a cost for these levels of performance – fan noise. Even though it was running on an open testbench in a room with a 20C temperature, the cooler kicked out 66dB of fan noise under load, making it one of the noisiest we've ever tested. This got even worse when we then hit the overclocking options, hitting a maximum GPU speed of 1.1GHz and memory speed of 6GHz before starting to see instability.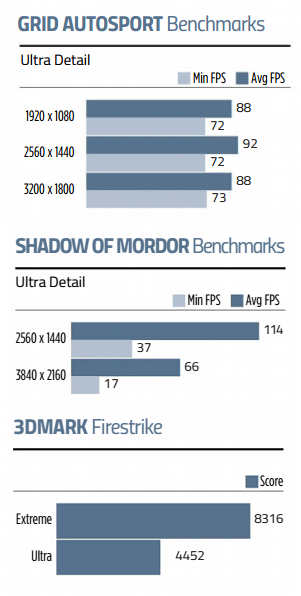 Then there's the issue of value for money, but to be frank you don't buy this kind of product with an eye on your budget. Still, this thing is actually surprisingly within the realms of competitive pricing. The $1149 price is recommended retail, so we reckon it'll drop to around the $1k mark pretty quickly, which puts it on par with two R9 390 cards at $495 each. In fact, once you consider it's also got a premium mouse, the price is surprisingly good.
We're still a little perturbed by the incredibly high fan noise though – we're not ones to believe that a roaring helicopter in your case is conducive to immersive gaming. If you can live with that though, you'll find this to be a very capable card when compared to the likes of the GTX 980 Ti, which retails for the same price but will lag far behind. BENNETT RING
We're rather surprised at what excellent value this card is, easily outpacing Nvidia's similarly priced GTX 980 Ti… with the caveat of Crossfire support.