It 's become an urban myth that computers double in speed every two years. The idea is based on Moore's Law, named after Intel's Gordon Moore, who noticed in 1965 that the number of transistors per square inch on silicon chips had doubled every year since their invention, and predicted that this would continue. A decade later, he wasn't quite so optimistic, and revised it to two years.
Since then, he's been roughly right – but that doesn't mean doubling the number of transistors has always meant chips could do twice as much work.
In recent years, we've seen the evolution of PC processor chips split into two directions. While GPUs, designed specifically to handle graphics tasks, have become vastly quicker, CPUs haven't really kept up the pace. Buy a top-end Intel computer today, and it 'll be faster than one from four or five years ago, but not enormously so.
A very impressive desktop PC for the price, but you might need ear muffs.
If that lack of progress sounds a bit disappointing, PC Specialist have managed to turn it into a virtue, and the result is something of a bargain. The RX1 is based not on an Intel processor , but one made by rival manfacturer AMD, and it 's one that we first saw in 2012. That should make this system feel ridiculously dated, but it doesn't. With eight cores, each running at 4GHz, the FX -8350 processor easily kept up with mid-range Intel i5 PCs in our tests, making it a very good performer for its price bracket. The only slight disappointment was in photo editing, where we'd have expected the extra cores to help more than they did.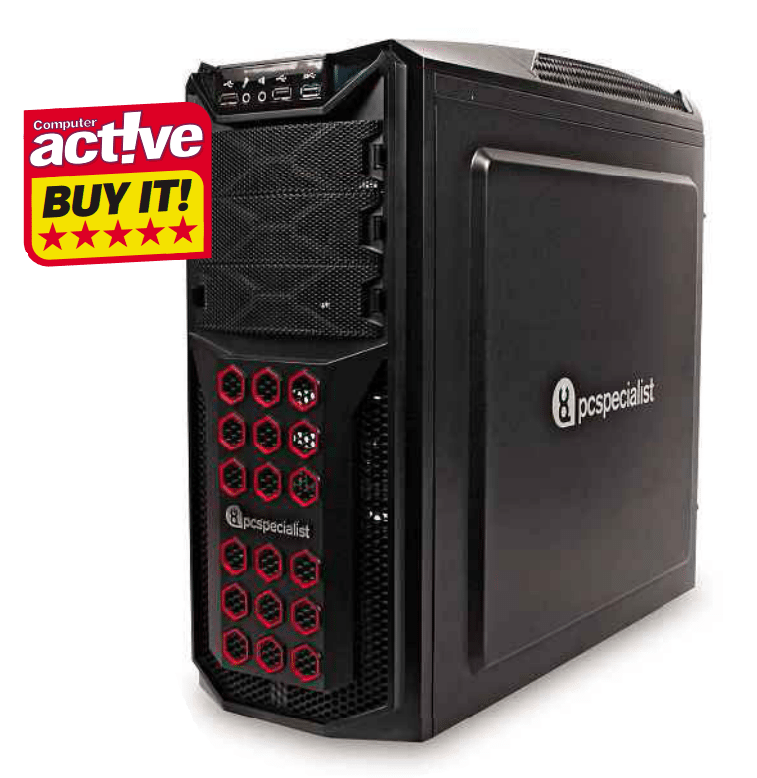 Also included is a GPU – AMD's Radeon RX 460. This is a lo w-cost part and not in the same league as the recently launched RX 480, but we found it coped with most 3D games pretty well, and it 'll help out with photo and video tasks if your programs support it. Along with a sensible 8GB of RAM and a bog standard 1TB hard drive, it all comes in a nicely designed case, neatly constructed with a comprehensive set of ports and sockets and tool-free access to plenty of extra drive bays and connectors inside. If you want to upgrade the spec straight away , PC Specialist offers a very fast 250GB SSD and an RX 480 for a very reasonable £223 extra. If games aren't your thing, you might prefer to spend the money on a higher CPU, but the SSD gives a general boost to loading speeds.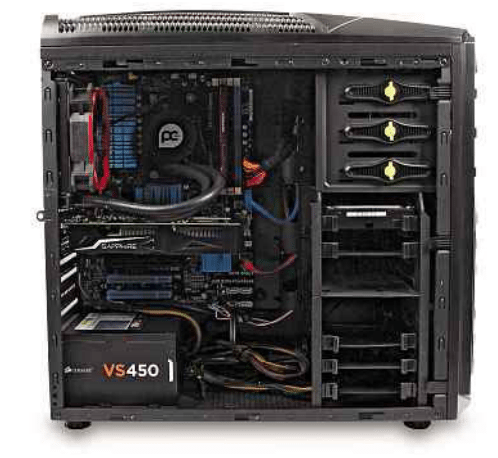 You're probably wondering at this stage: where's the catch? Well, that eight-core AMD processor has one bonus feature: it doubles as a room heater . Oh, you didn't want a hot room? PC Specialist has anticipated this and installed a water-cooling system. It 's not as daft as it sounds, and shouldn't require any maintenance. However, it still doesn't prevent the need for several loud fans. At full tilt, it hit 52dBA on our noise meter at 10cm, meaning that having it next to you would give you a background noise level similar to a large office. It seems a shame to shove this impressive beast under your desk, but that's exactly what you'll want to do, and even then you'll still be able to hear it, like one of those pets that insists on sitting where you work and purring or panting at you.
If that doesn't put you off, the RX1 is an attractive deal, especially at a time when PC makers are hiking prices. We'd snap it up while you can.
SPECIFICATIONS
4.0GHz AMD FX-8350 eight-core processor • 8GB memory • AMD FX 460 graphics card • 1TB hard drive • 3x USB 3.0 • 8x USB 2.0 • Gigabit Ethernet
• HDMI port • 3x DisplayPort • Windows 10 Home • 475x210x491mm (HxWxD) • Three-year warranty
VERDICT:
A particularly well-designed case makes this a great choice for future upgrading as well as decent performance from the off
ALTERNATIVE:
Palicomp AMD Vertigo GT
A slower AMD CPU and faster RX 470 GPU come with a 250GB SSD and 2TB hard drive