More phone for less
We think of technology companies as inventors. Sometimes that's even true.
But when a brand unveils a new gadget, most of the innovations inside it won't have originated on a drawing board in its offices. Instead, they originate from the work of scientists in the labs of universities and institutions around the world, whose ideas are developed towards commercial viability with the help of manufacturing firms you've never heard of. It's often late in the day when the mass-market vendors get involved, scouting for components they can turn into marketable features.
Fast performance, long battery life, a stylish case, and it won't break the bank
Once a technology becomes available, everyone starts to build it in. Even in the streamlined, miniaturized, style-obsessed world of smartphones, each new product, as unique as it may look, is a collection of parts that are mostly quite similar to those of its rivals.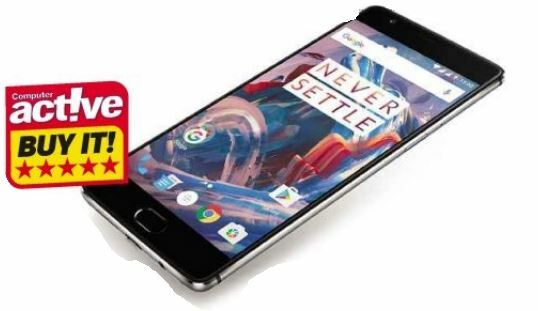 In theory, that should mean almost anyone could design and build a phone.
In practice, it's not only technically demanding but requires partnerships and legal clearances that would make most business people scream and run away.
But a few smaller players have risen to the challenge, and the most successful so far is OnePlus. Having started out with a pre-order system to fund production, it's graduated to conventional sales, and this latest model is available with immediate free delivery. It doesn't do anything we haven't seen before but it matches most of the capabilities of a top-of-the-range phone for a lot less money.
The high-end Snapdragon 820 processor in the OnePlus 3 is backed up by a huge 6GB of memory, and the result is that OxygenOS – OnePlus' pleasant adaptation of Android 6.0.1 (Marshmallow) – feels quicker and smoother than almost any other phone. 3D games are no problem, and although its web-browsing scores weren't the very highest in our tests, we had no complaints at all. The battery lasted an amazing 16 hours 56 minutes of video playback, and it's quick to charge, too, thanks to Dash Charge, which lived up to OnePlus' claim of 60 per cent power in 30 minutes.
The slim aluminium uni body case is very nicely made, even if it's not the most distinctive – reminiscent of the slim and subtle HTC and Huawei phones. It only comes in one color – Graphite – but you can add a choice of £20 protective backs. There's no fingerprint sensor, but the 16-megapixel camera on the back takes decent pictures – albeit with slightly muddy shadows – and even coped reasonably well indoors.

What might divide opinion is the screen. Ihe large 5.5in AMOLED display has a Full HD resolution, matching the iPhone 6s Plus, and covers the full sRGB color range, with excellent brightness and contrast. But OnePlus has boosted the saturation too much, so everything looks slightly garish, and photos don't match what you'll see on a PC screen. Some users won't mind this, or might even like it, but we'd prefer a more restrained and accurate look.
SPECIFICATIONS
5.5in 1920×1080 pixel screen • 16-megapixel rear camera • 8-megapixel front camera • 64GB flash storage • 802.11ac Wl-R • Bluetooth 42 • 3G/4G • OxygenOS • 153x75x7.3mm (HxWxD) • 158g • One-year warranty www.snipca.com/21039
There's no microSD card slot, but with a generous 64GB of storage as standard you shouldn't need it. Fast 802.11ac Wi-Fi and up-to-date Bluetooth 4.2 complete a specification that's fantastic value for money, and all in all, despite its minor flaws, this is a phone that has to be recommended. Our only reservation is that the Chinese manufacturer has yet to establish a solid customer-service reputation in the UK, but it's clear by now that OnePlus is far from being a fly-by-night operation. A real challenge to the smartphone giants can only be good for consumers.
VERDICT: At this price, this sleek, stylish, high-spec phone represents great value and should help OnePlus in its quest to rival the big names
ALTERNATIVE: Google Nexus 5X £270 The odd-looking 5X adds a fingerprint reader but isn't as fast and has only 32GB of storage, which can't be expanded •
6gb Ram
Snapdragon 820
64gb storage, 3000 mah battery
1080p full hd display
FDD-LTE: Bands 1/2/4/5/7/8/12/17; DUAL SIM
& Free shipping
Band (2G): GSM 850/900/1800/1900MHz Band (3G): WCDMA 850/900/1900/2100MHz Band (4G): FDD-LTE 1800/2100/2600MHz
Qualcomm Snapdragon 820 64 bit Kryo Quad Core 2x2.2GHz + 2x1.6GHz CPU, Adreno 530 GPU
H2 1.4 OS base on Android 6.0
Qualcomm® SnapdragonTM 820
6GB LPDDR4
64gb Storage
1080p screen resolution, 3000 mah battery
FDD-LTE: Bands 1/2/4/5/7/12/17/30 dual sim
Last update was on: 2017-11-18 4:38 am