Oblivion Systems Guardian Review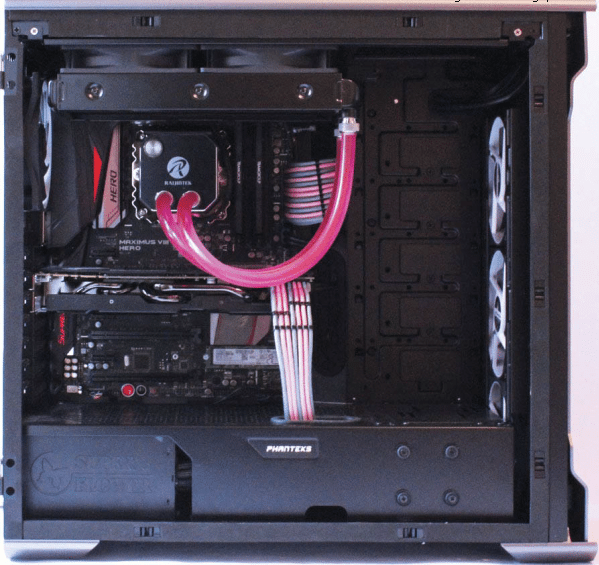 We're used to watercooled machines with striking colour schemes, but Oblivion Systems' Guardian really stands out with its bold, pink coolant. The interior of the Phanteks chassis is dominated by a pair of coolant tubes that wind from the roof-mounted Raijintek Triton 280 to the chunky CPU block on top of the Skylake Core i5-6600K CPU. Both tubes ripple with bright pink Mayhems coolant, which is then lit up by the CPU block's LED.
Likewise, the main PSU power cables are individually braided in pink and grey. There's no doubt the Guardian's interior looks top-notch. The pink cooling is striking, and Oblivion has taken obvious care over the build too. That said, we wish Oblivion had done more. The large window on the Phanteks Enthoo Evolv's side panel is tinted, and Oblivion hasn't added any extra lights, which makes the Guardian look gloomy when, in reality, it's anything but.
Still, there's plenty to like – and the interior's impressive start goes beyond the visuals. A Phanteks-branded shroud stretches across the base of the Enthoo and hides the PSU, hard disk and any spare cables, which leaves the front of the chassis free for airflow from three 120mm fans. The 3mm aluminium used throughout the case is rock-solid and looks good thanks to a gunmetal finish, and its subtle angles and meshed areas look smart. The quick-release side panels are a boon too.
The non-intrusive cable work means it's easy to get at the Guardian's components and upgrade paths as well. There are two accessible, empty memory slots, and every spare expansion slot is free, including three 1x PCI-E slots and two empty 16x PCI-E slots. Around the back you'll also find a spare hard disk bay and two empty 2.5in mounts.
Oblivion has built this system with a wellrounded set of components. The GTX 970 has 1,664 stream processors, and this KFA² Infin8 Black Edition card has been tweaked by Overclockers to deliver more performance. The 1050MHz base clock has been improved to 1178MHz, and its boost clock now runs at a peak of 1329MHz.
Meanwhile, the 3.5GHz Core i5-6600K has been overclocked to 4.5GHz, with a 1.35V vcore. There's also 16GB of Team Group DDR4 memory, and it runs at a super-fast frequency of 3200MHz too. There's an M.2 SSD as well, but don't get your hopes up – it's a SATA model, rather than a new super-quick NVMe drive, although this 256GB Samsung 850 Evo drive is still at the upper end of SATA performance. There's a 1TB hard disk for extra data storage too.
All the components hook up to an Asus Maximus VIII Hero motherboard, which is one of the top LGA1151 ATX boards around, and it's brimming with features. Its audio circuits are shielded, and there are on-board power and reset buttons, plus a two-character POST display. You can even change the colour of the Republic of Gamers logo, and make it pulse. Its backplate pairs two USB 3 ports with USB 3.1 Type-A and Type-C connectors, and it also has four USB 2 connectors, a PS/2 port, five audio jacks and an optical S/PDIF connector. It doesn't just excel on a practical level either – with its gunmetal shrouds and black PCB, it looks the part.
Finally, Oblivion sells this system with a two year warranty that includes both parts and labour, which is a mixed bag. It's great to get two years of parts coverage, but it would also be good to get some collect and return cover at the beginning.
The overclocked GTX 970 card resulted in some great frame rates at 1080p and 2,560 x 1,440; however, not surprisingly, none of our test games managed playable frame rates at 4K. That said, the Oblivion happily handled Fallout 4's Ultra graphics settings at 1080p and 2,560 x 1,440, with minimums of 55fps and 33fps respectively.
The Guardian's gaming prowess was bolstered by our Witcher 3 test at High settings, where it never dropped below a silky-smooth 71fps at 1080p, and managed a decent 46fps minimum at 2,560 x 1,440, giving you some headroom to enable extra features such as HairWorks. Oblivion's machine fared well in our aging but challenging Crysis 3 test too, staying above 30fps at 2,560 x 1,440.
The overclocked Core i5-6600K held its own in our RealBench 2015 suite as well. Its extra clock speed pushed it towards an image editing score 60,971, which is more than 3,000 points beyond the Overclockers Titan Wave, with its 6-core Core i7-5820K chip. Not surprisingly, the six cores inside the Overclockers system proved dominant elsewhere though. The Guardian's score of 263,808 in our heavily multi-threaded video encoding test was around 100,000 points behind the Titan Wave, for example, although its multi-threaded performance is still fine for most people's needs, including gaming.
Meanwhile, the conventional SATA SSD rattled through our read and write tests at 494MB/sec and 479MB/sec, which isn't anything to write home about in these days of NVMe drives, but they're still significantly quicker than a mechanical hard drive.
This machine's heat output was never a problem either. The processor peaked with a modest delta E of 49°C after prolonged stress testing, and the GPU delta T of just 37°C was even chillier. Noise, though, wasn't as impressive. The Oblivion maintained a constant low rumble, no matter what the task – even when idle, its churning fans were noticeably audible. It's on a par with the worst excesses of the Titan Wave's noise, even when the system wasn't being stressed.
The Oblivion Systems Guardian is a striking machine, thanks to its pink touches and smart case, and it pairs its good looks with solid build and good performance in most areas. The overclocked Core i5 chip is consistently quick, and the tweaked GTX 970 has the power to play games at decent settings at 2,560 x 1,440.
Our issues with this machine are small niggles rather than ruinous problems. The flashy interior could do with being lit up properly, the SSD could be quicker and the machine needs to be less noisy too.
Nonetheless, the Guardian is a great-looking, wellbalanced and well-built gaming PC. If fan noise doesn't bother you, and you're drawn to the pink touches, the Guardian is worth considering, especially at this price. MIKE JENNINGS
VERDICTFast in key areas and good-looking, the Gladiator is well-balanced and affordable, if a bit noisy.
SPECIFICATIONSCPU 3.5GHz Intel Core i5-6600K overclocked to 4.5GHzMotherboard Asus Maximus VIII HeroMemory 16GB Team Group Dark Pro 3200MHz DDR4Graphics KFA² GeForce GTX 970 OC 4GBStorage Samsung 850 Evo 256GB M.2 SSD, Western Digital Caviar Blue 1TB hard diskCase Phanteks Enthoo Evolv ATXCooling CPU: Raijintek Triton 280 with 2 x 140mm fans; front: 3 x 120mm fans; rear: 1 x 120mm fanPSU Super Flower Leadex Gold 650WPorts Front: 2 x USB 3, 2 x audio; rear: 2 x USB 3, 1 x USB 3.1 Type-A, 1 x USB 3.1 Type-C, 4 x USB 2, 1 x PS/2, 1 x Gigabit Ethernet, 1 x optical S/PDIF, 5 x audioOperating system Microsoft Windows 10 Home 64-bitWarranty Two years of return to base cover, including parts and labour.