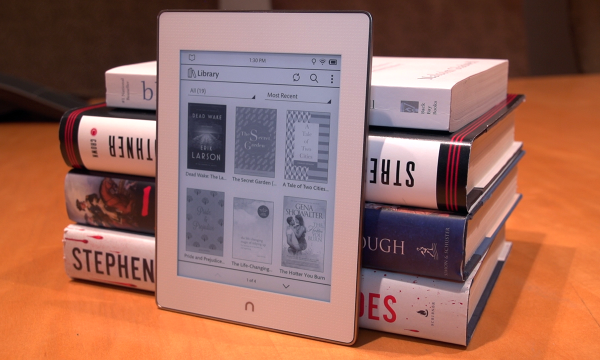 The Nook didn't have a very good start here in the UK. Created by the American bookstore Barnes & Noble, it has gone through a number of changes and is classed as the entry-level device next to the Samsung Galaxy Tab Nook models that Barnes & Noble now offers, primarily because B&N took a bit of a hammering in the market over the Nook and now sells Samsung tablets with a Nook interface.
It's has a 6″ e-ink touchscreen, it weighs 195 grams and measures a mere 163 x 119 x 8.6 mm, which instantly makes it a direct competitor to the Kindle Paperwhite, and the screen has a reasonable 800 x 600 resolution, with 16 level greyscale.
The customisable glowing part of the GlowLight allows you to read in the gloom of dusk, right through to absolute pitch blackness. It does the job well enough, and thanks to the antiglare screen, you can also read in sunlight without any annoying smudges or fingerprints spoiling your view. It has to be said, though, that it isn't as good in direct and very bright sunlight – not as good as the Kindle Paperwhite at least.
The Nook is wi-fi enabled, allowing you to share quotes, access Google, Facebook and, of course, the Barnes & Noble online book store, which occasionally recommends titles based on your previous purchases and reading material. It's advertising, true, but it doesn't feel quite as allconsuming as Amazon's advertising strategies.
You also have 4GB of built-in storage available, or just over 2.5GB after the Nook has finished taking up the rest. It's enough for a thousand or so books and the micro-SD card slot will allow you to stick another 32GB in to expand your e-library to the tune of a potential 30-something thousand titles – enough for even the most enthusiastic of bibliophiles.
The Nook GlowLight Plus isn't the easiest e-reader to get hold of either. Stocks seem extremely limited in the UK, and you'll more likely find one on the virtual shelves of eBay rather than in a traditional shop. However, some shops do sell them – Blackwell's being one – and you'll be looking at a price in the region of £49 to £89. This is really a little too expensive for a product that the parent company doesn't really want anything to do with anymore.
In short, you're better off spending a little more and opting instead for either the Amazon Kindle or the Kobo H20. While the cheaper price may sound alluring, it's sadly probably not worth the hassle of locating one and buying it.