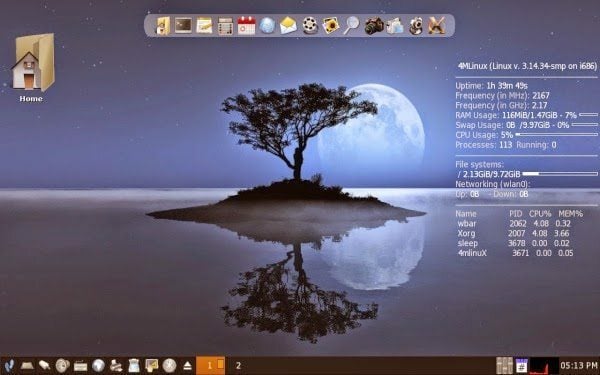 A handful of new distros to check out this weekThere have been a few new distro entries these last couple of weeks, each with its own particular theme or design, or standing out from the crowd by offering something a little different from the norm. Either way, there are some interesting picks to look into.
4MLinux is a small, built-fromscratch distro, and it features out-of-the-box tools and programs for system rescue, watching videos, listening to music, playing games and deploying servers.
The 4M part of the name stands for Maintainance (system rescue), Multimedia, Miniserver (using inetd daemon) and Mystery (being the collection of Linux games).
In this newly released.iso you'll find an improved core, GNU C library 2.21, PAE support, Chrome, a few extra games (FreeDoom and Abuse) and enhancements to the stability and speed of the system.
It's an interesting distro and one that can be tweaked to be quite an effective image to boot from. Check it out at goo.gl/HfbOmr.For those who use their Linux PCs as media centres, there's a new beta release of the popular OpenELEC available to test.
The new beta features an updated audio encoder and video decoder, the latest FFmpeg codecs, Linux kernel 4.0, and system and graphics drivers.
Version 6.0 beta is available for a number of devices, including the Raspberry Pi and RPi2 ARMv7 builds, even Freescale iMX6 CPUs. But regardless, there's plenty to take into considerations here and of course to test and feed back to the developers.
If you're interested, then visit goo.gl/nGgoKL and select the OpenELEC 5.95 release series for OpenELEC 6.0.Tiny Core Linux 6.2 has now been released, unbelievably as an image that's only 10MB (yes, ten megabytes) in size, but one that still manages to pack in enough modules to make for an excellent and personalised distro.
The Core package is the one that's 10MB, with Tiny Core coming in at 15MB and the third version of the TC trio, Core Plus, with an .iso size of 77MB.
Which ever one you choose, Tiny Core is a blisteringly fast and stable Linux build to tinker with. The recent changes to 6.2 are too numerous to list here, but suffice to say, there's plenty to appreciate and get your teeth into.
You can download any or all of the Tiny Core disc images at goo.gl/pD8naj (with the 64-bit versions, Core Pure64 and Tiny Core Pure64, available at goo.gl/Xpz9mJ).
Tails, The Amnesic Incognito Live System, designed to keep you safely anonymous while on the internet, has announced the latest release candidate for version 1.4.In this new version you'll find some major updates to the Tor Browser, security patches, vulnerability fixes and some bug fixes. There's also been a number of minor fixes from the last version, as well as some enhancements and improvements to overall system speed and stability.However, as the developer indicates on the Tails site, this is a test image, so there's a good chance you'll come across something that could break it. If that kind of thing is your cup of tea, however, then pay a visit to goo.gl/X4OJ4H, download or upgrade to version 1.4RC and test away. Don't forget to report back your findings to the developer, though.These are just four examples of what's now available to download from the many servers across the world. Needless to say, there are plenty more new distros, versions, betas and upgrades to consider.If you come across any that deserve a mention, then please get in touch and let us and other readers know.