Microsoft Surface Family Comparison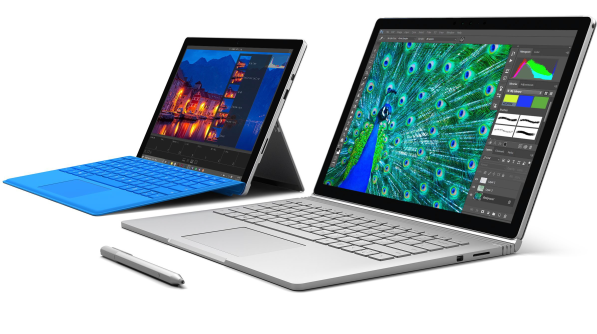 David Briddock evaluates the products that make up Microsoft's Surface family tree
Do you fancy buying one of those 2-in-1 devices that have both tablet and laptop configurations? Then the Microsoft Surface family warrants careful consideration.
The 2-in-1 Challenge
At the beginning of this decade, Microsoft encouraged manufacturers to build 2-in-1 devices, a drive designed to coincide with its upcoming Windows 8 operating system launch. Yet Microsoft became increasingly irritated by the lack of quality and innovation – so irritated, in fact, that it decided to take on the 2-in-1 challenge itself.
The result is the Microsoft Surface family. First launched in 2012, the fresh, bold design did have a few teething problems, but despite an unsteady start, Microsoft maintained its innovation investment, launching an improved model each year.
There's no doubt it was an inspired decision. Today, the Microsoft Surface family is a huge success story. New and updated Surface models receive glowing media reviews and impressive customer satisfaction feedback. Unsurprisingly, sales figures have also soared.
Today, Microsoft's product design and innovation is directly compared with Apple. That's a remarkable achievement after just a few short years, and the momentum shows no sign of slowing down.
Family Portrait
The original Surface had an ARM chip inside and consequently ran a variant operating system known as Windows RT. A year later, the much improved Surface 2 appeared. This was joined by a more expensive model called the Surface Pro 2, which could run the full Windows 8 operating system, thanks to its Intel chip.
But it was the release of the Surface Pro 3 in 2014 that really made everyone sit up and take notice. Its larger screen, slimmer format, more powerful processor and new smart pen projected it far above the 2-in-1 competition. In fact, post-launch stocks levels were unable to satisfy customer demand.
For a while, there was no sign of a successor to the entry-level Surface 2, but in early 2015, the Intel-based Surface 3 appeared. Geared from the start to run Windows 8 (and ready for Windows 10), it marked the death of the Windows RT operating system.
In autumn 2015, the Surface 3 and Surface Pro 3 were joined by the latest Surface Pro 4 models and the brand new Surface Book, Microsoft's first ever laptop. Surface Pro 4 stock quickly appeared on shelves around the world, but UK-based Surface Book buyers sadly have to wait until 2016 for shipments.
This large product family offers plenty of choice. Yet that does make a purchasing decision more difficult, so this week we'll compare the features and capabilities of the various models, assessing them in relation to real world usage scenarios.
Design Overview
Portability is a key design criteria for the entry-level Surface 3. At just 622 grams, it's slim and light enough to become your take-anywhere tablet. However, smaller dimensions do necessitate a slightly cramped keyboard layout, and the kickstand offers only three positions, as opposed to the infinitely adjustable one on the Pro 3 and Pro 4.
The Pro 4 is an evolution of the highly successful Pro 3. Changes include a slightly larger screen plus higher processing and graphics performance. The new Type Pad has an improved keyboard and touchpad. And the redesigned smart pen is compatible with all Surface models.
The Surface Book is a little different. Think of the Book as a fully functional, high-quality laptop, which also has tablet like features. In other words, use it as a laptop and you'll be happy. However, as a tablet, or in the so called 'clipboard' mode, some flaws are evident.
One problem is the weight. The larger screen means it's significantly heavier than the Pro 4. And tablet-mode battery life is slashed, because most of the battery cells are in the keyboard part. Early reports also highlight screen docking/undocking protocol problems via the highly original articulated hinge.
Of course, this is the first incarnation of the Surface Book. The next generation is certain to incorporate quite a few design changes that'll improve its 2-in-1 credentials..
Display
The first thing any laptop or tablet buyer notices is the display. Consequently, premium-level device screens must deliver speed, clarity and sharpness, along with deep, rich, vibrant colors.
The Surface 3 has the smallest display, yet at 10.8 inches, it's still much larger than an iPad. And with a 3:2 format, 1920 x 1280 pixels and 10-point multi-touch input, it's superior to quite a few similarly priced laptops.
The 12" display on the Pro 3 has a pixel resolution of 2160 x 1440, which is comparable to high-end ultra-portable laptops. The new Pro 4 is better still. It has an ultra-thin PixelSense 12.3" 2736 x 1824 display.
The Surface Book has the sort of gorgeous screen you'd expect from a premium laptop. Measuring 13.5 inches, it ups the resolution still further to 3000 x 2000.
All of these displays work fine with Windows 10, in both desktop and tablet mode. Graphic designer types might prefer the higher pixel densities found in the Pro 4 or Book, but for most of us it really comes down to how much you want to spend.
Weight And Battery Life
Weight and battery life are critical factors when it comes to portability. In general, more weight also means longer battery life, but excessive weight is problematic for any 2-in-1 device when used as a tablet.
The physical dimensions of a Surface device are dictated by its screen size, processor cooling requirements and interface ports. For instance, a full-sized USB 3.0 port is relatively large.
At 622g, the Surface 3 is noticeably lighter than the 786g Pro 4, which is itself just over half the weight of a 1.5kg Surface Book, but remember you'll need to add the 310g Type Cover weight to all non-Book family devices.
When it comes to battery life, the quadcore Intel Atom in the Surface 3 ensures it offers the same claimed nine hours of video playback as its Pro 3 and Pro 4 big brothers. Large, high-pixel-density displays are power hungry, but the official Pro 4 figures say it runs for longer on a single charge than the Pro 3.
Yet – and not for the first time – Microsoft's official battery life claims seem dubious when compared to real-world tests performed by journalists and early adopters. These suggest 'up to nine hours video playback' is more like seven. And if you're web surfing over wifi with a fully charged Pro 4, you'll need to find a power socket around six hours later.
The Surface Book is the star player here, with more than 12 hours wifi web browsing in laptop mode, but detach the keyboard and you'll also remove a sizeable proportion of the battery. In this configuration, there are under two hours wifi web browsing life.
In practice, six to seven hours' battery life is enough for most people. Journalists and anyone else who spends long proportions of their day away from power sockets should probably consider the Surface Book, if funds allow.
Performance
Microsoft offers many different configurations, especially in the Pro 3, Pro 4 and Book product lines, so it's all too easy to get bogged down in the details or thoroughly confused.
First you'll need to have in mind the sort of apps and entertainment software you'll be using. Then carefully assess the suitability of the base-level models against this list. Trying running them on a store demo model, if possible.
Inside the Surface 3 is a quad-core Intel Atom processor. While not an Intel Core chip, it has enough power to happily run the sort of web, media and office apps most of us turn to everyday.
The new baseline Pro 4 model has a Core M3 chip. It was chosen for its coolrunning and battery-friendly characteristics. Yet, disappointedly, in tests, this processor is outperformed by the Core i3 chip in the base-level Pro 3.
Just like the Pro 3, the more expensive Pro 4 and Surface Book models have Intel's powerful Core i5 and i7 processors inside, but the Pro 4 and Book use sixth-generation Intel Core chips. Glance at the raw performance statistics and the difference between the fifth- and sixth-generation Core chips seems relatively small, but unwelcome Pro 3 issues like performance drop-off due to heat build-up and excessive cooling fan noise are fixed on the Pro 4.
Graphical processing (GPU) is integrated into the main chipset for all models, with the exception of the Surface Book, so if graphical performance is of critical importance, consider a Book. It still won't offer the same kind of grunt as, say, a dedicated gaming notebook, but it soundly trounces the 2-in-1 format competition.
In truth, all Surface models have highquality Intel chipsets, unlike many 2-in-1 competitors. Therefore, the typical 2-in-1 buyer is unlikely to feel disappointed. And if your work involves high-demand 3D modelling apps or professional video-editing suites, or you're a hardcore gamer, then a 2-in-1 device isn't the best choice.
Memory And Storage
Moving on to memory, the Pro 3 and Pro 4 models start with 4GB of RAM, while the Surface Book begins at 8GB. In practice, 4GB is sufficient to cope with the demands of a typical 2-in-1 device owner.
In contrast, the Surface 3 base model has only 2GB, so it tends to struggle as the number of open browser tabs and simultaneously running apps rises.
The Surface 3 has 64GB or 128GB solid state disk (SSD) storage. The other family members start at 128GB and, in the case of the Surface Book, go all the way up to 1TB. As you'd expect, buy a higher-performance model, and you'll also receive a larger SSD.
But if all you need is more storage, rather than more power, think carefully as the cost rises sharply. After all, with today's high-capacity memory sticks and a plentiful supply of low-cost cloud-based storage, acquiring copious amounts of local disk capacity isn't as important as it used to be..
Connectivity And Cameras
All Surface models support 802.11ac wifi and Bluetooth 4.0 Low Energy. They also have full-size USB 3.0, a mini-DisplayPort, SD card reader and micro-USB charging socket. Incidentally, if you're after 4G LTE mobile broadband capability, you're currently limited to the Surface 3 models.
The big disappointment here is the lack of a USB-C port. With its raw speed and multimode flexibility, it's a bit of a mystery why Microsoft didn't include one. And it's a long time to wait for the Surface Pro 5 or Surface Book 2.
The Surface Pro 4 and Surface Book all have a rear-facing 8MP camera and a 5MP front-facing one.
The Surface 3 also has a rear-facing 8MP camera, but a 3.5MP one on the front. As for the Pro 3, it has a dual 5MP camera setup.
Any of these combinations can easily capture whiteboard contents, take website images, snap ad hoc photos and handle faceto-face video conferences at home, in cafes and hotel rooms.
Value For Money
For students on a budget, or those after a flexible 2-in-1 solution for browsing, entertainment and home-office tasks, the Surface 3 is a good choice. The storage capacity options are small, but Microsoft doesn't pre-load it with the sort of bloatware apps included by other manufacturers.
Preinstalled with Windows 10, it's a far more capable device than an Apple iPad – or many low-end laptops, for that matter. Another attraction is the free 12-month Office 365 subscription and 1TB of OneDrive cloud storage. In contrast, the other family members only offer Office trials.
Interestingly, Microsoft and others have discounted base-level Surface Pro 3 models, with pen, for less than this, although the Type Cover is extra.
Surface Pro 4 easily fulfils the daily laptop and tablet computing tasks for eight out of ten people.
If funds allow, the Pro 4 (or Pro 3) Core M5 processor model is a better choice. This does pretty much everything a desk-based system can do. It delivers peace of mind for those who need a device that copes with anything a working day might throw at them, and it's a highly capable downtime entertainment platform.
The Surface Book has premium features, albeit at a premium price.
Nevertheless, the Book has no real competition in the 13" Ultrabook category for performance and multi-mode flexibility, which means software developers, graphic designers and other power-users are unlikely to find a better 2-in-1 solution.
Expanding The Family
And what about new additions to the Surface family? Well, in 2015, the Surface Hub appeared. This large wall- or stand mounted smart-whiteboard display is obviously not a 2-in-1 device, though it has a very similar multi-touch and pen interface.
Another possibility is a Surface smartphone. Currently, the latest Microsoft phones carry the Nokia Lumia brand, but a premium Surface handset with Windows 10, high-resolution display, powerful processor and large memory would complement the new display dock and the clever Continuum app.
Whatever the future, Microsoft's Surface family is here to stay..