Microsoft's hassle-free integrated malware defences epitomise "if it ain't' broke, don't fix it". Read our MICROSOFT DEFENDER ANTIVIRUS Review.
Free with Windows 10 and 11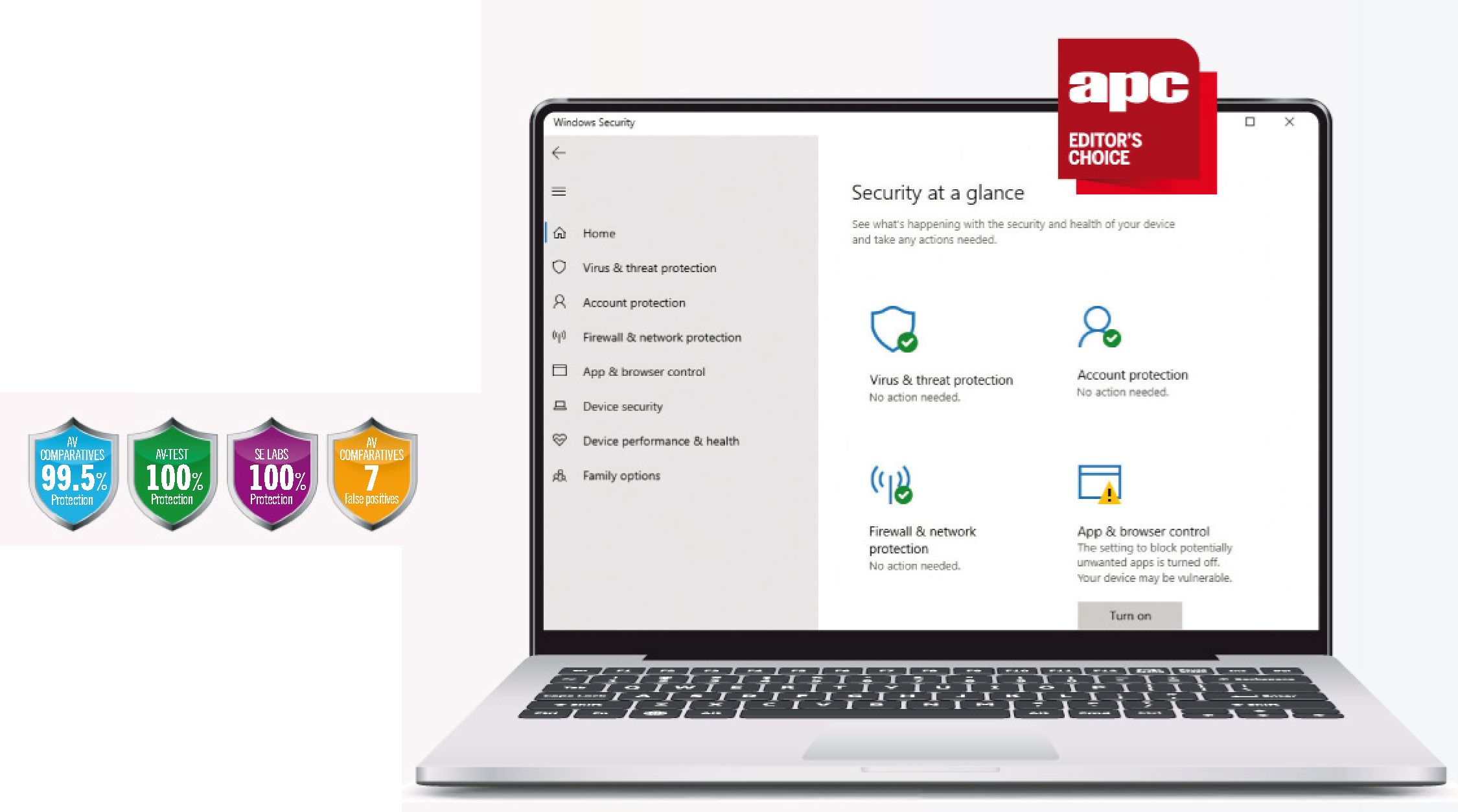 Microsoft markets a whole range of personal and enterprise security products under the Defender brand. In this review, we're specifically looking at the free Microsoft Defender Antivirus and associated features that come built into the Windows 10 and Windows 11 Security app.
This includes a raft of antimalware defences, including the all-important real-time protection. There's also the Windows firewall, which is perfectly functional, even if the interface for opening ports isn't as glossy as some rivals. And the final big weapon is Microsoft Family Safety, one of the best parental control suites around.
You may be surprised to hear that it has dedicated ransomware protection tools, too. Folders can be protected from unauthorised changes, and you can also sync important files to (and recover them from) OneDrive cloud storage. Then there's the optional reputation-based protection against potentially unwanted apps and websites to ensure that only known-safe content can be installed or accessed.
The Windows Security interface is a pleasure to use, as are its related components. You'll find controls for real-time malware protection and on-demand scans, configuration of your ransomware protection, plus links to your firewall and parental controls (these are managed elsewhere).
Defender is focused on real-time malware protection, which it's very good at. If you want to schedule scans, however, you have to set them up via Task Scheduler. This is a chore as it involves delving into a legacy Windows interface that's in need of a revamp. Whether scheduled scans serve a useful purpose in the age of online threats is another question, but a shortcut for those who want them would be useful.
Microsoft's Family Safety parental controls are primarily web-based and require more configuration than some rivals. But they're incredibly comprehensive and effectively balance parental protection with the rights of older children, in particular to a certain degree of privacy.
Family Safety is fully integrated with Windows, but it also provides comprehensive support for mobile devices that run Android and iOS. Features include web-content filtering, screen-time controls, Windows Store purchase protection and family location sharing. If you set up everyone in your family with their own Microsoft account – the optimal way of configuring Family Safety – all your settings are synced across every device a user is logged into. However, it's worth noting that Family Safety browser controls only cover Microsoft's Edge browser and will by default block other browsers.
Returning to malware protection, Defender will, of course, still stop malware that comes in via any browser, and if you want to use its dedicated browser protection plugins, these are available for Google Chrome, as well as the Chromium-based Edge.
On a purely practical level, you want your operating system to provide at least some kind of functional protection against malware. Although the integration of Defender into Windows gives it an arguably unfair advantage against commercial rivals, in the same way that Windows users are now aggressively encouraged to use Edge, Defender's reliability means that you can install Windows and immediately go online without
The bright screen has a refresh rate of 120Hz and is a real highlight.
worrying about a random drive-by download dropping malware the first time you visit an ad-infested media site.
It's also extremely low maintenance and requires minimal user interactions, which means you can trust it not to go wrong in the hands of inexperienced users.
This wide adoption also means that Microsoft gets plenty of opportunity to collect samples of the latest malicious files. Despite this, Defender's performance in anti-malware testing tends to vacillate somewhere between decent and perfect; it's not as consistent as some of its rivals. Still, it aced the latest tests from AV-Test and SE Labs with perfect protection scores, and a 99.5 percent defence rating with seven false positives in AV Comparatives' most recent detection test.
AV-Test also found that Defender can have a bigger impact on system performance than its rivals. This is particularly visible on low-spec systems when they install applications and copy files, where rivals such as Avast have much less of a footprint.
Note also that, if you're running legacy Windows 7 systems, you'll need to use a different antivirus solution, such as Avast or G Data, as Microsoft no longer supports its older OS with security updates. And Defender for that older OS was a less comprehensive solution in the first place.
For most users concerned about how to best keep Windows safe, Defender does the job as well as anything else unless you have specific requirements.